Each day we overwhelm your brains with the content you've come to love from the Louder with Crowder Dot Com website.
But Facebook is...you know, Facebook. Their algorithm hides our ranting and raving as best it can. The best way to stick it to Zuckerface?
Sign up for the LWC News Blast! Get your favorite right-wing commentary delivered directly to your inbox!
Watch: Public school demands 12-year-old remove his Gadsden flag, but this little king isn't backing down
August 29, 2023
VOTE IN THE LWC 2024 GOP STRAW POLL! CLICK HERE!
Kids have either gone back to school or are going back to school after Monday. On behalf of all of us here at the Louder with Crowder Dot Com website, may the odds forever be in their favor. We're in a presidential election cycle so the teacher's union employees are going to dial the indoctrination attempts up to eleventy. Just ask 12-year-old Jaiden.
This young king is going viral over the Gadsden flag. He didn't wear a t-shirt or run around wearing the flag as a cape, screaming "1776 up in this b*tch." Punishing him for that would be ridiculous enough. The flag was a patch on the back of his school bag. A BARELY NOTICEABLE patch on the back of his school bag. Really, even knowing to look for the flag, I saw his Doge patch first.
Which, apropos of nothing, is awesome.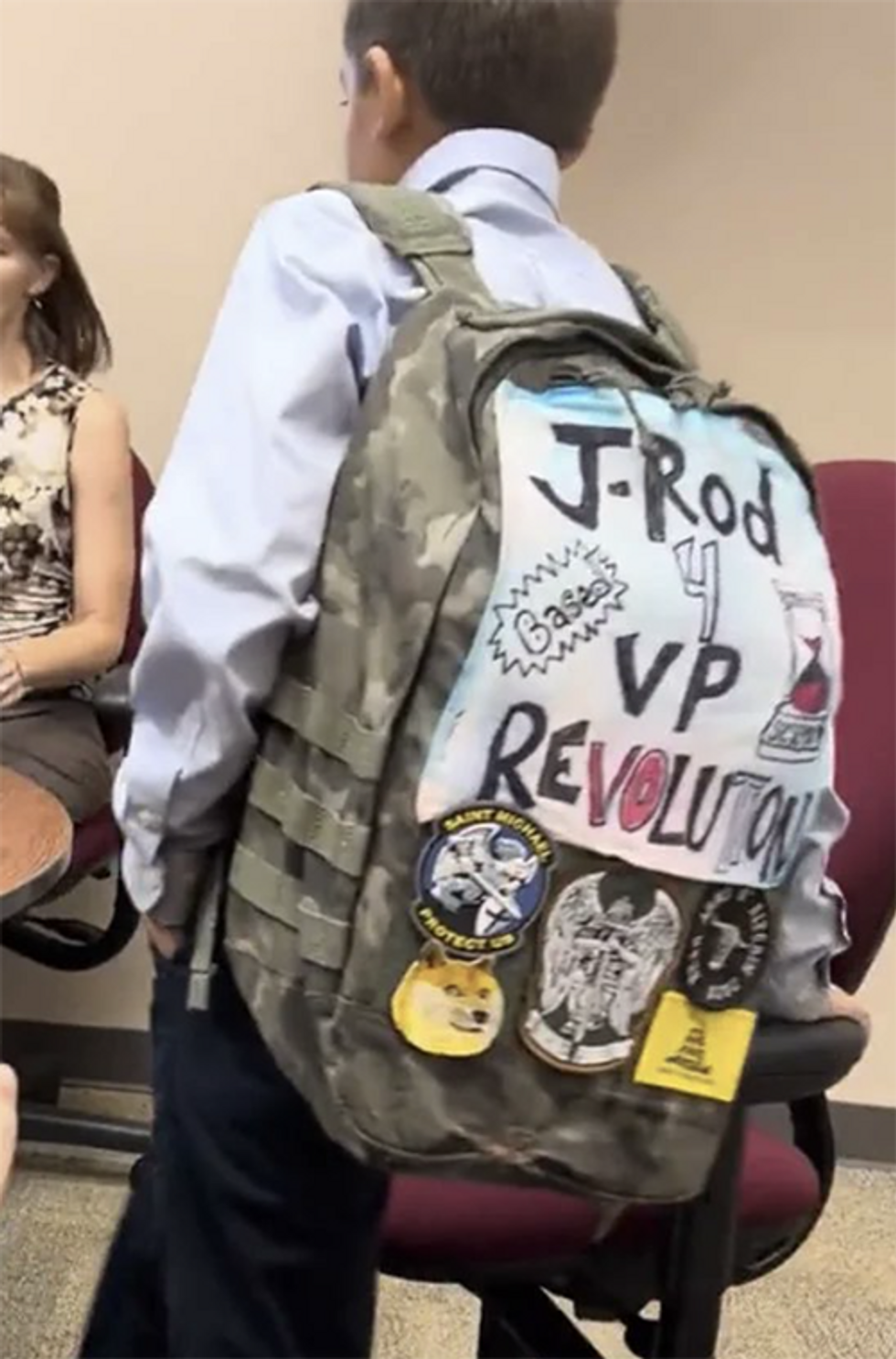 The patch was said to be "disruptive to the classroom environment." Call this an educated guess, but I'm guessing no other 12-year-old even noticed as much as Jaiden's woke (ear muffs) twat of a teacher did. The kind of douche ho brags that she teaches the books Ron DeSantis wants to "ban."
Jaiden mother recorded the conversation with the school.
The flag is from the Revolutionary War our country was founded on. And while the Biden Regimie wants to claim our founding documents and symbols are raaaaaaaacist, that doesn't make it so.
In emails to the mom, the school cited a Washington Post article from seven years ago as all the evidence they needed. Because one person claimed the flag was racist and one judge agreed. The school also claims it's an Equal Employment Opportunity Commission thing, even though the EEOC admits the flag "originated in the Revolutionary War in a non-racial context."

At the end of the day, if the flag was ever flown anywhere a group of people gathered to disagree with Democrats, it's enough to make the flag a symbol of white supremacy because of two or three douchebags who may have also flown the flag.
Young Jaiden didn't want to back down. He attempted to take his story to the media. You'll totally believe what happened next.
As you can hear his mom say in the video, Jaiden wanted to stand up for his (non-racist!) beliefs. So after he was kicked out of class, he asked his mom to take him to the news station to get the word out.

(He got the idea from a @tuttletwins book 💪🏽)

They declined an interview pic.twitter.com/BEdxWIj7Gp
— Connor Boyack 📚 (@cboyack) August 29, 2023
We'll see what happens. At the end of the day, I'm sure the patch will be removed or there will be some "compromise." However, the left-wing governor of Colorado just spoke out in the flag's favor. This is a guy who is so Leftist, that he brags about how pro-abortion his state is.
He needs to have a conversation with his educators. Let's hope none of them teach history.
><><><><><><
Brodigan is Grand Poobah of this here website and when he isn't writing words about things enjoys day drinking, pro-wrestling, and country music. You can find him on the Twitter too.
Facebook doesn't want you reading this post or any others lately. Their algorithm hides our stories and shenanigans as best it can. The best way to stick it to Zuckerface? Sign up for our DAILY EMAIL BLASTS! They can't stop us from delivering our content straight to your inbox. Yet.