Each day we overwhelm your brains with the content you've come to love from the Louder with Crowder Dot Com website.
But Facebook is...you know, Facebook. Their algorithm hides our ranting and raving as best it can. The best way to stick it to Zuckerface?
Sign up for the LWC News Blast! Get your favorite right-wing commentary delivered directly to your inbox!
Barack Obama wrote to ex-girlfriend that he fantasized about sexing up dudes in newly discovered redacted letter
August 13, 2023
Get all your latest LWC swag at CrowderShop.com!
Barack Obama, former President of these United States and international man of mystery, wrote to an ex-girlfriend about all the dudes he made sweet love to on the daily. However, he only had the sex with guys in his brain. This is according to a newly unredacted part of the letter.
In fairness to the former president, it's per a report by the New York Post. This is the same newspaper that "broke" the questionable Hunter Biden laptop story that was thoroughly debunked by Trump's FBI and Mark Zuckerberg.
Wait, we're now getting word that every bit of the Hunter Biden laptop story was true. As has been anything we've ever heard about Hunter Biden. That's unfortunate.

David Garrow, author of 2017's "Rising Star: The Making of Barack Obama," gave an interview with Tablet Magazine about the eight hours he sat with Obama going through letters. One of them was from an ex-girlfriend, Alex McNear. She redacted a paragraph and would only tell Garrow it was about "homosexuality."
The Post has seen the unredacted letter and reports Barack wrote: "In regard to homosexuality, I must say that I believe this is an attempt to remove oneself from the present, a refusal perhaps to perpetuate the endless farce of earthly life. You see, I make love to men daily, but in the imagination. ... My mind is androgynous to a great extent and I hope to make it more so until I can think in terms of people, not women as opposed to men. But, in returning to the body, I see that I have been made a man, and physically in life, I choose to accept that contingency."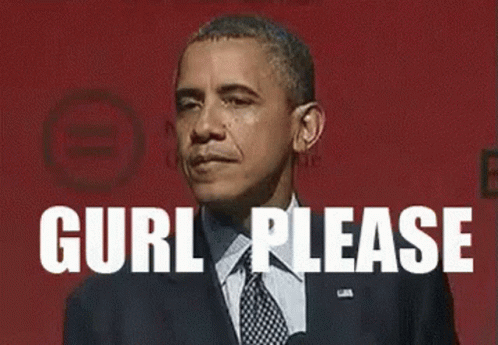 Let me be clear. No one here at the Louder with Crowder Dot Com website is calling our former president a gay queer homosexual (honestly, I don't know what word is the appropriate word these days). His ex-girlfriend is the one who said "homosexuality." None of us knows what was going on in Barack's head when he wrote that. An "independent" "fact" checker will no doubt provide some insight in a few days.
Male feminists are known for claiming all sorts of things to get in a girl's pants: wearing pink hats that symbolize lady bits, crying that girls allegedly make seventy cents for every dollar they do, sharing how much they love aborting choices, telling their girl she reminds them of a young Ruth Bader Ginsberg, pretending to listen to their feminist girlfriend's problems, etc.
However, if I'm being honest, telling an ex you think about banging dudes is kinda an odd flex.
We're left with questions we may never get answers to. Maybe someone could track down his friend Mike. I keep hearing people talking about Barack being with Mike since 1989 but have never seen a picture of them.
><><><><><><
Brodigan is Grand Poobah of this here website and when he isn't writing words about things enjoys day drinking, pro-wrestling, and country music. You can find him on the Twitter too.
Facebook doesn't want you reading this post or any others lately. Their algorithm hides our stories and shenanigans as best it can. The best way to stick it to Zuckerface? Sign up for our DAILY EMAIL BLASTS! They can't stop us from delivering our content straight to your inbox. Yet.