Democrats in Baltimore Tout Their Gun Ban, Ignore Highest Murder Rates
March 03, 2018
In the magical world of anti-weapon wonder, progressives ban every piece of lead and steel. No boomsticks in sight. As far as the eye can see. Notice it's not a ban on knives. Frying pans. Cars. No, no, just guns. Such is the line of logic when it comes to "gun violence." Only guns are inanimate objects coming to fat kill your kids.
That's the setup here. Maryland is touting its ban on AR-15s and restrictive gun laws.
One Putin ego-sized problem:
Baltimore is the most dangerous city in America, according to a new study by USA Today, with 55.8 murders per 100,000 residents.
That's kind of a lot.
The Maryland Democratic Party Chairwoman Kathleen Matthews sent out this email:
"Following the tragic Sandy Hook shooting in Newtown, Democrats in Maryland passed one of the toughest assault weapons bans in the country. Now, as young people in Parkland are leading the Never Again movement against gun violence, all of Maryland's Democratic members of Congress are united against the NRA and their Republican cronies in the fight to pass an assault weapons ban to protect all Americans."
Included in the email: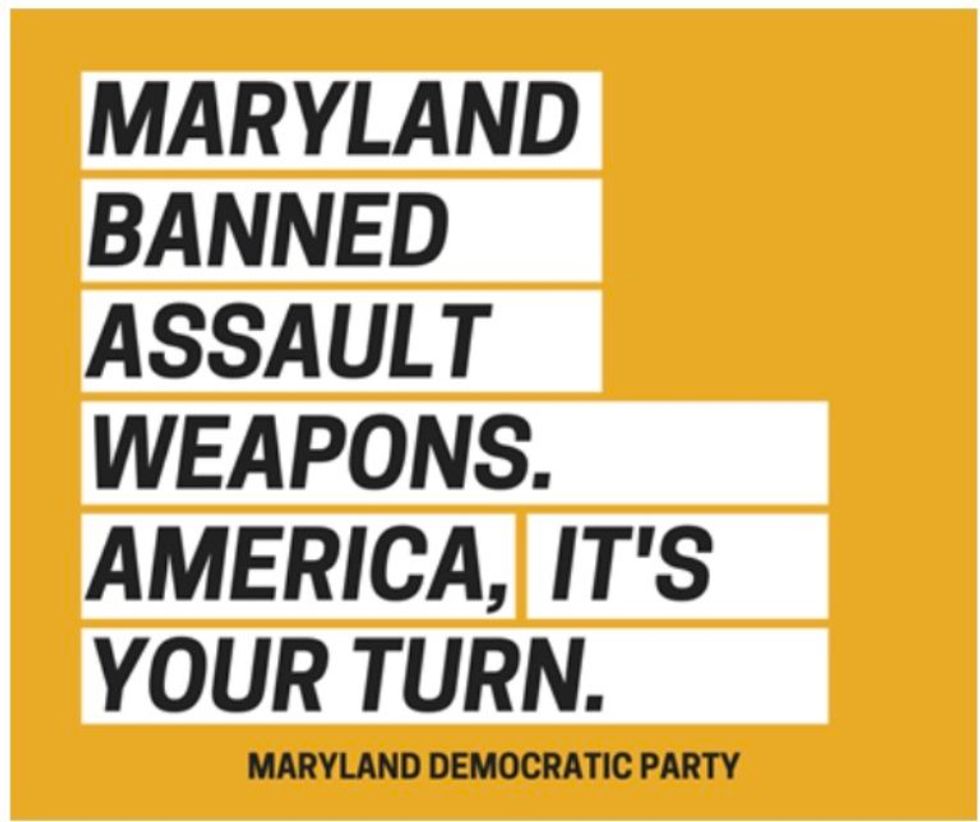 Maybe we don't need gun control. Maybe we need government control.
In 2013, Maryland signed one of the most restrictive gun control laws in America. Maryland also has one of the most murder-happy cities on the planet. Bragging about their accomplishments, as it relates to guns, over the bloodied bodies of murder victims, is dumber than Nancy Pelosi on laughing gas. Yet that's exactly what Maryland is doing.
Behold, more facts:
In the years following the law's passage, the City of Baltimore has seen an escalation of its murder rate, jumping from 211 murders in 2014 to 343 in 2017.
We aren't stupid enough to say the gun control measures caused Baltimore's murder rate to rise. Saying such would be like claiming greenhouse gasses cause catastrophic weather events. We are saying these measures discourage legal, law-abiding people from buying guns. Which they can use in self-defense. Against murderers who may or may not have used illegal guns, knives, or insidious hashtags.
Question for Maryland: If gun control is such a huge success there, shouldn't all gun crime stop? If gun control in Maryland is better than bacon-wrapped cheese dipped in money, why is Baltimore the capital of suck?
I rest my case.
AR-15s aren't the mythical killing machines of the left's nightmares. Get the lowdown:
NOT SUBSCRIBED TO THE PODCAST? FIX THAT! IT'S COMPLETELY FREE ON BOTH ITUNES HERE AND SOUNDCLOUD HERE.