Each day we overwhelm your brains with the content you've come to love from the Louder with Crowder Dot Com website.
But Facebook is...you know, Facebook. Their algorithm hides our ranting and raving as best it can. The best way to stick it to Zuckerface?
Sign up for the LWC News Blast! Get your favorite right-wing commentary delivered directly to your inbox!
Articles
Former ICE Director Corrects Alexandria Ocasio-Cortez on Family Separations
July 13, 2019
Alexandria Ocasio-Cortez fancies herself a political wunderkind. The only problem is you can count her IQ points on one hand. She made this abundantly clear when she tried grilling a former ICE director on family separations.
"The recommendation, of the many you recommended, you recommended family separation," the New York Democrat said to Homan.

"I recommended zero-tolerance," he responded, referring to the Trump administration's hard-line immigration policy that resulted in migrant family separations. "The same it is with every U.S. citizen parent gets arrested with their child." He added, "If I get arrested for a DUI and I have a young child in the car, I'm going to be separated."

The freshman congresswoman said asylum seekers should not be arrested because the act of seeking asylum is not a crime. Homan snapped back. "If you want to seek asylum, then go to a port of entry. Do it the legal way. The attorney general of the United States has made that clear," he told Ocasio-Cortez.
Somebody might wanna run to Walgreens and buy some Aloe for Alex.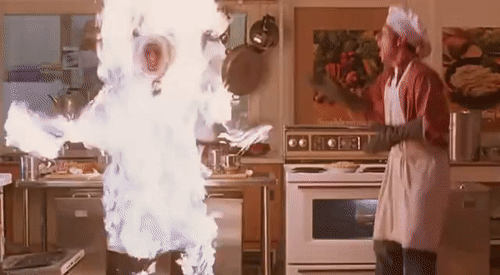 Arabella Ornithology-Convex thinks she can get by with the spunky attitude she got from her suburban hard-knocks Bronx upbringing. Unfortunately, she forgot to bring facts along to back up her claim. This explains why, at this moment, AOC is struggling to remove her head from her poop chute
As former ICE guy says, if you cross over illegally you're breaking the law. We don't send car-jackers' kiddos with them to San Quentin. Likewise, we don't lock up tiny tots with machete-wielding MS-13 animals. This isn't a difficult concept to grasp.
Poor Alexandria is dangerously low on brain cells. It's amazing she doesn't forget to breathe. Here's hoping the Gray Matter Fairy will pay her a visit one night and correct this problem.
Since we're talking about her:
NOT SUBSCRIBED TO THE PODCAST? FIX THAT! IT'S COMPLETELY FREE ON BOTH ITUNES HERE AND SOUNDCLOUD HERE.