Each day we overwhelm your brains with the content you've come to love from the Louder with Crowder Dot Com website.
But Facebook is...you know, Facebook. Their algorithm hides our ranting and raving as best it can. The best way to stick it to Zuckerface?
Sign up for the LWC News Blast! Get your favorite right-wing commentary delivered directly to your inbox!
Articles
Angry Feminist Attacks College Republican at Chico State
November 21, 2019
Meanwhile in feminists who might be starving themselves with a vegan diet, this pudgy dame ripped an "all lives matter" sign out of the hands of a College Republican and proceeded to flail him with it. Paper signs as weapons are all the rage in kindergarten on college campuses. Really, though, this dude should've had a sammich in his hands. From the looks of it, this lady has a grumbly in her tumbley.
Here is the video from the Battery today at @ChicoState. College Republicans across the nation experience treatment… https://t.co/AArcN3Sdwp

— Michael Curry (@Michael Curry) 1574226864.0
Listen, assault and battery are not okay, even if one is being assaulted not by rock, not by scissors, but by paper. That said, I think it's okay to both find rage at she who needs a burrito with more than just soy and sadness, and he whose look of total shock a hangry feminist is attacking him suggests he thought there might have been a different outcome. Sorry, dude, I just don't think she was ever going to ask you to winter formal.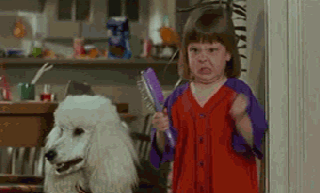 I guess I need to explain to you College Republican men how one approaches a trundling feminist puffwhale while in its natural habitat: the college campus. One doesn't simply approach a puffwhale. One must first give an offering. Show you respect its meager strength via admitting to your white male privilege. Or hand it a takeout box filled with delicious beyond meats and other culinary disappointments. Only then can you safely stand in the proximity of she who hates men but loves bready food byproducts.
Sure, I agree the trundling feminist puffwhale should at least have a sign warning all those daring enough to enter her lair, but I kind of thought that was self-evident. Down-turned mouth, butch hair, general aura of "f*ck you." Probably also a smell. A mixture of body odor and that feeling you have when you get a letter from the IRS.
I have so much knowledge to pass on. Like this advice tapas: When feminists demand equality, what they really mean is everyone else bow down and kiss their fat toes and never fight back. So next time have a College Republican lady warrior approach the beast. That way, when the puffwhale lashes out with much finger snatching and lip flapping, the lady warrior might retaliate with a gentle slap across its glowering visage.
Which, again, isn't inciting violence. It's an encouragement of self-defense. Stay wary my young friends. Related: Fascist Left-Wing Protesters Form Human Chain to Prevent People from Entering Ann Coulter Event.
NOT SUBSCRIBED TO THE PODCAST? FIX THAT! IT'S COMPLETELY FREE ON BOTH ITUNES HERE AND SOUNDCLOUD HERE.