Each day we overwhelm your brains with the content you've come to love from the Louder with Crowder Dot Com website.
But Facebook is...you know, Facebook. Their algorithm hides our ranting and raving as best it can. The best way to stick it to Zuckerface?
Sign up for the LWC News Blast! Get your favorite right-wing commentary delivered directly to your inbox!
Articles
Aaron Sorkin Scolds Mark Zuckerberg in Open Letter. Zuckerberg Fired Back!
November 01, 2019
Change the Wikipedia page of Aaron Sorkin to "owned by Mark Zuckerberg." Because this is beautiful. Aaron Sorkin, who wrote the screenplay for The Social Network, penned an open letter to Mark Zuckerberg concerning Mark's recent appearance and comments to Congress about Facebook's role in political advertising. Get caught up and watch Mark Zuckerberg Grilled by Angry AOC Spinning a Narrative is Something to Behold. Sorkin was not pleased Zuckerberg talked with conservatives and didn't just say he'd ban anyone who wasn't a liberal. So he wrote a whiny open letter in "Aaron Sorkin: An Open Letter to Mark Zuckerberg" for The Times. After kind of bragging about how Sorkin fact-checked The Social Network as much as possible, he lectured Zuckerberg for not running fact-checks on political ads.
Sorkin then wrote:
The law hasn't been written yet — yet — that holds carriers of user-generated internet content responsible for the user-generated content they carry, just like movie studios, television networks and book, magazine and newspaper publishers.
That's because, Aaron, for the time being, Facebook is a PLATFORM and not a publisher. I say this despite Facebook being an absolute crap toward Louder with Crowder and other conservatives. Still, platforms can't be held liable for what their users publish, and publishers can. Facebook is not a magazine, newspaper, book or television.
But let's move on.
Most people don't have the resources to employ a battalion of fact checkers. Nonetheless, while testifying before a congressional committee two weeks ago, Representative Alexandria Ocasio-Cortez asked you the following: "Do you see a potential problem here with a complete lack of fact-checking on political advertisements?" Then, when she pushed you further, asking you if Facebook would or would not take down lies, you answered: "Congresswoman, in most cases, in a democracy, I believe people should be able to see for themselves what politicians they may or may not vote for are saying and judge their character for themselves."

Now you tell me. If I'd known you felt that way, I'd have had the Winklevoss twins invent Facebook.
That's when Mark Zuckerberg came in like a wrecking ball:
Damn.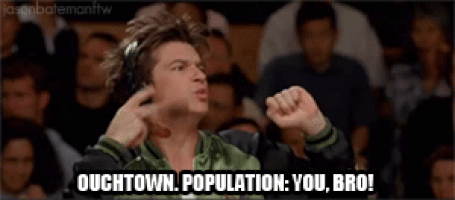 Throwing Aaron Sorkin's words back into Aaron Sorkin's smug, stupid face.
I can't believe this, but I actually cheered for Mark Zuckerberg. Yes, even though he looks like a lizard.
I'm not sure if this is the beginning of a turning point for Mark Zuckerberg or not, but I'll take it. Free speech includes speech you don't like. It's what makes America the great nation that it is. Perhaps as Mark deals with more leftists, he can see just how intolerant they are toward anyone who doesn't spew their dogma to the letter. But maybe that's just wishful thinking.
What say you?
NOT SUBSCRIBED TO THE PODCAST? FIX THAT! IT'S COMPLETELY FREE ON BOTH ITUNES HERE AND SOUNDCLOUD HERE.