Each day we overwhelm your brains with the content you've come to love from the Louder with Crowder Dot Com website.
But Facebook is...you know, Facebook. Their algorithm hides our ranting and raving as best it can. The best way to stick it to Zuckerface?
Sign up for the LWC News Blast! Get your favorite right-wing commentary delivered directly to your inbox!
Immigration
WATCH: AOC Claims America is Running Actual Concentration Camps on the Southern Border
June 18, 2019
When you think "concentration camps" what comes to mind? Probably Hitler gassing the Jews for being Jews. Yeah? Same here. Alexandria Ocasio-Cortez, however, might have a different definition other than mass genocide. In the video below, pulled from her Instagram, AOC says America is running concentration camps on the Southern Border. Check this out:
Okay, the recycling of the Japanese Internment camps, that's a new one too. I'll have to look into it.
She also tweeted this, as if supporting her initial claim that the United States borrowed a chapter from He with Terrible Facial Hair Choices.
So yes, the definition of "concentration camp" here isn't the same as a concentration camp as it applied to Hitler's anti-Jewish sentiments. Check out this screen capture with a poignant pull quote: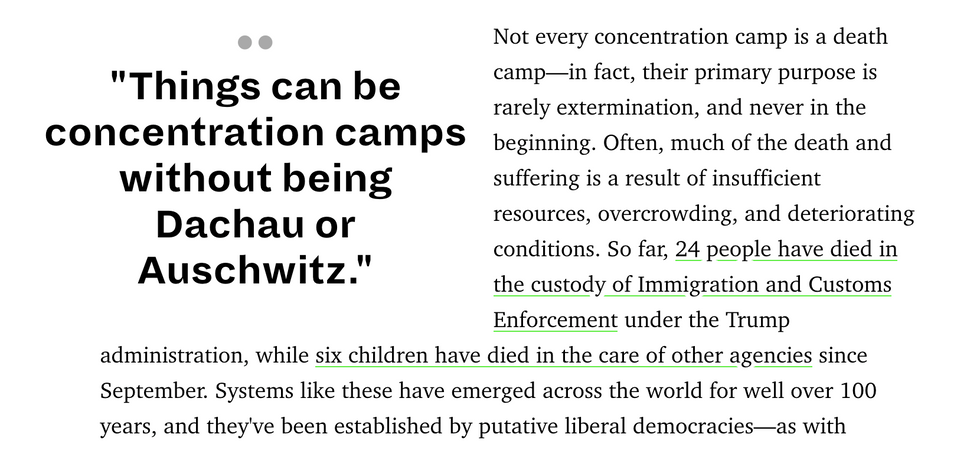 M'kay, so the United State's concentration camps aren't actually, like, real concentration camps.
Also, and I feel like this is important, the people in these "camps" at the Southern Border weren't exactly collected from their homes, their beds turned over in the middle of the night, and shoved into cattle cars on a train. The people at the Southern Border tried invading the United States.
Yes, invading. They tried breaching the United States border. That's an invasion, my babies. There are other ways to deal with invaders, might I add, that don't include a tent, a cot, and three meals a day. There are also other ways to secure a border other than a wall, including devices buried just below the ground's surface. I'm not suggesting we do such a thing, but let's stop pretending the United States is the big bad for insisting people respect the United States. WATCH: Super Genius Alexandria Ocasio-Cortez Compares Berlin Wall to Border Wall.
Enforcing immigration policies isn't like the Holocaust. At all. Detaining foreign invaders after those invaders tried invading our country, that's not like the Holocaust either. The only thing that is like the Holocaust is the Holocaust. With abortion being a close, far more rampant, second.
If you don't want to be holed up in a desert tent with a cot and three meals a day, a simple suggestion: don't try invading the United States.
As for AOC, she may be beyond help.
NOT SUBSCRIBED TO THE PODCAST? FIX THAT! IT'S COMPLETELY FREE ON BOTH ITUNES HERE AND SOUNDCLOUD HERE.