Each day we overwhelm your brains with the content you've come to love from the Louder with Crowder Dot Com website.
But Facebook is...you know, Facebook. Their algorithm hides our ranting and raving as best it can. The best way to stick it to Zuckerface?
Sign up for the LWC News Blast! Get your favorite right-wing commentary delivered directly to your inbox!
Journalisming
Politico hammered with BRUTAL fact check after Trudeau, Zelenskyy give standing ovation to a Nazi
September 25, 2023
Virtue signaling was at an all-time high in North America last week as Volodymyr Zelenskyy visited to demand more money. At least in our country, the worst that happened was our president having a senior moment. In Canada, Zelenskyy and Justin "I Feel Pretty" Trudeau both gave a Nazi a standing ovation that Politico tried its best to sugarcoat. X's Community Notes said "Nein!"
Canadian parliament invited Ukrainian war zero Yaroslav Hunka to speak. Hunka fought the Russians, not unlike how Zelenskyy is doing right now. The rub is Hunka fought the Russians when he was a member of the Waffen SS fighting for Nazi Germany. Both Zelenskyy and Canada's walking pile of soy and hair goop gave this Nazi war hero a standing ovation for how he fought Russia on behalf of Nazi Germany.
I.F.P. Trudeau's government was in such a rush to give Zelenskyy a reacharound, they forgot to vet the Nazi. The Right, as you can imagine, seized.
WATCH: Outrage Explodes After Canadian Parliament and Zelensky Honor Nazi SS Soldier
Trudeau, Zelensky honor 98-year-old Ukrainian WW2 veteran who served in Waffen-SS
Canada under fire for applauding 'literal Nazi' in parliament during Zelenskyy visit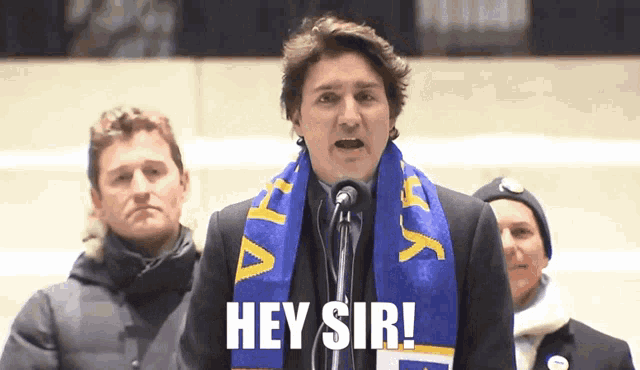 Canadian opposition leader Pierre Poilievere places the blame squarely on Trudeau.
Both Zelenskyy and I.F.P. Trudeau share the same leftist political ideology as corporate media, who now had the task of defending them giving a Ukranian Nazi a standing ovation. Politico tweeted that it was an innocent mistake and that Hunka was only "linked" to the Nazis.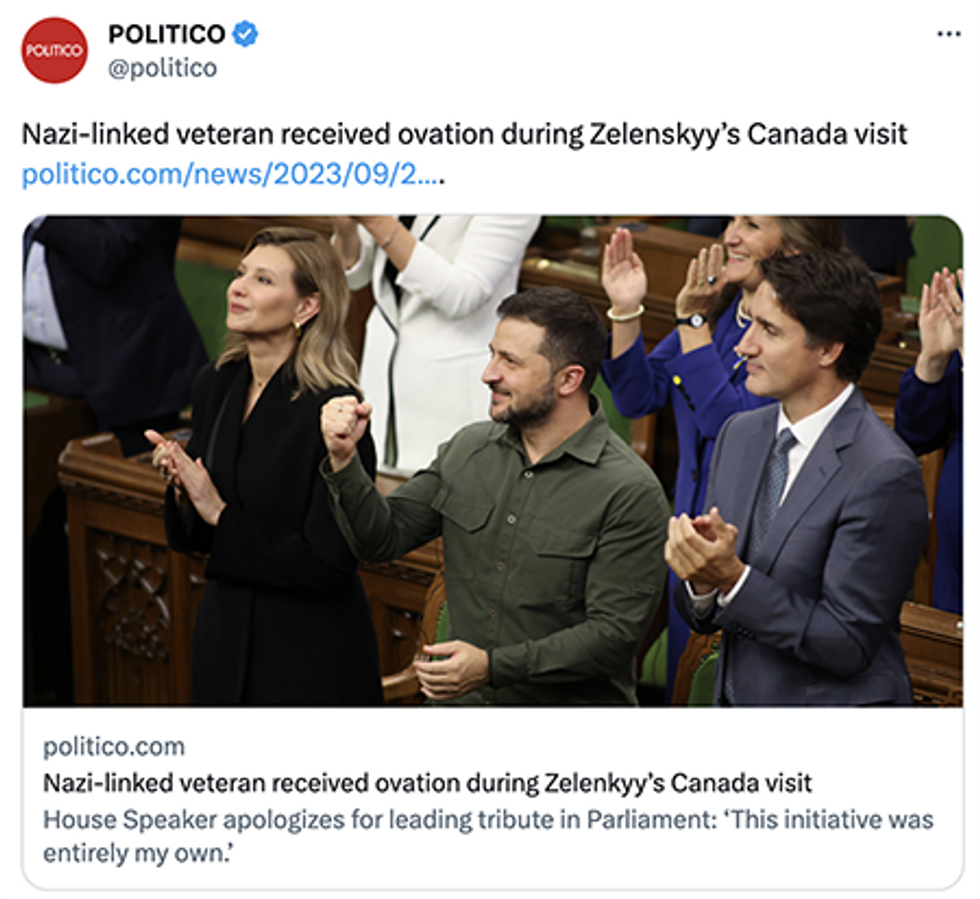 X's Community Notes was quick to fact-check the journalismers by saying LINKED MY ASS!
The Waffen-SS were involved in numerous atrocities.[13] Due to its involvement in the Holocaust, the Porajmos and numerous war crimes and crimes against the civilian population, it was declared a criminal organization by the International Military Tribunal in Nuremberg in 1946.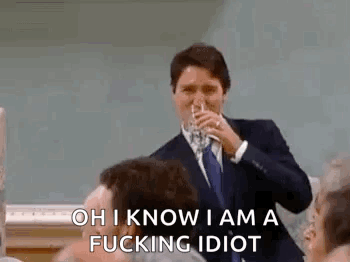 If Trudeau had any self-respect, he might be inclined to be embarrassed right now. Instead, he found angry parents outside of his office to yell at.
Zelenskyy just wants that bag. Accidentally giving a Nazi a standing ovation, schmaccidentally giving a Nazi a standing ovation.
><><><><><><
Brodigan is Grand Poobah of this here website and when he isn't writing words about things enjoys day drinking, pro-wrestling, and country music. You can find him on the Twitter too.
Facebook doesn't want you reading this post or any others lately. Their algorithm hides our stories and shenanigans as best it can. The best way to stick it to Zuckerface? Sign up for our DAILY EMAIL BLASTS! They can't stop us from delivering our content straight to your inbox. Yet.