SHOW NOTES: Thanks, Trevor Noah! Erasing Women's Achievements One Puberty Blocker at a Time!
April 15, 2021
Trevor Noah thinks men competing against women is awesome, and we think Trevor Noah is an idiot. Expect a THOROUGH debunking of his recent puberty blocker segment. We also expose the Left's latest court-packing scheme. And as shocking as this sounds, Ben & Jerry's found a way to be more insufferable jackwagons. All this and special guest Jason Whitlock!
Thanks, Trevor Noah! Erasing Women's Achievements One Puberty Blocker at a Time!youtu.be
BIDEN AND DEMS WANT TO PACK THE COURT

DEBUNKING TREVOR NOAH'S PUBERTY BLOCKER LIES
There's no evidence trans kids are stealing opportunities from everyone else, and youth sports aren't about going on to compete at an elite level. SOURCE: YouTube

Throughout American history, males competed against males and females against females. This was the basis of Title IX in sports. This cross-gender athletics experiment is BRAND-NEW in high schools. To suggest we have no evidence of its potential harm because we haven't tried it yet isn't proof of anything at all!

AVERAGE TESTOSTERONE:

Men: 300-1200 ng/dL SOURCE: Mayo Clinic
Compare Women: 20-70 ng/dL SOURCE: Mayo Clinic
Testosterone enhances red blood cell production, decreases fat, increases muscle, and increases bone density. SOURCE: Mayo Clinic

Maybe not ALL high school athletes want to compete at the elite level, but some do. And trans athletes compete at the elite level too.

CLAIM: No negative effects of puberty blockers. SOURCE: YouTube

Negative effects: SOURCE: Mayo Clinic

Weight gain
Hot flashes
Headaches
Bone density
Future fertility

Stunted genital growth SOURCE: GenderHQ
Mood disorders SOURCE: Pubmed
Not to mention the 42% attempted suicide rate as the result of becoming transgender!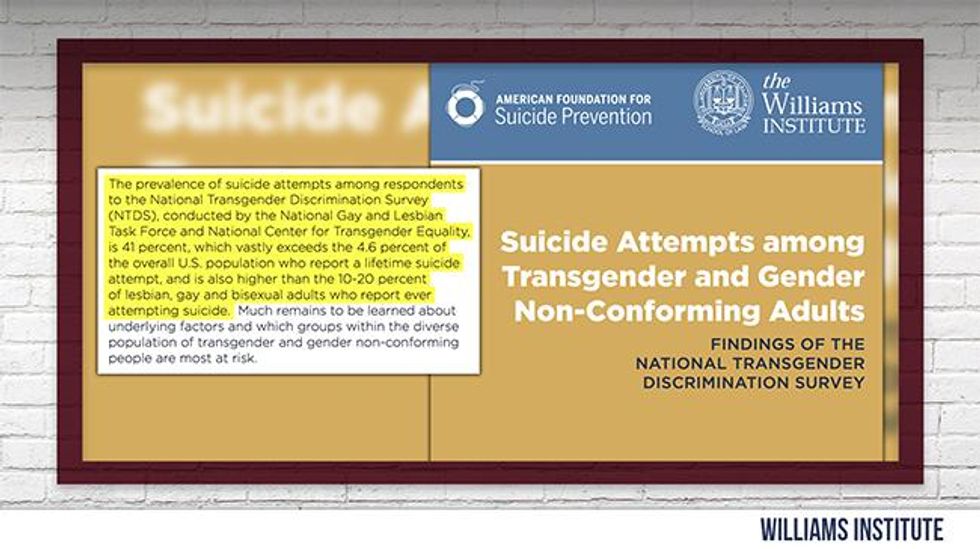 CLAIM: Republicans are just against this because of hate! SOURCE: YouTube

Actually, it's because of the negative medical effects, suicide rates, co-occuring psychiatric disorders, prevalence of past trauma among transgender people, and the danger and injustice of having biological males compete against women.
And the cherry on top is the VAST MAJORITY of Americans oppose biological males in women's sports. SOURCE: Rasmussen
Just 28% supported transgender athletes participating on the sports team of their gender identity.
Looking for a fashionable way to support Louder with Crowder? Get your swag at Crowdershop today!