Each day we overwhelm your brains with the content you've come to love from the Louder with Crowder Dot Com website.
But Facebook is...you know, Facebook. Their algorithm hides our ranting and raving as best it can. The best way to stick it to Zuckerface?
Sign up for the LWC News Blast! Get your favorite right-wing commentary delivered directly to your inbox!
crime
Crime is so bad in San Francisco Bay, boats are being raided by pirates (no, not the kind you're thinking)
October 03, 2023
We can barely go two days without reading what a crime-infested suckhole the progressive utopia of San Francisco has turned into. Just this week we found out that only 3% of San Francisco businesses have NOT been vandalized. It's not safe to leave your tiny overpriced apartment you signal your virtue over. Now, it's not even safe in the harbor. Boats in San Francisco Bay are being raided by pirates.
Before you start to make a connection between San Francisco and pirates...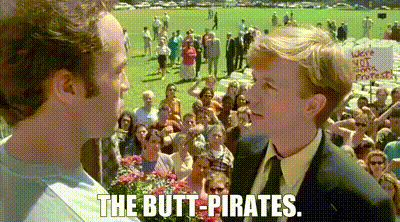 I mean aquatic marauders sneaking up on boats and ransacking them. In some cases, they steal the sailboat themselves. Crime has risen to truly intolerable levels, according to recent news reports.
"Multiple vessels have been stolen and ransacked. Victims have had to resort to personally confronting the criminals to recover their property without the benefit of police support. Is this appropriate activity for a 79-year-old senior?"
Appropriate? No. The problem is the progressive California voters who elected progressive California politicians to defund the police. The few officers who stuck around have their hands full. You may be surprised to know this, but progressive cities that defunded their police and promoted other pro-crime "equity" reforms have seen a massive uptick in criminal activity.
Even worse, as the Daily Mail reports, is that the pirates are homeless. Again, even though it's the Bay Area, I don't mean...
I mean there are homeless people who because the market has been flooded with other homeless on the streets, have needed to improvise.
The brazen thieves - whose homeless encampments have spilled out of the city - are taking small motor-powered dinghies and using them in smash-and-grab raids on larger vessels and houseboats.
First, it wasn't safe to ask a man to please stop urinating on your storefront. Then it wasn't safe to accidentally brush shoulders with someone without them threatening to rape you. Now it's not safe on your houseboat. Bay Area homeless are stealing boats to raid bigger boats.
><><><><><><
Brodigan is Grand Poobah of this here website and when he isn't writing words about things enjoys day drinking, pro-wrestling, and country music. You can find him on the Twitter too.
Facebook doesn't want you reading this post or any others lately. Their algorithm hides our stories and shenanigans as best it can. The best way to stick it to Zuckerface? Sign up for our DAILY EMAIL BLASTS! They can't stop us from delivering our content straight to your inbox. Yet.