Samuel L. Jackson Demands Single-Payer Healthcare in Profane Tirade
March 18, 2019
Samuel L. Jackson is saying he wants the government to provide healthcare. In between many four-letter words, of course. The reason for this demand is Sam's belief he shouldn't have to pay up when his relatives get sick. Yes, really:
Jackson slammed critics who say he shouldn't wade into politics and that he should "stick to acting."

"No, motherf–ker. I'm a human being that feels a certain way. And some of this s–t does affect me, because if we don't have health care … and my relatives get sick, they're going to call my rich a–," Jackson continued. "I want them to have health care. I want them to be able to take care of themselves. This is how I feel.
Sammy seems to be missing an important detail here. With "free healthcare," the government will undoubtedly be taking Sam's money, which will affect him all the same. The big difference is he'll be footing the bill not just for his family, but for everyone.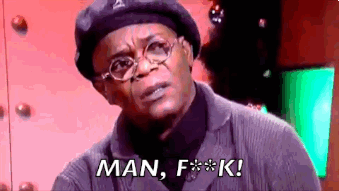 If Nick Fury here is worried about his bank account, socialized healthcare is the last thing he'll want. Unless, of course, Sam's willing to part with 70% of his greenbacks. Methinks if socialism becomes a reality in America, Samuel will be singing a much more profane tune. The amount of f-bombs will be enough to make the Guinness Book.
"Free healthcare" costs money. People will still be paying for their own medical expenses under a single-payer system. Along with everyone else's. The difference is there's a good chance the quality of the care will be a steaming pile of suckage. If you can even get care in the first place. Not exactly the best sacrifices to make just to maintain the illusion of "free" healthcare.
Don't say we didn't try to warn you:
NOT SUBSCRIBED TO THE PODCAST? FIX THAT! IT'S COMPLETELY FREE ON BOTH ITUNES HERE AND SOUNDCLOUD HERE.