Rabid Feminist Vegan Cafe 'Handsome Her' is Going Out of Business
April 24, 2019
Pro-tip to people starting a business: patrons usually want simple things. When they go to a bank, they want banking. When they go to a gas station, gas. When they go to a gym, the idea they may one day get rock hard abs by somehow spinning on an elliptical facing a wall. Adorable. When people go to a cafe, they want coffee, a pastry, and a place to sit and chat. If not stare at their phone and pretend the world doesn't exist. What cafe patrons don't want is a lecture. Yet Handsome Her, a lesbian-owned vegan cafe in Melbourne, Australia, sold lectures more than they sold coffee. And now, lo and behold, they're shuttering their angry doors.
From a very long and unintentionally funny Facebook post:
When we opened Handsome Her in 2017, we expected that perhaps we might make a stir through our brazen public discussions of structural inequality and oppression. The man tax blew up the internet, an idea that we didn't think was all too radical, yet the way the world responded showed us how fragile masculinity is and solidified the necessity for us to confront and dismantle patriarchy. We were just one little tiny shop on Sydney Rd that was trying to carve out a swathe of space to prioritise women and women's issues, and suddenly we became the punching bag of Melbourne and the internet. Yes, we are the evil, discriminatory, man-hating dykes who charge men more when didn't you know the wage gap doesn't even exist!? Meanwhile gentlemen's social clubs live on and strong around Melbourne and the world over…
Okay. So yes, charging men more than women was a big boo-boo no-no. But I'm thinking the rabid lesbian style feminism carried out in the tone of the rest of this post, which likely dripped from the walls of their establishment, didn't help either. Also, it's a vegan cafe.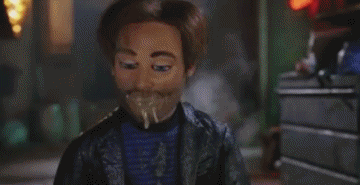 Handsome Her sounds like a Vox article in brick and mortar form. Just pass me the cream, spare me the rant. Well, the soy milk, I guess. Since cream isn't vegan.
Handsome Her, in my estimation, went far too niche in their marketing strategy, assuming many women would be pro-lesbian patriarchy dismantlers. When really, no. Lesbian Tumblr is not real life. Butch haircuts will never be The Rachel. Related Dear Gay Hollywood: Actually, Your Portrayal of Lesbians is a Lie.
The owners attempted to equate their lesbian, vegan, anti-man establishment with gentleman's social clubs. Had they actually tried to emulate the model of a gentleman's social club, they may have had better success. Gentleman's clubs are male spaces where men do men things, including drinking, smoking, playing sports, and talking about man stuff. Men's social clubs are not created on the idea that all women suck.
Had Handsome Her been pro-woman without being anti-man (yes, that can be done), where women could come together in a women's only space (like men's social clubs are just men's spaces), sans the sexism patriarchy nonsense, maybe they wouldn't be closing. They might still face an uphill battle with the vegan menu, but at least they wouldn't come across as so nasty and negative toward most of the population.
Yet already it sounds like Handsome Her assumes they're going out of business because SEXISM and PATRIARCHY! When really, it's just because they're such miserable, angry, condescending snipes and who wants to spend their free time in such company? Hard pass.
NOT SUBSCRIBED TO THE PODCAST? FIX THAT! IT'S COMPLETELY FREE ON BOTH ITUNES HERE AND SOUNDCLOUD HERE.