Each day we overwhelm your brains with the content you've come to love from the Louder with Crowder Dot Com website.
But Facebook is...you know, Facebook. Their algorithm hides our ranting and raving as best it can. The best way to stick it to Zuckerface?
Sign up for the LWC News Blast! Get your favorite right-wing commentary delivered directly to your inbox!
Professor wants you to expose your kids to genitalia early on to solve the "trans in girls' locker room" problem
August 03, 2023
A journalism professor, in a clap back against Riley Gaines documenting the lengths female college athletes were forced to share locker rooms with penis'd athletes, says the solution is to expose your children to genitalia at an early age. In a safe way, of course.
Dr. Katja Thieme, a journalism professor at University of British Columbia, had been sent a video of Gaines discussing the issue which led to Thieme's provocative... solution? Compromise? Batsh*t crazy idea? Dealer's choice.
The video was of Gaines speaking out in support of Virginia's "Fairness in Women's Sports" bill. It's a controversial topic. One side of the debate, the side that believes in biology, feels that because boys are born with certain biological advantages in strength and athletics, it is unfair for them to compete against girls. Effectively robbing girls of opportunities like scholarships and being able to discover themselves as they learn, grow, and develop. Basically, the same opportunities Lia Thomas was afforded when she was Will Thomas.
The other side of the debate is anti-science, votes Democrat, and thinks you're a transphobe.
Dr. Katja Thieme's solution to this is what she calls one of her all-time excellent parenting ideas. "Let. Little. Children. See. Penises. And. Vulvas. Of. Various. Ages. And. Sizes. In. A. Casual. Normalized. Totally. Safe. Way." Thieme, a journalism professor, says the world and children will thank you for it.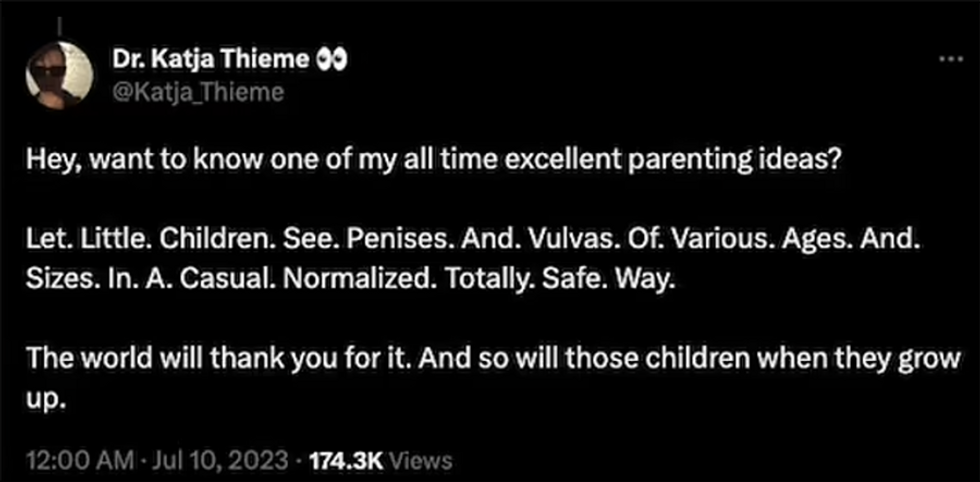 The professor claimed these incidents involving women who are uncomfortable after encountering naked (presumed to be) men in the girls' locker rooms help to fuel what she calls "anti-trans activism." Her belief is that with her parenting tips, it would prevent stories like this:
Teen breaks down after being exposed to naked man in locker room, but woke YMCA staff says it was a transwoman so shut up
Sexual assault survivor and Lia Thomas teammate testifies about being forced to change in front of Lia's male genitalia
Sorority changes definition of "woman," blasts sorority sisters who are uncomfortable with one sister's raging erections
Unfortunately, I am relying on the screen capture that was shared by The Daily Mail. The crack research team at the Louder with Crowder Dot Com website was only able to recover this:
And the last remaining response to the Dr. Journalism Professor's rant:
It is unclear at this moment if Dr. Katja Thieme has children, how many, and how many genitals she has exposed them to in a safe way.
><><><><><><
Brodigan is Grand Poobah of this here website and when he isn't writing words about things enjoys day drinking, pro-wrestling, and country music. You can find him on the Twitter too.
Facebook doesn't want you reading this post or any others lately. Their algorithm hides our stories and shenanigans as best it can. The best way to stick it to Zuckerface? Sign up for our DAILY EMAIL BLASTS! They can't stop us from delivering our content straight to your inbox. Yet.