Each day we overwhelm your brains with the content you've come to love from the Louder with Crowder Dot Com website.
But Facebook is...you know, Facebook. Their algorithm hides our ranting and raving as best it can. The best way to stick it to Zuckerface?
Sign up for the LWC News Blast! Get your favorite right-wing commentary delivered directly to your inbox!
Politics
Pro-Hamas professor confronts John Fetterman over Israel support and no one looks good
October 30, 2023
John Fetterman was confronted last weekend by a pro-Hamas college professor over Fetterman's admirable, and somewhat surprising, firm pro-Israel stance. Or, the stance of whoever writes Fetterman's tweets. People have noticed the unintelligible senator getting more verbose on the social media app formerly known as Twitter.
While IRL Fetterman sounds like this...
Fetterman gonna give it to you on X like this...
That brings us to this past weekend at what I think was a Halloween Party. One of the characters you're about to see was dressed up AS John Fetterman. Either it was a Halloween party, the dude lost a bet, or he'd never kissed a girl before.
Fetterman was confronted by Dan Kovalik, a lawyer, professor, and author of several books. Kovalik is super angry Fetterman or "Fetterman" supports Israel's right to defend itself.
Ten thousand people in Gaza have been killed, half are children.
According to Hamas.
The pope is calling for a ceasefire.
LOL
The UN has called for it.
LOLOLOLOLOL
I'm just asking, you're a good guy, I voted for you, I know you're a nice guy, this is important...
The person cosplaying as Fetterman removed Kovalik from the bar at this point, for either attempting to assault Fetterman or attempting to hand Fetterman a piece of paper. Choose your own adventure.
Kovalik dropped X detailing his harrowing ordeal.
Wrong video. Though Kovalik did say the Fettermaniac laying hands on him was evidence of the "violence inherent in the system." Whether he was quoting a popular Monty Python bit thinking he was being witty or is a melody old leftist doucheburger he didn't realize he's nothing more than a forty-eight-year-old stereotype, and which would be the more pathetic option... again, choose your own adventure.
Fetterman's office confirmed the incident to Newsweek and released another well-written statement that now is not the time for a cease-fire and we need to support Israel until Hamas is neutralized.
I grieve for every innocent person and brave Israeli soldier killed since Hamas started this war. If not for the horrific attacks by Hamas terrorists, thousands of innocent Israelis and Palestinians would still be alive today.
I've gone out of my way to highlight well-written statements and well-crafted tweets, because... does THIS look like a guy who knows what's going on?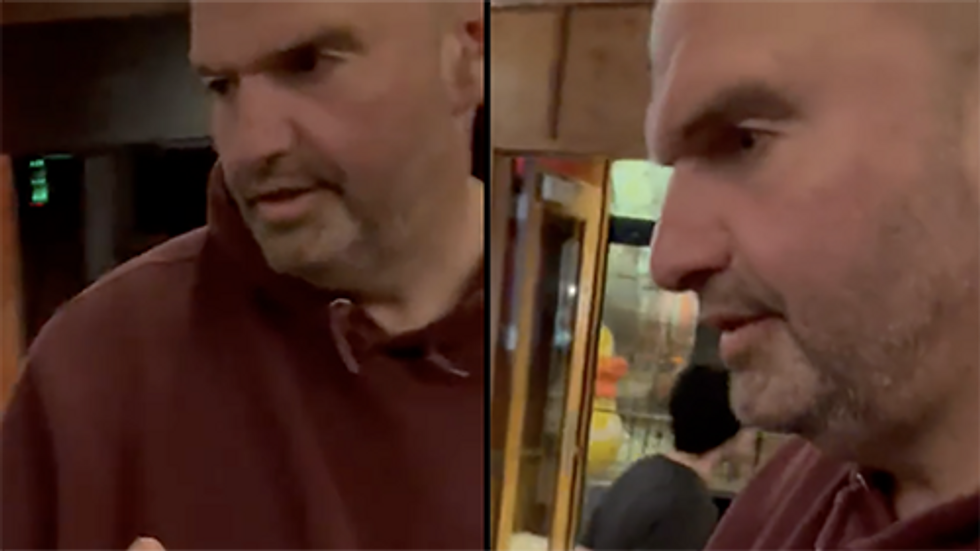 Or a guy who needs his aide to save him when an unauthorized individual attempts to have a conversation while the staffer with the Fetterman whispering iPad is at the bar ordering shots?
We still praise whoever the person is on Team Fetterman ghostwriting his Israel response. He's right on policy, while also triggering the left which is right for content.
><><><><><><
Brodigan is Grand Poobah of this here website and when he isn't writing words about things enjoys day drinking, pro-wrestling, and country music. You can find him on the Twitter too.
Facebook doesn't want you reading this post or any others lately. Their algorithm hides our stories and shenanigans as best it can. The best way to stick it to Zuckerface? Sign up for our DAILY EMAIL BLASTS! They can't stop us from delivering our content straight to your inbox. Yet.