Each day we overwhelm your brains with the content you've come to love from the Louder with Crowder Dot Com website.
But Facebook is...you know, Facebook. Their algorithm hides our ranting and raving as best it can. The best way to stick it to Zuckerface?
Sign up for the LWC News Blast! Get your favorite right-wing commentary delivered directly to your inbox!
Articles
Video: Nigel Farage Tears into the EU for Ignoring Violence in Catalonia...
October 03, 2017
With all the mindless malarkey happening around the world the last few days, it's hard to keep up with everything. Nobody seems to know what's happening in Spain (see Here's Everything You Need to Know About the Catalan Independence Referendum… and LOL: Spain Proposes Ban On… Memes Mocking Politicians?!) But if you're Jean-Claude Juncker, the president of the European Commission, it's kind of your job to keep tabs on Europe. Except he's not doing that at all.
As a result, Nigel Farage tore into the EU in the most regal way possible. Cue Thug Life music...
I think European citizens, those that do take any interest in what happens here, will be stunned that Mr. Junker comes here for his one appearance in the Strousberg session this week and there is absolutely no mention made of the dramatic events that have taken place inside a European Union member state that is allegedly a modern democracy.

...but never ever in my fiercest criticisms here did I think we would see the police of a member state of the union injuring 900 people in an attempt to stop them going out to vote. Whether or not it was legal nationally for people in catalonia to have a vote, surely people are allowed to express an oppinion. We saw women being dragged out of polling stations by their hair, old ladies with gashes in their forehead, the most extraordinary display. And do we what we get from Mr. Junker today? Not a dickybird!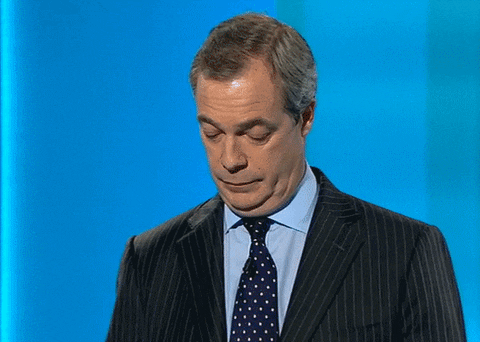 Dickybirds abound, and still, the president of the European Commission gives none. Stingy. Not to mention neglectful. They don't give a rat's glutes about the actual issues affecting Europe. That, or they're afraid of another chunk of the old continent slipping from their grip.
The EU being a collective of dunces was why Brexit happened in the first place. You had one job, EU. To preserve the safety and rights of your citizens. I hate to break it to you, but you're failing miserably (read EU Court Now Forcing Hungary, Slovakia to Accept Migrants).
Farage is a smooth-talkin' pimp who understands people have rights. Also, that sovereignty and democracy are things. The EU's failure to respond to this kerfuffle is further evidence why they're completely useless.
For more of this beloved "tell it like it is" political mind:
NOT SUBSCRIBED TO THE PODCAST? FIX THAT! IT'S COMPLETELY FREE ON BOTH ITUNES HERE AND SOUNDCLOUD HERE.