Each day we overwhelm your brains with the content you've come to love from the Louder with Crowder Dot Com website.
But Facebook is...you know, Facebook. Their algorithm hides our ranting and raving as best it can. The best way to stick it to Zuckerface?
Sign up for the LWC News Blast! Get your favorite right-wing commentary delivered directly to your inbox!
Politics
The New York Post just Roasted Ilhan Omar with 9/11 Cover
April 11, 2019
Guys. GUYS! The New York Post just pulled the pin on a grenade and threw it into Ilhan Omar's casa. Earlier this week, Ilhan Omar said the September 11, 2001 terrorist attacks were "some people did something." Well, the Post, which is a New York publication, and the World Trade Center was in New York before "some people" did "something," fired back with this cover: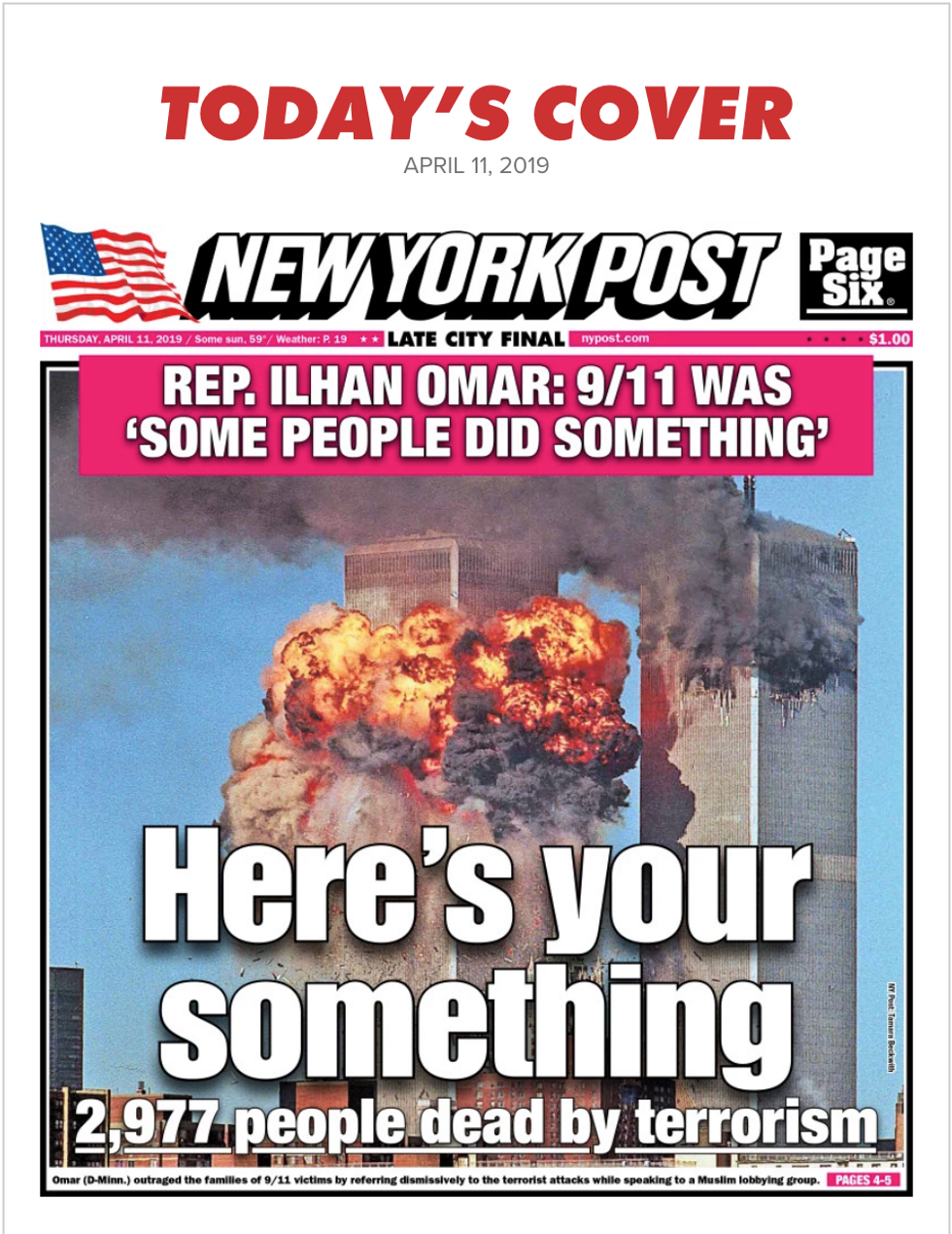 New York Post Cover
Since Ilhan's abhorrent statement, Representative Dan Crenshaw also called her out. Which prompted Ilhan Omar to cry victim. And Crenshaw wasn't having that tantrum either. Read Ilhan Omar Accused Dan Crenshaw of Inciting Violence. His Response is Perfect.
But as the New York Post knows, sometimes a picture is worth a thousand words. So perhaps brushing a terrorist attack under the prayer rug wasn't such a wise move after all.
Actions have consequences. Politicians can't just say whatever they want without getting lectured later if what they said was wrong. In fact, no one can say just whatever they want without getting lectured later. Wrong or not. Freedom of speech isn't freedom from criticism. Ilhan Omar was free to make her dumbass comment. The New York Post was free to respond with a burn.
NOT SUBSCRIBED TO THE PODCAST? FIX THAT! IT'S COMPLETELY FREE ON BOTH ITUNES HERE AND SOUNDCLOUD HERE.