Each day we overwhelm your brains with the content you've come to love from the Louder with Crowder Dot Com website.
But Facebook is...you know, Facebook. Their algorithm hides our ranting and raving as best it can. The best way to stick it to Zuckerface?
Sign up for the LWC News Blast! Get your favorite right-wing commentary delivered directly to your inbox!
Articles
New Narrative? Democrats Recite Exact Same Talking Points for Reason to Impeach Trump
December 18, 2019
The fax from the DNC has gone out. The talking point of the day is "cheat in the next election." A slew of verified Twitter Democrats ran with the exact same point today, leading me to believe this is an approved message meant to set a narrative. Call me crazy.
Now maybe it's because I've had a raging case of the superAIDS for going on two weeks now, but how has Trump tried to cheat in the next election? The next election isn't even here, there isn't even a Democrat picked to go head to head with Trump. Guys, I feel like I'm taking crazy pills. What is it Trump is supposed to have done to cheat IN THE FUTURE? HELP ME UNDERSTAND!
HOW THO!?
Guys, guys, guys (and gals). Someone explain this to me like I'm six. I'll grant you I've found the entire impeachment circus as entertaining as watching Lena Dunham chew gum. But I really don't see how a phone call to the president of Ukraine could be classified as a high crime and/or misdemeanor, especially considering all the funds went through without a hitch.
Bill Clinton committed perjury and obstruction of justice. Am I really such a simpleton to require a one-sentence answer from Democrats as to what Trump did that was just so awful?
BUT HOW?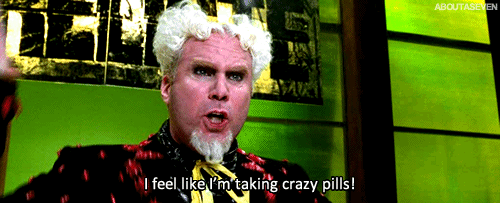 This is why we had to move forward with articles of impeachment:

The threat persists.

The plot goes on.

And Trump's efforts to cheat in the next election will never stop.

The President — and his lawyer — continue to make the case for his own removal. pic.twitter.com/gtvyCHg2xl

— Adam Schiff (@AdamSchiff) December 18, 2019
Oh, is that what Democrats are going with? So Biden is out and about bragging between denture slips that he bullied and blackmailed officials in Ukraine on behalf of his son, Hunter. The glowing, esteemed, essence of morality Hunter. Trump wonders "WTF is that about" and now he's trying to steal an election from Joe Biden? Is that what the Democrats are basing this circus on? Because as I understand it, Ukraine got whatever funds they were promised and I'm not sure Trump ever got an answer on WTF happened in Ukraine regards Biden bullying on behalf of Hunter. The pristine, honorable, innocent Hunter.
Not to be a ball-buster or anything, but all Trump needs to do to "steal" an election from Joe Biden is run clips of Joe Biden talking about children playing with his leg hairs. Check out Someone Animated Joe Biden's Bizarre "Hairy Legs" Speech and It's Creepy.
See, we keep going with this narrative, which implies Trump wanted Ukraine to help him knock Biden out of contention. But Schiff's version of the Ukraine conversation and the actual conversation are much different. In the actual conversation, Trump behaved like he usually does, just kind of rambling about and bragging about a fantastic leader he is, did you see me do this thing, it was frankly the best, overuse of the word very, et cetera, this weird thing happened with Biden I'm not totally clear on, can you illuminate it, I'm so awesome, you're so awesome, I can't believe I have this job, I like golf.
No. Here's what Trump said to President Zelensky. This is from the actual transcript which we can all read on CNN dot com.
The other thing, There's a lot of talk about Biden's son, that Biden stopped the prosecution and a lot of people want to find out about that so whatever you can do with the Attorney General would be great. Biden went around bragging that he stopped the prosecution so if you can look into it... It sounds horrible to me.
Since we're talking about it, here's Biden openly bragging about the thing Trump said Biden was openly bragging about and wondered WTF was going on there:
Presumably, had Biden not bragged about bribing Ukraine to fire the man investigating his son, Trump never would've asked Ukraine about it. Thus Biden would just carry on being weird and sniffing the hair of girls.
But you know. We've got to act as though Trump is openly asking for dirt on Joe Biden so he can *checks notes* cheat in the next election.
Run with that talking point, DNC lackeys!
Let's run a whataboutism simulation. What if this was reversed, what if Obama had said to the President of Ukraine "Hey, Mitt Romney is out there bragging about having the prosecutor fired for looking into his son, Jeremiah (was a bullfrog), can you look into that" I'm just not sure the Republicans would be able to sell it. Now I am sure a faction of diehard right-wingers would scream IMPEACHMENT, but would it go beyond that or die?
But can we agree there's a new narrative and it's all about projecting Trump as a pre-crime engager, hoping to eliminate Joe Biden from the race? Even though polling shows what's actually helping Trump is the very same impeachment meant to harm him? NEW POLLS: Trump Beats ALL Opponents and Hillary Clinton.
NOT SUBSCRIBED TO THE PODCAST? FIX THAT! IT'S COMPLETELY FREE ON BOTH ITUNES HERE AND SOUNDCLOUD HERE.