Each day we overwhelm your brains with the content you've come to love from the Louder with Crowder Dot Com website.
But Facebook is...you know, Facebook. Their algorithm hides our ranting and raving as best it can. The best way to stick it to Zuckerface?
Sign up for the LWC News Blast! Get your favorite right-wing commentary delivered directly to your inbox!
Politics
WATCH: Cherokee Democrat Demands Warren Apologize Before 2020 Race...
January 30, 2018
Pocahontas is famous for something. We just can't agree on what. But in 2020, she'll probably run for president. Before that, though, Democrats are calling for Elizabeth Warren to repent of Indian-playing ways (see James Woods Trolls Elizabeth Warren Over Her False Native American Ancestry… and "Fauxcahontas" Elizabeth Warren Gets Put on Blast By Actual Cherokee…).
Listen to a member of the Cherokee Nation (Rebecca Nagle) giving her feels on Elizebeth Warren's lineup for president in 2020.
What I would love to see Elizabeth Warren do is take responsibility for her false claims.

Despite many native people and Cherokee people coming forward and asking her to stop doing this. You know, Cherokee genealogist traced her heritage to well before the time of the trail of tears and she does not have a single Cherokee ancestor. And the fact that she hasn't responded to those requests shows how easily in the U.S. today we as native people are silenced.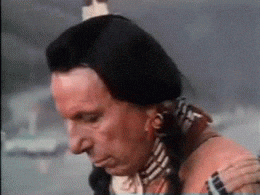 It's been a rough day today for women politicians with their eyes set on the White House (see Video: Kirsten Gillibrand Calls the Term 'Chain Migration' a Racial Slur and WATCH: Senator Gillibrand Gets Roasted Over #MeToo Hypocrisy by Meghan McCain). Warren, in particular, got caught pushing the trigger words of leftists. Marginalization. Persecution. Being a shrieking harpy despite insisting women on the left are intelligent inhabitants of Mother Earth.
Elizabeth Warren is just one example of the DNC's hypocrisy. Standing on the rocks of marginalization to cross the river of political correctness can win votes. But one misstep, and it's into the freezing river of leftist rage. The waters lead to a cannibalistic tribe of SJWs just around the river bend. *Just around the river bend*
With their pasts coming back to haunt them like the ghosts of their ancestors, Democratic politicians are going to have a hell of a time running in 2020. If leftists can see 2020 beyond the rage of DACA, walls, and people keeping more of their money.
Now here's a triggering segue:
NOT SUBSCRIBED TO THE PODCAST? FIX THAT! IT'S COMPLETELY FREE ON BOTH ITUNES HERE AND SOUNDCLOUD HERE.