Each day we overwhelm your brains with the content you've come to love from the Louder with Crowder Dot Com website.
But Facebook is...you know, Facebook. Their algorithm hides our ranting and raving as best it can. The best way to stick it to Zuckerface?
Sign up for the LWC News Blast! Get your favorite right-wing commentary delivered directly to your inbox!
Liberal Media
MSNBC Brags About Diversity, Gets Criticized for not Being Diverse Enough
June 09, 2019
We all know leftists love virtue signaling about diversity. "Look at us, we've got a brown one and a fancy one and this one's got lady parts." Case in point, MSNBC tried to placate the identity mob by bragging about their surplus of female anchors.
This didn't satisfy the mob in the slightest:
MSNBC proudly shared a Los Angeles Times article on Twitter boasting its female-dominated daytime programming, along with a photo of its five female daytime anchors. It was not lost on the public that all the women in the image were white.

The LA Times article was entitled "The Women Warriors of NBC" and detailed how five women– Stephanie Ruhle, Hallie Jackson, Andrea Mitchell, Katy Tur, and Nicolle Wallace— came to dominate its daytime programming.

MSNBC captioned the tweet, "The five female anchors who now shape most of the daytime news programming at MSNBC." Almost all of the tweet's nearly 2,000 replies pointed out its lack of diversity.
Give lefties an inch and they'll take you for a trip around the planet. Pointing out how much of a homophobic, transphobic, racist, sexist douchenugget you are all along the way. Before long, MSNBC will be bragging about the number of African trans-female lesbian quadriplegics they have on staff. The mob will turn their complaints to said quadriplegic's wheelchairs not being carbon-neutral.
Funnily enough, this desire to have people from different walks of life only applies to approved lefty pet groups. It's a whole different story when it comes to intellectual diversity. As in allowing non-leftists to exist anywhere outside of a cave in West Virginia. When it comes to diversity of thought, suddenly the mob "forgets" the definition.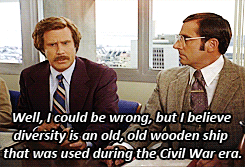 Few things are absolute in life. One universal truth though is nothing we do will ever satisfy the leftist identity mob. Cooperation is futile. Which is why we're better off ignoring them entirely.
While we're on the subject: