Each day we overwhelm your brains with the content you've come to love from the Louder with Crowder Dot Com website.
But Facebook is...you know, Facebook. Their algorithm hides our ranting and raving as best it can. The best way to stick it to Zuckerface?
Sign up for the LWC News Blast! Get your favorite right-wing commentary delivered directly to your inbox!
Articles
Mike Rowe Spanks Whiny Woke Commenter Who Insulted Him
September 06, 2019
Rule of thumb. If you have a beef with something someone said on social media, don't drag their mother into it. That's what Karen SJW learned when she whined about Mike Rowe (see Mike Rowe Shares Story From His Past About Entitlement and Jealousy and VIDEO: Mike Rowe Exposes the Scam of College and Student Loans). It all started with this seemingly innocent post about people helping.
Beth Gleaner, the "Karen SJW" in question, objected in the comment section to Rowe using the word "men," and implied that he was attacking women by not including them too. But then Beth dragged Mike Rowe's mom into it, saying that Mama Rowe probably shares this random lady's disappointment. When 3,000 people gave her idiotic comment down twinkles, she demanded Rowe respond.
Here's "Karen's" original comment: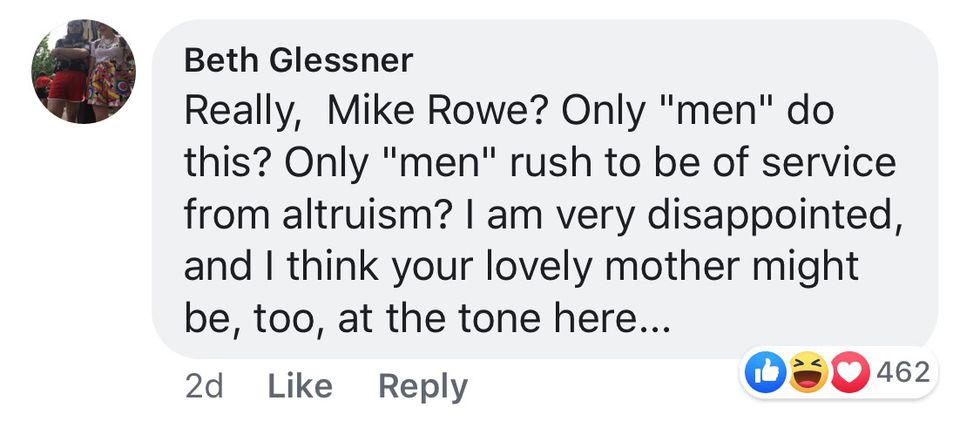 I got 3000 (yes, that # with THREE Zeros!) negative comments for suggesting that your comments were a bit sexist, that women don't respond in catastrophic events.
Oh, Rowe responded all right...
This was, after all, a post about an army of volunteers - mainly men - headed into harm's way to assist total strangers who need help. You said nothing about any of that. You chose instead to suggest that I was sexist for sharing a post whose "tone" you objected to. Then, you got your facts wrong. Then, you expressed your "disappointment." Then, you invoked my mother, on a page where 5 million people, for whatever reason, still kind of like me, and still, from time to time, come to my defense.
That was how he ended the spanking. Here's one of our favorite, more salient points from the beatdown:
I can't prove it, but I'd wager that many of your detractors, (3,000!!!!!I) might feel that our sudden obsession with feelings have had some unintended consequences in society at large. Some I suspect, might point to the glut of "safe spaces," "crying closets," "toxic masculinity," "trigger warnings," and all manner of revisionist history and political correctness currently dominating the conversation on social media. I'd further wager that many of those who took exception to your comments are concerned that "how we feel," has become more important than "what we think." Such people might worry that we have become preoccupied with not offending those who are trying to "express their truth," rather than searching for the actual truth.
Or as the famous Tumbler Merchant says when not spreading cancer to the masses: "facts don't care about your feelings."
Mike Rowe had every right to dress down Karen the SJW who believed her outrage warranted a response. It didn't, but Rowe couldn't pass up the chance to spank such an entitled whine puppet. So he leveraged Karen's boohooing about men getting credit for something men did into a larger point about how our society seems to think whining is a substitution for value. It's not.
Just because you're aggrieved over a thing doesn't mean you're right. British Treasure Ricky Gervais made the same point to the cackling coven of The View, which you can (and should) watch here. Yet so obsessed are the offended with being offended, fine folks like Mike Rowe are left to batter them around for sport. This is not a complaint.
Here's my call to you: pushback on people like Karen. You have just as much of a platform as she does. When she gets her head of steam going about X thing triggering her to new levels of dumb, spank her. You may not be as eloquent as the Mike Rowe machine, but dang it you'll have a good time anyway.
Get your content free from Big Tech's filter. Bookmark this website and sign up for our newsletter!