Watch: Sorority sisters suing over trans member (the one with raging erections) share alarming details with Megyn Kelly
May 17, 2023
A group of Wyoming sorority girls is suing the University of Wyoming over being forced to live with a transgender student. One who gets raging erections watching the other sorority sisters change. Allegedly. The plaintiffs joined Megyn Kelly to share their story.
The details of their complaint left Megyn Kelly flabbergasted. Among the allegations, the sorority sister (more on -- her -- in a moment) was seen having an erection visible through -- her -- leggings, would get sexually aroused (with an erection) as the other sisters walked by, and was caught watching a girl change her top.
Megyn Kelly interviews group of Sorority Sisters who filed a lawsuit against the University of Wyoming after a transgender male was allowed to live in their sorority house. @megynkelly lists the allegations in the lawsuit against the male:

🔸"Had an erection visible through… pic.twitter.com/zsYPS57m5Z
— Oli London (@OliLondonTV) May 16, 2023
The sorority sister at the center of all this is Artemis Langford. She shattered a glass ceiling last October when Kappa Kappa Gamma became the first sorority in Wyoming history to allow a transgender student into their ranks. See if you can sport Artemis in this thumbnail.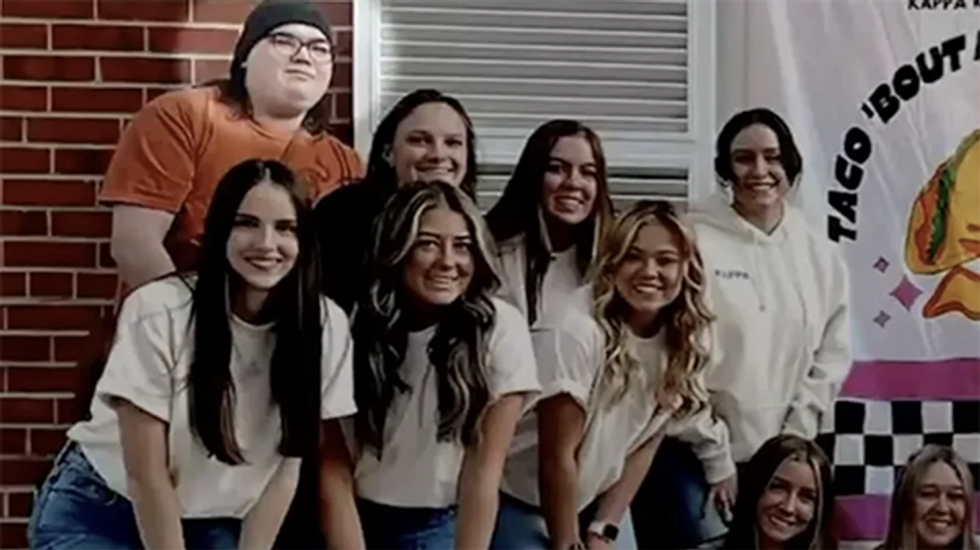 Artemis is also a Democrat aide. I know, right?
This is a dilemma unique to the times we live in. We talked about it earlier covering Riley Gaines. There are some who have the old-time belief, think pre-2021, that girls should be allowed safe spaces and NOT be exposed to male genitalia in those safe spaces. There are others -- the entire Democrat Party and most of the media (but I repeat myself) -- who think those girls are transphobes.
Imagine it's your daughter who is being put in a position where she has to explain THIS out loud:
You go home at the end of the day to feel comfortable and relaxed in your own skin, and you can't do that knowing that this individual has full access to your house. Some girls live in constant fear in our home, and our home is supposed to be a safe space.
Welcome to 2023, where because trans outranks "girl born that way" on the Left's pound-for-pound most marginalized rankings, we expose girls to penises in the name of equity. Not unlike when a Dylan Mulvaney poseur tried pledging a sorority. Not only is it tolerance and inclusion to allow transwomen to rock out with their cocks out, but biological girls are also told there is something wrong with them for not wanting to see another "girl's" weiner.
As far back as 2017, CNN reported not wanting your daughter exposed to a dong made you a bigot. This is now the official position of the Democrat Party.
><><><><><><
Brodigan is Grand Poobah of this here website and when he isn't writing words about things enjoys day drinking, pro-wrestling, and country music. You can find him on the Twitter too.
Facebook doesn't want you reading this post or any others lately. Their algorithm hides our stories and shenanigans as best it can. The best way to stick it to Zuckerface? Bookmark LouderWithCrowder.com and check us out throughout the day! Also, follow us on Instagram and Twitter.