Each day we overwhelm your brains with the content you've come to love from the Louder with Crowder Dot Com website.
But Facebook is...you know, Facebook. Their algorithm hides our ranting and raving as best it can. The best way to stick it to Zuckerface?
Sign up for the LWC News Blast! Get your favorite right-wing commentary delivered directly to your inbox!
COVID-19
Left Celebrates COVID Testing Facility Denying Candace Owens Service. But What About "Stopping the Spread"?!
September 02, 2021
Candace Owens is in Colorado. Before appearing at an event, she wanted to get tested for COVID-19. The same COVID-19 the left has freaked out about for over a year, reporting on like it's Ebola and anyone who doesn't let the government dictate how to live their lives is a science-denying deviant. That is until there's a better story to tell, like riots against police violence, in which case COVID is suspended and those rioting are heroes. The same left wants you to prove you don't have COVID to live your life via a COVID passport. The same left is also happy to shame you for not getting a vaccine because you're somehow killing people. The same left that transformed "slow the spread" into "stop the spread." That's the setup. Candace Owens wanted to get a test to make sure she was negative so as not to "spread" COVID. But a testing facility in Aspen, Colorado denied her that service based on who she was. If you don't think COVID is political, I have a video for you.
I took screen shots from Candace's Instagram stories of the email sent to her and her glorious response: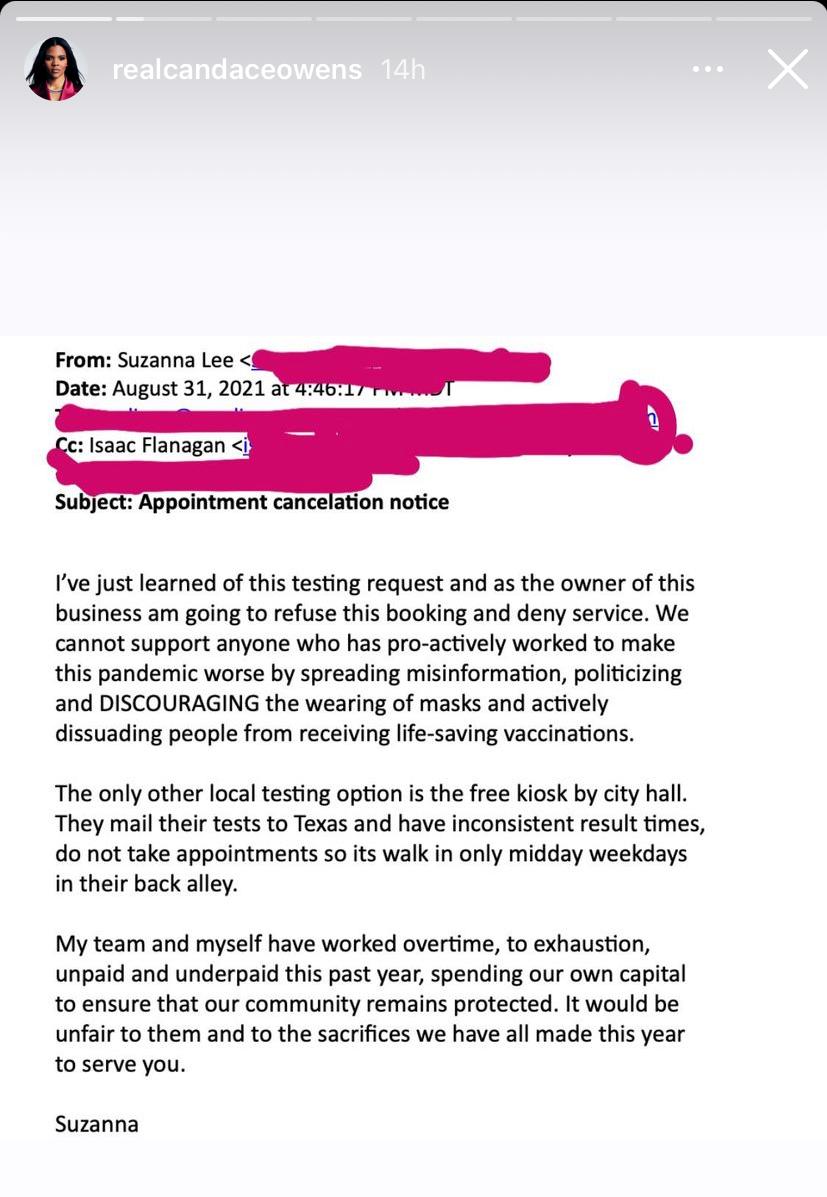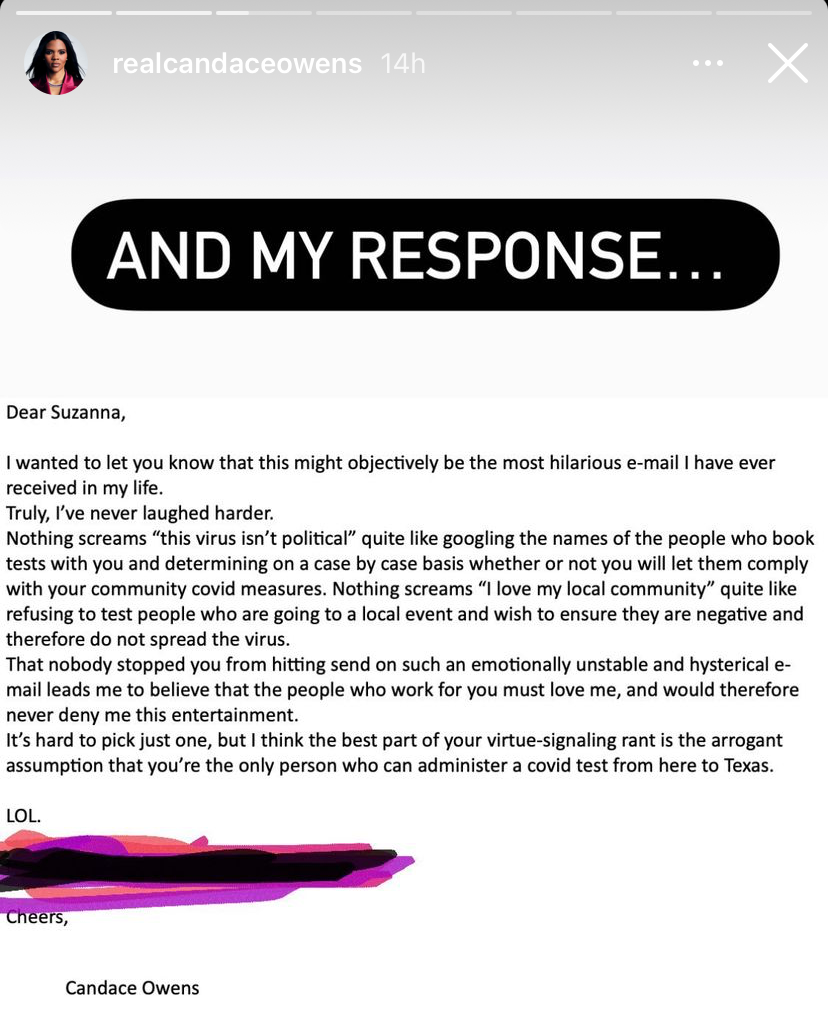 The left is celebrating Suzanna for denying Candace this COVID test. Which goes to prove Candace's point, my point, anyone's point that the hysteria around this virus is all political. Though the virus is real, the measures put in place for its supposed containment is questionable, inconsistent, and now for the world to see, incredibly political.
@RealCandaceO Oh, Candace, honey She didn't refuse you service because of your politics She refused you service b… https://t.co/bAazBNNgBk

— Adam Cohen Lawyers for Good Government #DemCast (@Adam Cohen Lawyers for Good Government #DemCast) 1630558099.0
@Courtneyscoffs @RealCandaceO That clinic owner and their staff have been on the front lines. Exposed to a deadly c… https://t.co/zlFioaMpYR

— Patricia Arquette (@Patricia Arquette) 1630597561.0
If the left was really afraid of the virus, they'd want everyone tested and vaccinated. Thats what they've told us, right? But an outspoken right-leaning lady wants a test, and all of a sudden it's NO TEST FOR YOU! So she's allowed to spread this supposedly terrible, horrible, no good, very bad virus to the most vulnerable because she's a conservative? Meanwhile wear a mask or you're killing the old people, how dare you.

This is also the same Colorado where a Christian baker was sued for not baking a gay couple a cake. The same left celebrating Candace being denied a COVID test raised pitchforks against the baker for denying a cake. So it's fine for a business to have a choice in one case, but not the other. By the way, a cake is a trivial matter compared to a virus. Yet the left was upset about a cake denial, and is giddy about a viral test denial.
If you still think this hoopla around COVID is about COVID, you might be an idiot.
We've always known the left doesn't care about you making personal choices for you, your family, your business or even your own body. It's always about control.
The left isn't afraid of COVID-19. They're afraid you'll find out and won't comply with their measures meant to dominate you.
Get your content free from Big Tech's filter. Bookmark this website and sign up for our newsletter!