Each day we overwhelm your brains with the content you've come to love from the Louder with Crowder Dot Com website.
But Facebook is...you know, Facebook. Their algorithm hides our ranting and raving as best it can. The best way to stick it to Zuckerface?
Sign up for the LWC News Blast! Get your favorite right-wing commentary delivered directly to your inbox!
Articles
GameStop Transgender Woman Speaks Out. Has No Regrets for Violence!
January 16, 2019
Transgender women are real women. Repeat it until you ingrain the mantra into your intolerant mind. If you still can't believe it, have a friend tie you to a chair, tape your eyelids open, and watch Tiffany Moore, the ravishingly beautiful woman who wrecked a GameStop over "malicious hate," until blood oozes from your hateful eyes. Because obviously, OBVIOUSLY, Tiffany is so clearly a lady who demands your respect. Or else.
From KOB 4:
Tiffany Moore said she was returning a video game that she bought for her son shortly after Christmas, when the cashier at GameStop, on Coors and Paseo del Norte, repeatedly called her by a gender pronoun that she doesn't identify with.
And as all ladies do, Tiffany reacted in violence by going all This is Sparta on game displays. Hey, it's how ladies handle their frustration. We all talked about it one time at book club while painting our nails and tweeting Ryan Gosling memes. Only real ladies know.
"Yeah, I could have reacted a whole lot better," she said. "But you know what, I look back at it and if I could, I wouldn't change a single thing. I would do it 100,000 times again. I would kick over that display 100,000 times again. Because my actions were justified. I mean, it was blatant and malicious hate. It was blatant and malicious misgendering."
Girl, I feel you. When someone doesn't address me exactly as I wished to be addressed, usually as "goddess divine" or "Empress Courtney," my very first reaction is looking around for property to destroy. Puts me in touch with my feminine side. I never, NEVER, ask to speak to a manager. I never shrug my shoulders and go about my fabulous day. No, whenever someone doesn't address me exactly as I wish to be addressed: violence. Tis the way of women. Only real women understand.
Ackshully, we all know if I went combat ninja warrior on someone else's property, employees would reach for the phone and dial the Po-Po. Because someone failing to address you the way you want to be addressed doesn't justify the destruction of property.
So what we actually have here is proof that all one needs to do to get away with criminal acts is to dress as the opposite sex, insist you're the opposite sex despite never being the opposite sex, and threaten to sue anyone who dares question your personal truths. That's real privilege right there, ladies and wannabe ladies. Read also Spanish Transgender Woman (a Man) Will Compete for Miss Universe.
Lastly, because I find it funny, some LwC insider messages between me and another writer. Call it a behind the scenes moment: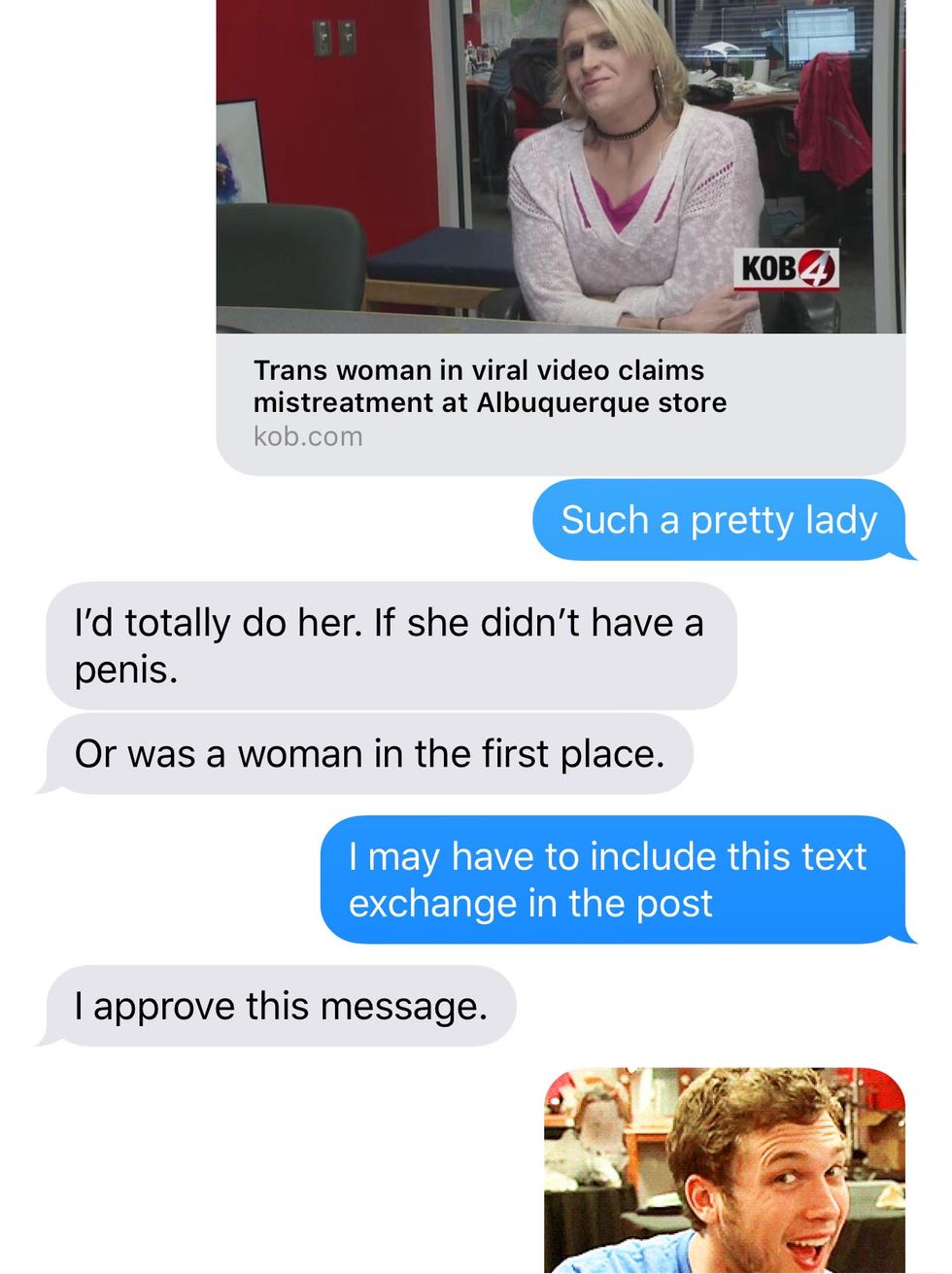 What can I say except you're welcome?
NOT SUBSCRIBED TO THE PODCAST? FIX THAT! IT'S COMPLETELY FREE ON BOTH ITUNES HERE AND SOUNDCLOUD HERE.