Each day we overwhelm your brains with the content you've come to love from the Louder with Crowder Dot Com website.
But Facebook is...you know, Facebook. Their algorithm hides our ranting and raving as best it can. The best way to stick it to Zuckerface?
Sign up for the LWC News Blast! Get your favorite right-wing commentary delivered directly to your inbox!
Politics
Fox News producer responsible for Biden "wannabe dictator" chryon speaks out: "Today was my last day at FOX"
June 16, 2023
Alexander McCaskil was a producer for Fox News. His last day at the company was on Thursday. Getting out before human resources at NewsCorp made him learn about glory holes, McCaskil was responsible for the now infamous chryon that called Joe Biden a "wannabe dictator."
You know those words at the bottom of the screen when you watch cable news? That's the chryon. On Tuesday, while both Joe Biden and Donald Trump were giving campaign speeches, "Wannabe dictator speaks at the White House after having his political rival arrested" flashed across the screen.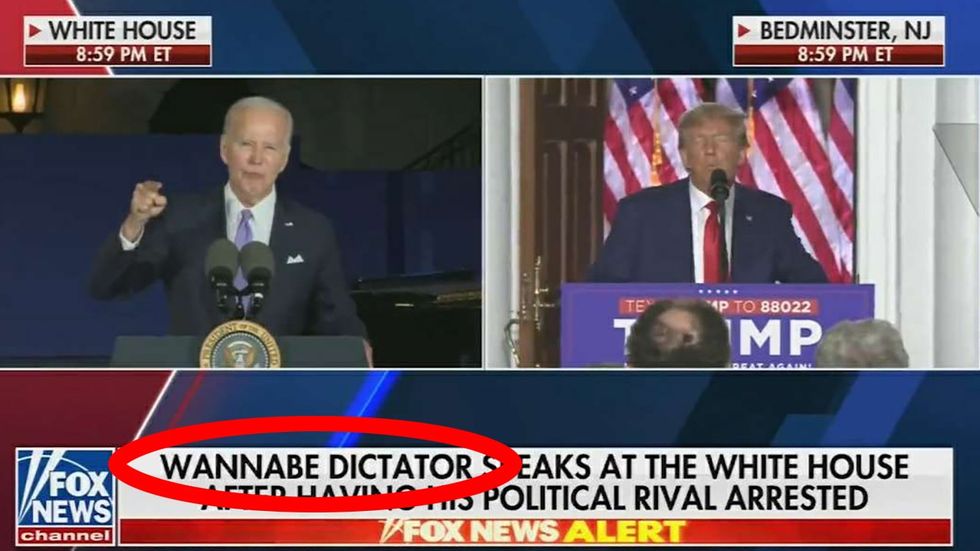 Joe Biden's Department of Justice brought Trump (one of the ten or so people running against Biden for president) up on thirty-seven federal counts concerning Trump's handling of classified information. Since the DOJ is led by a man Joe Biden appointed to lead the DOJ (Merrick Garland), there are people who believe Biden is trying to get Trump arrested. "Independent" fact-checkers will counter and say "nuh-uh," while claiming with a straight face that the DOJ operates independently from the White House.
McGaskil told friends on Instagram that it was his last day at Fox News. "It was a wild 10 years and it was the best place I've ever worked because of the great people I met. But the time has come. I asked them to let me go, and they finally did. To all my friends there: I will miss you forever."
\u201cFormer Fox News producer Alexander McCaskill, who parted ways with the network for airing the "wannabe dictator" chyron, posted this photo of him leaving Fox offices on his Instagram.\n\nMcCaskill was also a longtime producer/editor for Tucker Carlson.\n\nhttps://t.co/MvJqRMiBOR\u201d

— Justin Baragona (@Justin Baragona) 1686928639
One of those friends is Tucker Carlson, who McCaskill was a longtime producer for. Carlson shared insight into what happened on his Tucker on Twitter show.
He had been at Fox for more than a decade. He was considered one of the most capable people in the building. He offered to stay for the customary two weeks, but Fox told him to clear out his desk and leave immediately.
It is unclear as of this writing what will become of Alexander McCaskil. There is an above-average chance the producer had decided Fox News was no longer a good fit for him and already knew he was going to quit. If that is the case, "Wannabe dictator speaks at the White House after having his political rival arrested" will go down as an all-time "middle-fingers in the air as you tell you boss to suck it" moment in the history of corporate America.
><><><><><><
Brodigan is Grand Poobah of this here website and when he isn't writing words about things enjoys day drinking, pro-wrestling, and country music. You can find him on the Twitter too.
Facebook doesn't want you reading this post or any others lately. Their algorithm hides our stories and shenanigans as best it can. The best way to stick it to Zuckerface? Sign up for our DAILY EMAIL BLASTS! They can't stop us from delivering our content straight to your inbox. Yet.