Each day we overwhelm your brains with the content you've come to love from the Louder with Crowder Dot Com website.
But Facebook is...you know, Facebook. Their algorithm hides our ranting and raving as best it can. The best way to stick it to Zuckerface?
Sign up for the LWC News Blast! Get your favorite right-wing commentary delivered directly to your inbox!
Culture
Dear Militant Vegans: Keep Your Misery to Yourselves
September 04, 2019
Dear vegan snobs in a constant state of hangry:
It's your body, your choice, your life. So keep it to your damn self and stop pushing the harsh edicts of your food cult on the rest of us. We get it. You love the fleshy fauna and dream of a world where Gia's creatures roam the earth in their purest forms, unspoiled by salt and pepper, possibly cumin. All rubbed on the yummiest parts of a pig. Plenty of us love animals, great and small, but recognize many have value as food. Tasty, tasty food. It's fine if you want to sustain yourself on nothing but the finest twigs and berries Whole Food has to offer after being processed via a lab. It's your right as a human being with free will to treat your body like a temple after it's been rampaged by ISIS. But do the rest of us a favor by keeping your wheatgerm and your misery all to yourselves. The rest of us have fabulous, protein-fueled lives to live and frankly, fighting with you is just tiresome. Mostly for you, because you're just not as healthy. Read New Report: Vegans Take Twice as Many Sick Days as Meat-Eaters.
For the few errant "friendly" vegans who clicked on this post with the intent to rage at me for as long as their sickly hate-pecking fingers could: I'm glad you're doing veganism the "right way." Yes, I see your comments every time we post a "LOL vegans suck" kind of story. You insist you're a good vegan and you get plenty of protein from some kind of plant, nut or legume. I would say I'm happy for you, but that would be a lie. Still, as long as you're content being a vegan and you don't push veganism on everyone else like rude Jehovah Witnesses ruining my Saturday morning in pit while I smoke a brisket, we're cool. This post is for your militant compadres who ooze misery on all those who dare exist too close to them.
People like the lady bitching about BBQ scents wafting into her safe space, or the parents who malnourished their children by pushing veganism on their tiny, un-growing bodies. Or this other set of parents who had their children taken from them after veganism. Or this other baby hospitalized because of veganism.
My point is, despite vegans being malnourished and in what seems to me to be a constant state of anguish, you're growing in ranks and bravado. Vegans used to be a small wing of militant, vocal irritants who made great punchlines. But you're amassing weakling armies, reaching positions of influence at Big Tech, and slowly trying to push veganism into the mainstream in what I think is a long game to make veganism the norm.
Therein lies the rub. Which we slather all over our meat. No one cares if you want to vegan your whole life if that's your choice. Our problem is when you insist everyone else not only condone your way of life but embrace it for their own. Up to and including your children who need protein to live. Protein from meat. Not chickpeas. Related: The Economist is Bummed Poor People are Eating Better Because it Harms the "Environment."
So I'm issuing the warning now. Sure, misery loves company, but your company would rather avoid misery. It's easy for us, we just throw some good grub on the smoker. See, most of us want nothing to do with your veganism. That's not because we hate you. Though we also hate you. No, it's that our bodies crave the meats because our bodies require the meats. One need only observe the human anatomy, like the teeth, to determine human beings are omnivores, designed to eat both plants and animals. Not to be confused with meat-imitation products made from pea protein isolate, expeller pressed canola oil, maltodextrin, methylcellulose, cellulose from bamboo, all processed up to look nice and meaty in a lab. Yummy, yummy science in my tummy, tummy, tummy.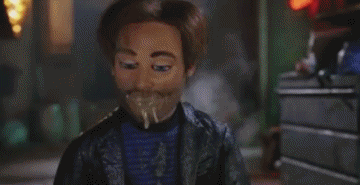 We want to live our lives in peace, without your insistence Meatless Mondays should be a thing. Without you shoving your meat substitution abominations onto our plates. We're happy shoving bacon, cheese, steak, and smoked pork ribs in our mouths, thanks. Kindly keep your Beyond the Meat burger packed with beet juice extract and vegetable glycerin where it belongs: in a waste treatment plant. If not a Daily Wire tumbler.
Side note: if you don't want to eat meat, why the meat substitution products, hmm? I'd say "food for thought" but thought requires good food. Not food concocted by men (and WOMEN) in white coats.
Oh, yes, I do know you're militant in order to save the animals. But know this: farmers have to kill thousands of animals you claim to care so much about in order to preserve your precious chia seeds and rice for your own blotchy, bloated cheeks. If you're eating many of the same plants that sustain herbivorous animals, and those animals are trying to snag a snack from a vegan farm, how do you think farmers protect your food? Not with a hashtag. Read: Want an Ethical Diet? It's Not as Simple as Going Vegan.
So for the last time, you self-righteous starvers, enough with your moral high horses you can't even get on without two omnivores shoving you up into the saddle. You have just as much right to be a miserable canker sore as I have a right not to be. So keep your soy and your sadness all to yourselves, and leave the happy high from a porterhouse steak dinner to the rest of us.