Dear Joe Biden: You have Blood on Your Hands
August 26, 2021
Dear child-sniffing, non-consenting female neck-nuzzling, father of a Parmesan cheese-snorting and prostitute-banging son, Joe Biden:
You're an asshole. No, those words will not inspire uprisings or level enemy armies. They're neither witty nor intelligent, well-thought or poignant. That's why they're so fitting for you, a man whose disastrous Afghanistan exit "strategy" has led to the deaths of American soldiers. At the time of this writing, the death count was 12.
I have no illusions you'll stumble upon this open letter, perhaps confusing it for the "MTWTFSS" pill box sitting beside your teeth on your bathroom vanity. Were you a pillar of leadership and titan of thought before crawling butt first down the dark stairs toward full demented old geezer, I'd allow you some grace. But let's not pretend the name "Joe Biden" caused those who heard it to perk up to respectful attention. Unless it was an underage girl looking for an exit. This open letter will move no needles. It will call no action. It is but a vessel for my simple human feelings, which today can best be described as "angry."
After news of the terrorist attack from Kabul today, your administration reacted by showing weakness:
Statement on this morning's attack at #HKIA: https://t.co/Qb1DIAJQJU

— John Kirby (@John Kirby) 1629998025.0
You'd think it couldn't get worse, but perhaps caving to public pressure, your handlers strapped on their white gloves, dosed you with whatever they needed to to keep you animated, and sent you out to speak to the press. But not without a list of who to call on first.
The entire press conference was an exercise in national embarrassment. Our enemies are watching right now, cheering themselves. You're weak. Ineffectual. Incoherent. Some would argue, myself included, not actually the one in command, instead controlled by others unknown.
This, however, is pure Joe Biden:
.@pdoocy: "Do you bear any responsibility for the way that things have unfolded in the last two weeks?" President… https://t.co/tNFQxaxvis

— CSPAN (@CSPAN) 1630015490.0
That's right, the buck stops with you. But not before blaming the guy who came before. Classic tactic straight from the Vice President of Barack Obama's playbook. A president you served under for 8 years. Nothing was done about Afghanistan during y'alls 8 year tenure, though. One could argue Trump could've blamed you and Barack for this mess. And I'd remind you as I did earlier, as Commander in Chief, you're allowed to make new deals. You're allowed to renegotiate. If you thought Trump's plan was garbage, why follow it? Blaming the guy who came before you is also a weak move. It suggests you're not a leader at all, you're just a follower forced into the ways of the past. This time following someone who you were supposed to replace. Not exactly an inspirational moment.
But hey, at least we have this image.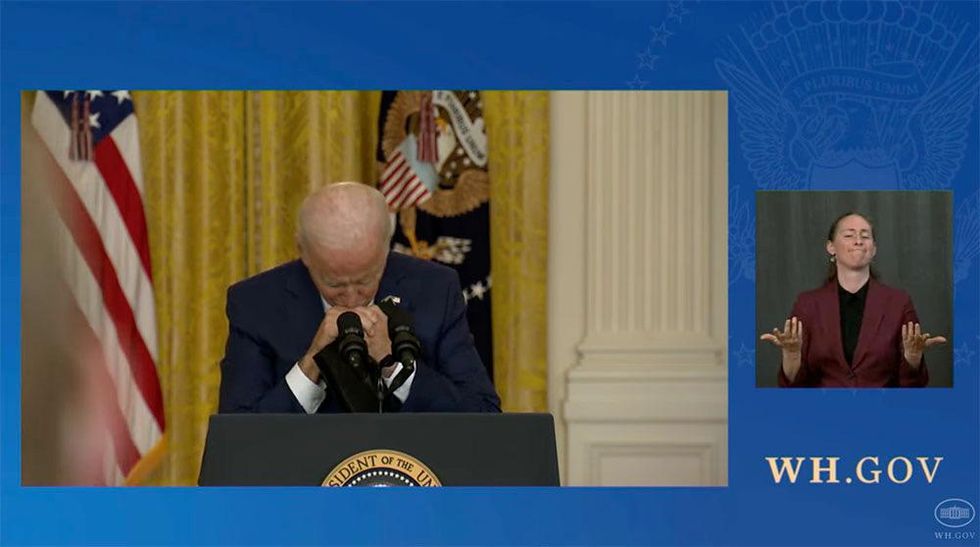 Doesn't telegraph weakness at all. This is fine.
At least 12 marines are dead because of this withdrawal carried out by the Biden Administration. Sure, there are people reading this letter right now possibly screaming at me, because how could someone as confused and demented as Joe Biden clearly is, be running the country? Fair question. One I've made several times.
Figurehead or not, Joe Biden is the President of the United States. Figurehead or not, the actions and words of Joe Biden are seen and heard by all. Including our enemies. When I say Joe Biden has blood on his hands, I'm not just referring to those who lost their lives in Kabul. I'm referring to the blood in which Joe and his administration will be awash as consequences for this abysmal leadership. This disaster will have repercussions, not just in Afghanistan.
Joe Biden, your weakness has killed Americans and possibly lead to the deaths of many more. Some may accuse me of using fear tactics. I really hope I'm wrong. Sincerely. But if I were an enemy of the United States, and I saw how weak American leadership is, how foolishly decisions are made, like giving a list of Americans and Afghan allies to the actual Taliban, how trust is placed with the Taliban to do the right thing, how we prioritize being "woke" instead of strong, I have to assume our enemies will exploit that weakness. Our enemies always seek to inflict more damage than daring to misgender. Yet you, your administration and indeed the Democrat Party, seem far more concerned with misgendering, pushing a vaccine on those who do not want it, than dealing actual problems effectively.
You are not doomed to fail. You already have. Sadly, it's the rest of us who will pay the price.