Each day we overwhelm your brains with the content you've come to love from the Louder with Crowder Dot Com website.
But Facebook is...you know, Facebook. Their algorithm hides our ranting and raving as best it can. The best way to stick it to Zuckerface?
Sign up for the LWC News Blast! Get your favorite right-wing commentary delivered directly to your inbox!
Watch: Dad gets so angry charging umpire he blows his ACL, MCL, and every other ligament in his knee in hilarious fashion
July 10, 2023
Look. I live in a highly competitive sports town where my niece is the star pitcher. Believe me when I say I understand sometimes your emotion gets the better of you. And anyone who has ever sat in little league stands knows they can do the job better than the umpire. However, if you find yourself so angry at "Blue" that you are going to charge the field, you might want to stretch first. Someone's dad found out the hard way when he collapsed after pulling his ACL, MCL, AEW, FJB, and every other ligament in his knee.
I don't mean to be laughing hysterically as I write each word after watching this video seventeen times. But also, in my defense, I'm not a good person. Plus the fact the guy had to sit all the way up top leads me to believe he's been spoken to about this and is "that" dad. One embarrassing outburst too many and you get sent to the Bob Ueker seats.
That's an oldhead reference, youngbloods. Google it.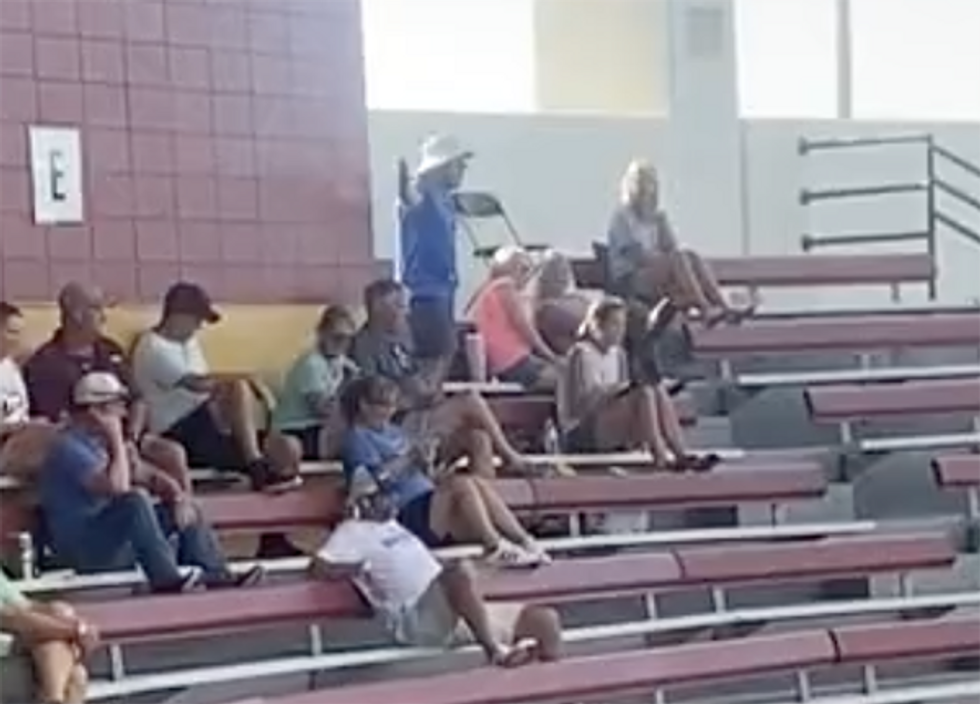 My man was so angry he brought his bleacher chair with him like he's Stone Cold Steve Austin.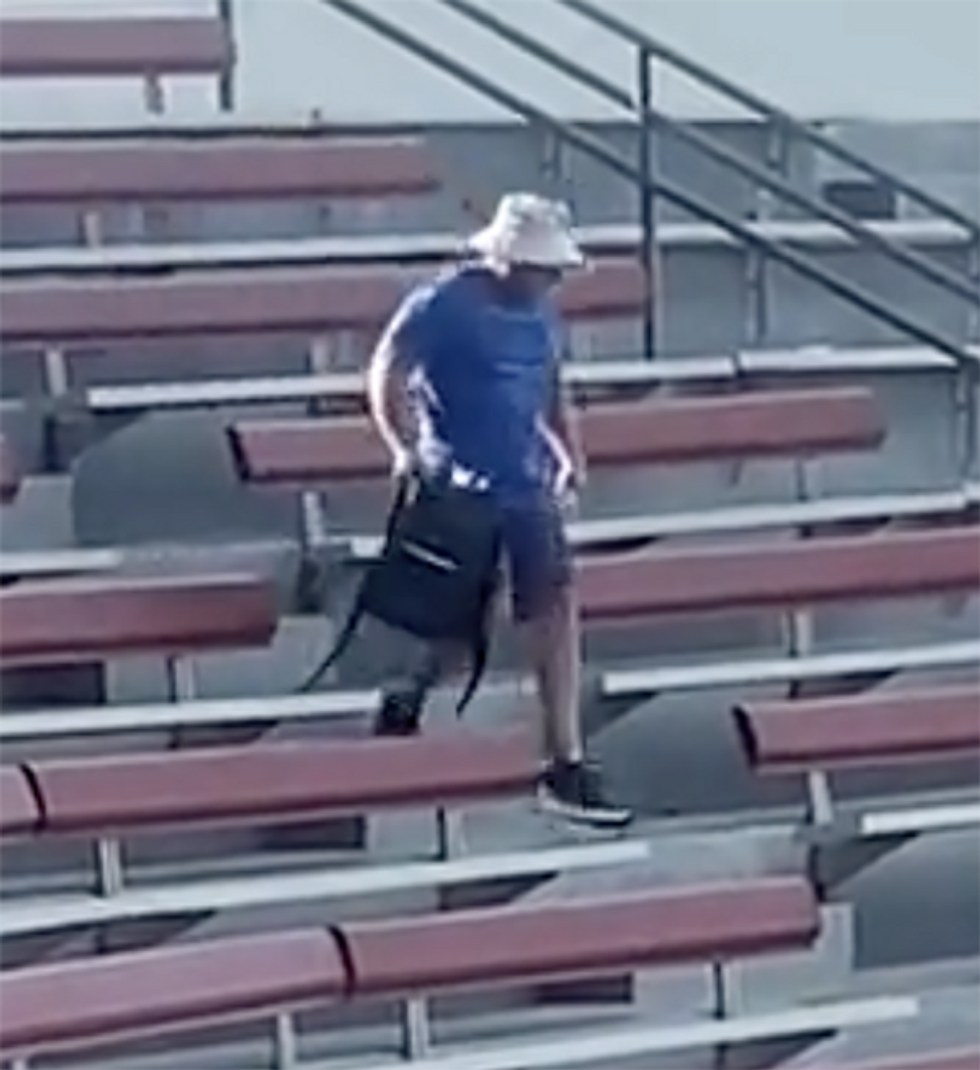 Funny, because the first thing I thought of was Vince McMahon blowing both quad muscles sliding under the ropes in 2005. Yes, both quads at the same time.
Aaaaaaaaand down he goes. Suddenly, he can't remember if it was a ball or a strike. Or a fowl. Or if the runner was safe. Or where he is right now. The only thing on his mind is the searing pain and regret that this is what his life has come to.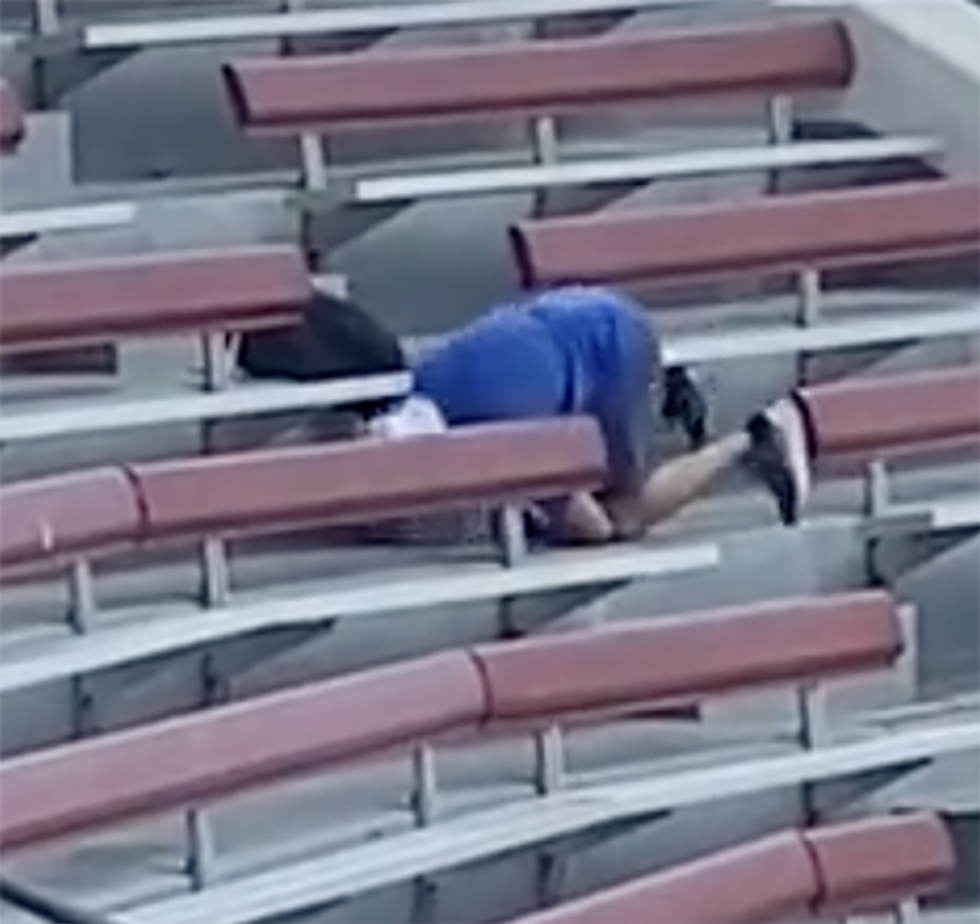 The main lesson I want you to come away with is don't be this parent. I can guarantee you that every other parent is on the group text making fun of him and hoping he doesn't show up for 4-6 weeks. I can guarantee you that because I'm the guy on the group text who keeps sending .gifs of people falling down with laughing emojis. As I said... I'm not a good person.
><><><><><><
Brodigan is Grand Poobah of this here website and when he isn't writing words about things enjoys day drinking, pro-wrestling, and country music. You can find him on the Twitter too.
Facebook doesn't want you reading this post or any others lately. Their algorithm hides our stories and shenanigans as best it can. The best way to stick it to Zuckerface? Sign up for our DAILY EMAIL BLASTS! They can't stop us from delivering our content straight to your inbox. Yet.