Each day we overwhelm your brains with the content you've come to love from the Louder with Crowder Dot Com website.
But Facebook is...you know, Facebook. Their algorithm hides our ranting and raving as best it can. The best way to stick it to Zuckerface?
Sign up for the LWC News Blast! Get your favorite right-wing commentary delivered directly to your inbox!
For the Content
Watch: Poor Chicago Bears fan gets slept with one brutal sucker punch over a bathroom dispute
October 16, 2023
We interrupt the chaos of the world for a skirmish that does not have global ramifications. Chicago Bears fans suffer enough indignities by being Bears fans, without having to get knocked the f*ck out over the bathroom. Yet for one poor sap, seeing his team lose again was the least of his problems.
The worst thing about this is it's a Walter Payton fan getting manhandled by a Justin Fields fan. If you are wearing a Payton jersey, you're legit. If you're wearing the jersey of the QB who has you going 4 -19 over the last two seasons you look like you jumped on the bandwagon too soon. Not that I'm above jumping on a bandwagon myself. But at least my QB is Josh Allen.
Our video starts with our skirmish already in progress, allegedly over the bathroom at the Bears game. It is bears-on-bears violence. Chicago, not San Francisco.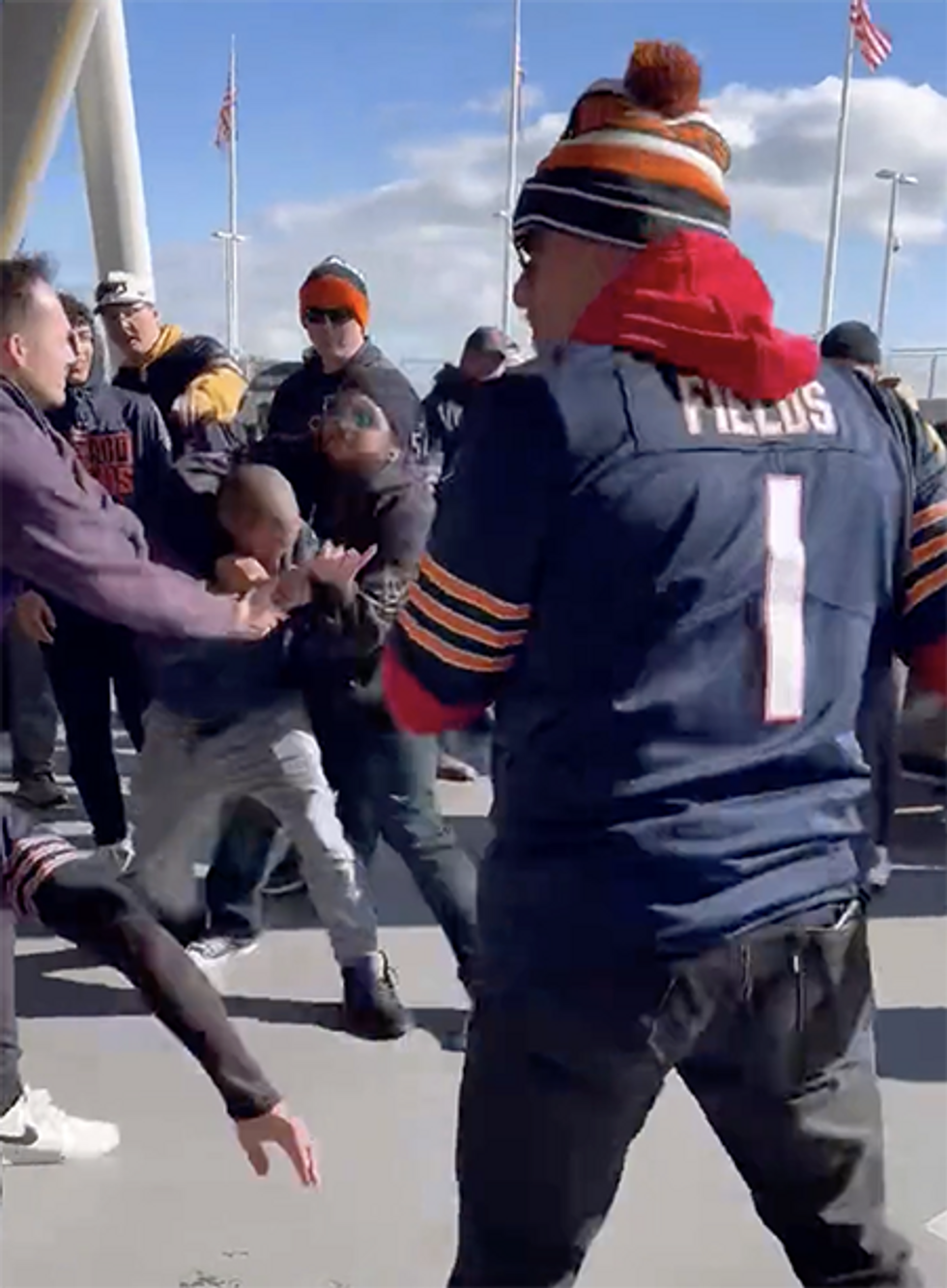 Fields, being a fat punk, saw Peyton slowly getting up from the ground. That's where he hit him from behind and DROPPED him. It looks like one of those UFC knockouts where the fighter gets slept, comes through right away, and starts arguing with the referee that he wasn't knocked out.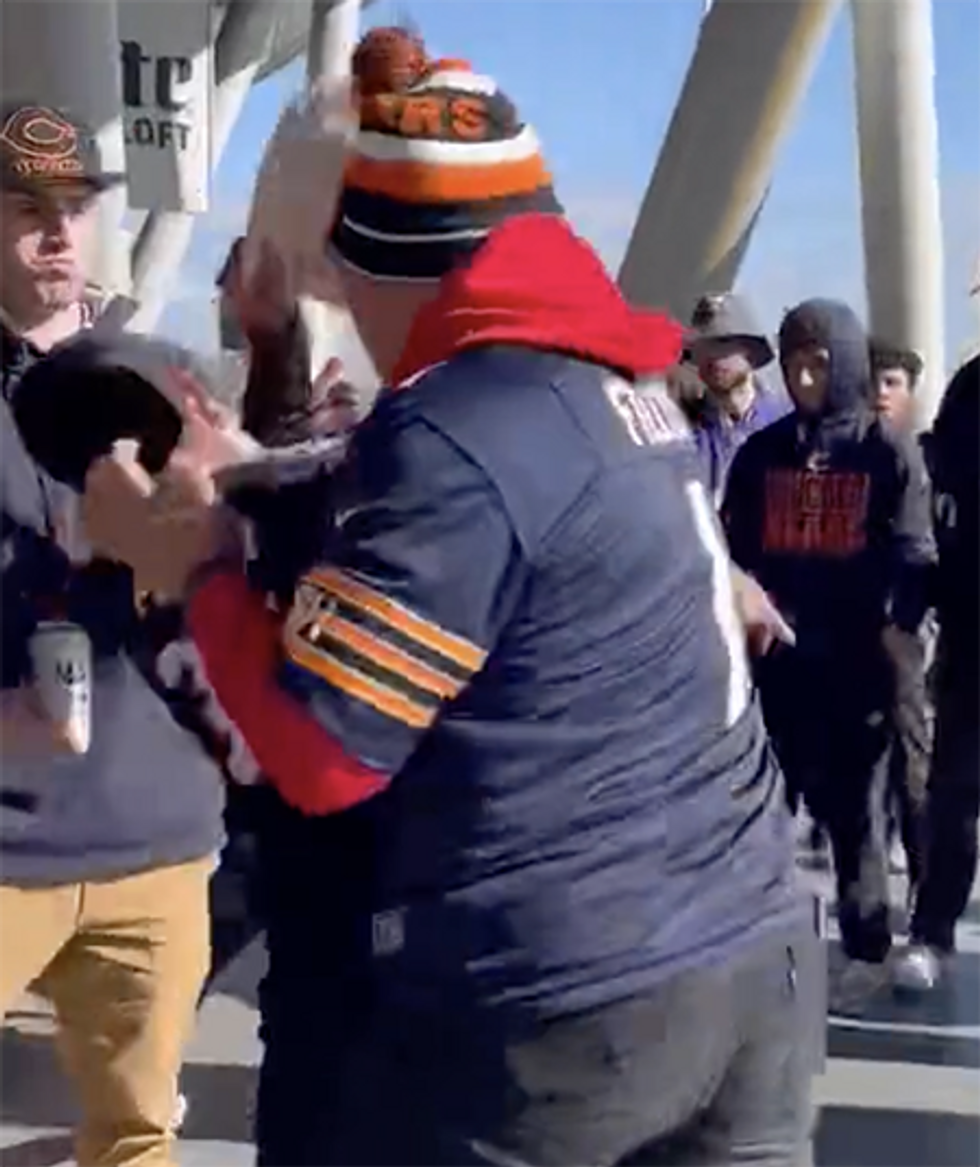 Give Peyton credit. After gingerly getting up, he went right at Fields again.
And wound up on his arse again.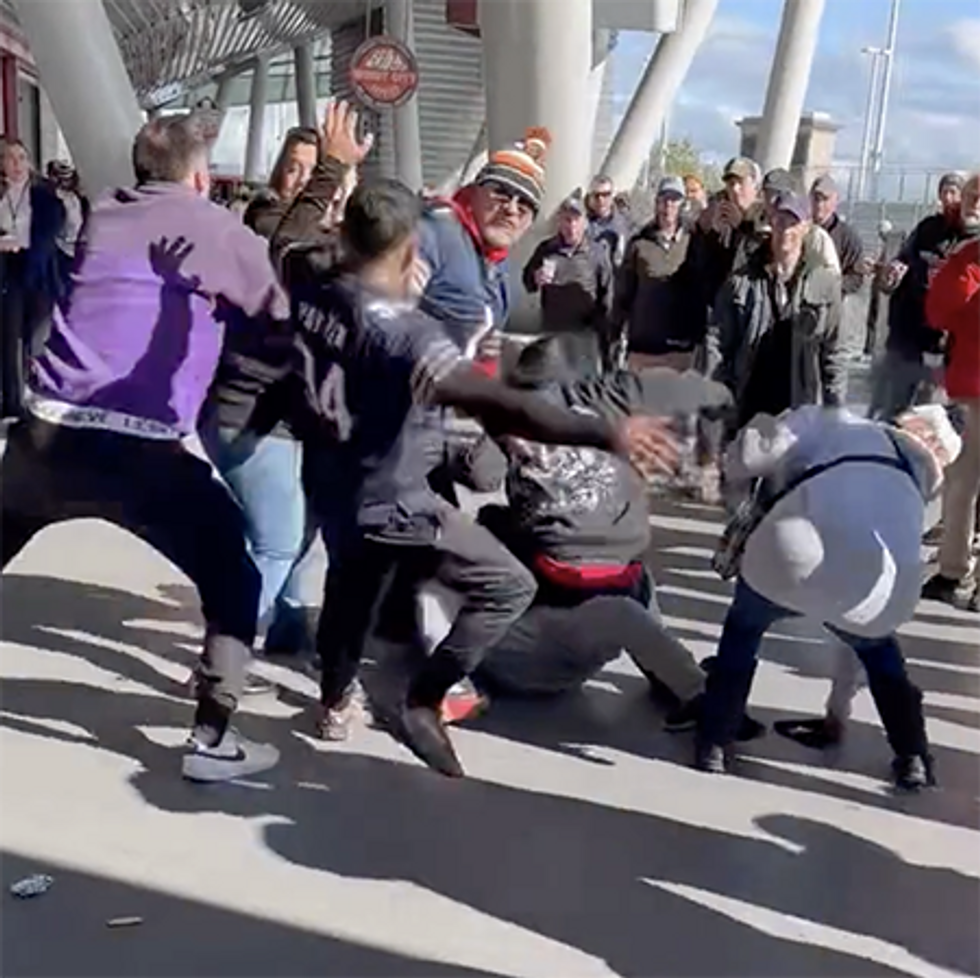 It all happened so quickly. Unclear is at what point in the Bears' 19-13 loss to the Minnesota Vikings this was. If I were to guess, at least the third quarter. After a whole half of a game's worth of beer and Polish sausage, you can understand the bathrooms being a warzone.
At least for Peyton, he wasn't on the losing end of the worst fight we've seen. A Bengals fan got dropped with a headbutt from some dude who was handcuffed, and a 49ers fan had her weave snatched. It could have been worse.
><><><><><><
Brodigan is Grand Poobah of this here website and when he isn't writing words about things enjoys day drinking, pro-wrestling, and country music. You can find him on the Twitter too.
Facebook doesn't want you reading this post or any others lately. Their algorithm hides our stories and shenanigans as best it can. The best way to stick it to Zuckerface? Sign up for our DAILY EMAIL BLASTS! They can't stop us from delivering our content straight to your inbox. Yet.