Watch: Man shares unbelievable story how Buffy the Vampire Slayer saved his family and neighbors from a tornado
April 27, 2023
As someone who, unfortunately, finds himself in the Oprhan's Club, it's very important to make sure your parents share their stories. This kid did, and we got an amazing piece of content. It's about the time his father and Buffy the Vampire Slayer teamed up to save the entire block from a tornado.
Picture it: 2003. Evanescence ruled the airwaves. A young George W. Bush made us laugh with the way he said "nuclear" and "strategy." And Sarah Michelle Gellar was leading the Scooby Gang in one last adventure in the Buffy series finale. The Buffy "Scoopy Gang." Gellar also starred in the Scooby Doo movies.
This man loved the show so much, he was willing to be wiped out by a tornado in order to watch the finale.
First off, shout out to my man (do you wanna get) rocking the Def Leppard shirt. The Adrenalize Tour was the first concert I ever went to on my own.
The story as told by our bearded friend is as follows. It was the series finale of Buffy the Vampire Slayer when the tornado sirens went off. His wife panicked and rounded up all the kids and neighbors to go in the storm cellar. Our narrator wasn't having it. He has been invested in this show for seven years. He was going to see it through.
If the tornado got him? Meh, he had a good run.
After two or three hours later, after Angel goes off and all that bullsh*t...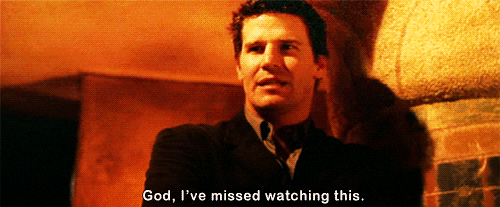 ...I'm looking for y'all and y'all were nowhere around. So I go back and hear y'all in the storm cellar screaming for someone to let you out. And that big old oak tree had fallen over on top of the door and trapped you all inside. So if I was inside the f*cking cellar with y'all, we'd all be dead.
"In that f*cking cellar." "Sarah Michelle Gellar." Whoa!
Television saved the day. Television, and I'm sure a little laziness. Beat THAT with one of your dad's stories!
><><><><><><
Brodigan is Grand Poobah of this here website and when he isn't writing words about things enjoys day drinking, pro-wrestling, and country music. You can find him on the Twitter too.
Facebook doesn't want you reading this post or any others lately. Their algorithm hides our stories and shenanigans as best it can. The best way to stick it to Zuckerface? Bookmark LouderWithCrowder.com and check us out throughout the day! Also, follow us on Instagram and Twitter.