Each day we overwhelm your brains with the content you've come to love from the Louder with Crowder Dot Com website.
But Facebook is...you know, Facebook. Their algorithm hides our ranting and raving as best it can. The best way to stick it to Zuckerface?
Sign up for the LWC News Blast! Get your favorite right-wing commentary delivered directly to your inbox!
Watch: Budweiser booths are EMPTY at annual Sturgis rally that attracts half a million bikers
August 11, 2023
Budweiser is like watching an IRL zombie reality TV series. You know they are dead, but it's still entertaining and you keep watching to see if Simon Pegg and Nick Frost show up to whip vinyl at the Dilly Dilly guys. The latest example of our favorite live-action "stop, stop, he's already dead" meme is the empty Bud booths at the Sturgis Motorcycle Rally.
Every year, half a million bikers travel to Sturgis, South Dakota. Home to smokeshow of a governor Kristi Noem. They travel from all over America. Thousands and thousands of miles. They are thirsty. And you may not know this about bikers... they like beer. Lots of beer.
So for the Budweiser booths to (allegedly...they're viral videos, yadda yadda) look like this:
It defies logic. Half a million bikers and no one wants to be seen drinking Budweiser. They'd rather wait in long lines for other beers. Or drink whiskey straight from the bottle.
I've been having fun at Bud Light's expense like all of your other favorite right-wing bloggers. But if I see NO ONE in line, I'd at least consider getting a Bud Light and deal with my boys razzing me for drinking TRANSmission fluid. There are longer lines for the vegan BBQ buffet. And you know how little bikers think of activists. We've all seen the meme.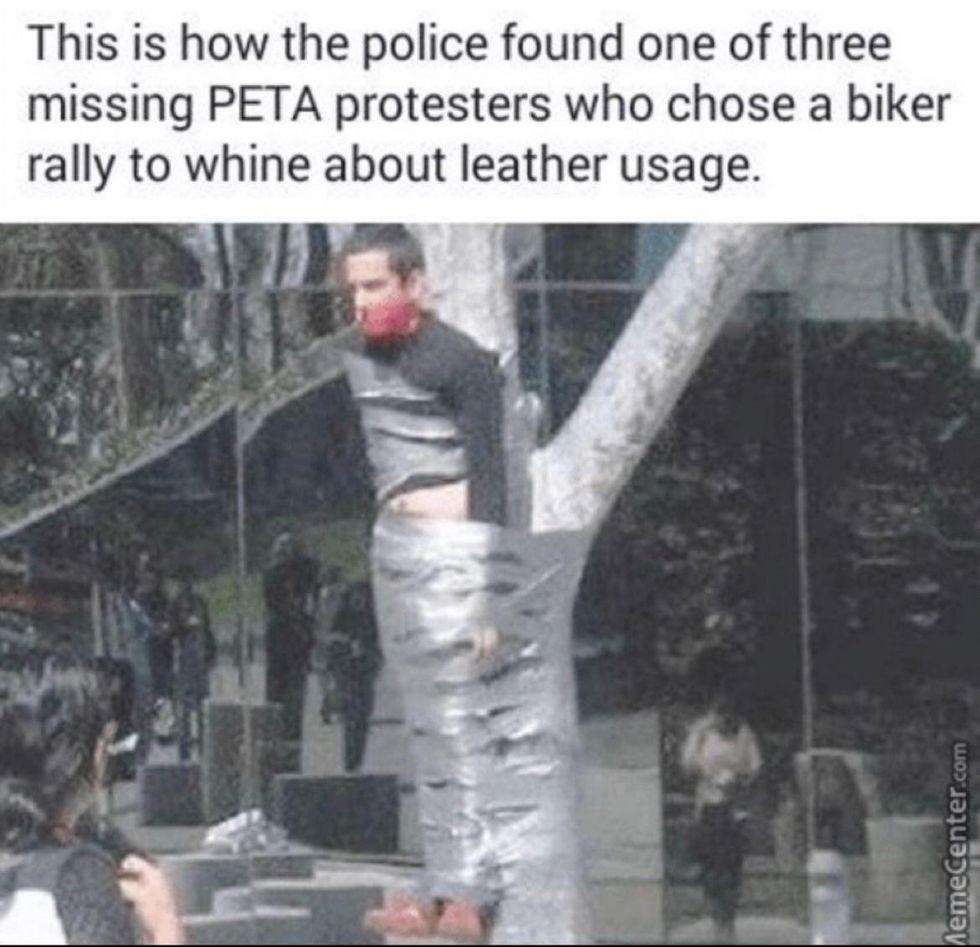 As long as you aren't a Bud Light employee or Anheuser-Busch investor, at this point, you can't not laugh your arse off. Elitist Bud Light executives in New York City who despise the typical middle-American Bud Light customer thought aligning with controversial titface performer Dylan Mulvaney was a good idea. For no other reason than so their other elitist friends could revel in their woke flatulence.

One regretful marketing decision and five months later:
Bud Light has fallen out of every #1 spot they held.
The beer is losing shelf space in major retailers.
AB is laying off people. Though, at least it appears to be mainly the NYC workers who thought Dylan was a good idea.
And the company has been forced to sell off other brands.
You hate to see it. Then you remember you drink local beer instead and think, "Wait, I don't hate to see it at all."
><><><><><><
Brodigan is Grand Poobah of this here website and when he isn't writing words about things enjoys day drinking, pro-wrestling, and country music. You can find him on the Twitter too.
Facebook doesn't want you reading this post or any others lately. Their algorithm hides our stories and shenanigans as best it can. The best way to stick it to Zuckerface? Sign up for our DAILY EMAIL BLASTS! They can't stop us from delivering our content straight to your inbox. Yet.