Each day we overwhelm your brains with the content you've come to love from the Louder with Crowder Dot Com website.
But Facebook is...you know, Facebook. Their algorithm hides our ranting and raving as best it can. The best way to stick it to Zuckerface?
Sign up for the LWC News Blast! Get your favorite right-wing commentary delivered directly to your inbox!
Culture
'You found me': Brendan Fraser's emotional award show speech illustrates why America is rooting for him
January 16, 2023
Everyone loves Brendan Fraser. Well, everyone except for bitter activists claiming his movie The Whale is fat-phobic. But to those of us who aren't miserable specimens banging our chubby fingers on the keyboard, Fraser is one of the most likable guys in entertainment. He was huge in the 90s, fell off a bit, but is now having a career resurgence thanks to The Whale and an internet meme that everyone is cheering for him.
His emotional acceptance speech winning Best Actor at the Critics Choice Awards is an example of why.
He saluted director Darren Aronofsky, saying "I was in the wilderness, and I probably should have left a trail of breadcrumbs, but you found me [...] showed me where to go to get to where I needed to be."
Then came his message to everyone at home, and the waterworks. Someone snuck into my office now and start peeling onions. Bastard.
If you, like a guy like Charlie, who I played in this movie, in anyway struggle with obesity, or you just feel like you're in a dark sea, I want you to know that if you too can have the strength to just get to your feet and go to the light, good things will happen.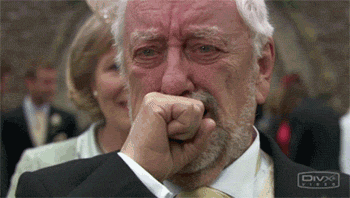 It's very similar to the infamous meet-and-greet video from 2021, when Fraser first found out how much the Internet was rooting for him.
In his now award-winning role in The Whale, Fraser plays a reclusive, morbidly obese English teacher that attempts to reconnect with his teenage daughter. I can't remember the last new movie I sat down and watched. The Whale is going to be on the agenda for the weekend.
But not before revisiting Fraser's greatest role, the 1994 classic Airheads. With a young Adam Sandler.
Awards shows tend to be terrible. Nothing but an excuse for Hollywood to give themselves reach-arounds in celebration of their perceived awesomeness and make political statements the DNC sent to their publicist. Every so often, you get an acceptance speech that is something special. Cheers to Brendan Fraser.
Though it's still not an excuse to waste precious time watching award shows. In the rare event of these wholesome moments, that's what you have websites like us for.
Editor's Note
LwC is on Substack now! Each day we overwhelm your brains with the content you've come to love from the Louder with Crowder Dot Com website.. but algorithms hide our ranting and raving as best they can. The best way to stick it to Big Tech? Subscribe to For the Content!
TOUGH LOVE: "Help, I'm Dating a Nazi!" | Louder With Crowderyoutu.be