Each day we overwhelm your brains with the content you've come to love from the Louder with Crowder Dot Com website.
But Facebook is...you know, Facebook. Their algorithm hides our ranting and raving as best it can. The best way to stick it to Zuckerface?
Sign up for the LWC News Blast! Get your favorite right-wing commentary delivered directly to your inbox!
Articles
Armed Robber Files Suit Against Good Samaritan. For 'Excessive Force'...
September 26, 2017
Did you slip on an icy sidewalk? Sue. Did you step in dog doo-doo with your Jordans? Sue. Did you try and rob a Starbucks with weapons and it didn't go as planned? Sue. Victimhood is the badge of glory for all leftists (see Muslims Are Overthrowing Christian Churches. But THEY'RE the Victims?! and NEW FEMINIST CAUSE: Siri and Alexa are Victims of Sexual Harassment!). Now one noodle brained robber is using the same badge to demand cash.
This badass Samaritan put his life on the line to ensure no one got hurt. But the robber got butthurt.
A man who is accused of trying to rob a Fresno, California Starbucks plans to sue a customer who stopped him for using excessive force.

It happened on July 20th. Police say that Ryan Florez wore a Transformers mask and showed what ended up being a fake gun before pulling a large knife and demanded money from the barista.

Jerri says what was going on, grabbed a chair and attacked Florez. Jerri was stabbed in the neck but managed to wrestle the knife from Flores and stab him repeatedly.

Fresno's police chief is among those who can't believe Flores is thinking about suing.
It's California, so you can believe it.
The transformer scum bag argues the man used "excessive force." He's been watching too much CNN. The young aggressor looks to have 20-30 fewer years and a few more inches on the hero. The older man was scrapping for his life, thus the stabbery. As for the Huggie-adorned transforming criminal, he doesn't have two wheels to stand on.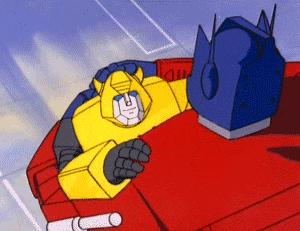 But allow me to state the obvious: if you're uninterested in brushing with "excessive force" perhaps you shouldn't try to rob people. Whether you're using a fake gun or a highlighter. When you color outside the lines of the law, expect for people to push back. The rate at which they pushback is usually proportional to the threat. In this case, the threat of someone being shot (the Good Samaritan didn't know the robber used a fake gun). This should be a rather scientific fact. Alas, a California criminal is trying to exploit the system.
One point won for the badass hero. And we hope nothing is won for this whimpering lowlife in a nerd mask.
NOT SUBSCRIBED TO THE PODCAST? FIX THAT! IT'S COMPLETELY FREE ON BOTH ITUNES HERE AND SOUNDCLOUD HERE.