Each day we overwhelm your brains with the content you've come to love from the Louder with Crowder Dot Com website.
But Facebook is...you know, Facebook. Their algorithm hides our ranting and raving as best it can. The best way to stick it to Zuckerface?
Sign up for the LWC News Blast! Get your favorite right-wing commentary delivered directly to your inbox!
Politics
Alexandria Ocasio-Cortez Claims Climate Change Prediction was 'Dry Humor'
May 13, 2019
You might recall Alexandria Ocasio-Cortez claiming we totes only have 12 years until extinction from climate change. Naturally, everyone who isn't a climate alarmist d-bag said "no way." Well, jokes on us, guys. According to Alex, she was employing some "dry humor."
Democratic New York Rep. Alexandria Ocasio-Cortez complained Sunday that GOP fact-checkers were taking her "dry humor" literally. "This is a technique of the GOP, to take dry humor + sarcasm literally and 'fact check' it," she tweeted. "Like the 'world ending in 12 years' thing, you'd have to have the social intelligence of a sea sponge to think it's literal. But the GOP is basically Dwight from 'The Office' so who knows."
As I recall, despite his eccentricities, Dwight Schrute was top salesman, a successful beet farm/bed and breakfast proprietor, and ultimately became branch manager in the end. So, I'll take that as a compliment. Alex's piss-poor attempt at humor, on the the other hand, could only make her one Office character:
Funnily enough, Alex didn't seem to be joking at all in her previous remarks.
During a live stream in April, Ocasio-Cortez mocked critics who blew off the claim as a joke, saying "We have 12 years left to cut emissions by at least 50%, if not more, and for everyone who wants to make a joke about that, you may laugh, but your grandkids will not."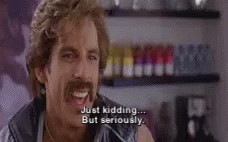 "So, climate change is this real existential threat, but I'm gonna purposely make outlandish claims with a straight face. For my own amusement. Joke's on you, guys." Only in Alex's pea brain would something like this ever make sense.
Let's get real here, Allegra Orajel-Carbonite is trying to make excuses for her previous dumbassery. In the process, she's only further proving herself to be Duncemeister Supreme. I guess her advisors have yet to mention it's her piehole getting her into trouble. They might wanna get on that.
While we're talking Cortez:
NOT SUBSCRIBED TO THE PODCAST? FIX THAT! IT'S COMPLETELY FREE ON BOTH ITUNES HERE AND SOUNDCLOUD HERE.