Alexandria Ocasio-Cortez Claims Climate Change Prediction was 'Dry Humor'
May 13, 2019
You might recall Alexandria Ocasio-Cortez claiming we totes only have 12 years until extinction from climate change. Naturally, everyone who isn't a climate alarmist d-bag said "no way." Well, jokes on us, guys. According to Alex, she was employing some "dry humor."
Democratic New York Rep. Alexandria Ocasio-Cortez complained Sunday that GOP fact-checkers were taking her "dry humor" literally. "This is a technique of the GOP, to take dry humor + sarcasm literally and 'fact check' it," she tweeted. "Like the 'world ending in 12 years' thing, you'd have to have the social intelligence of a sea sponge to think it's literal. But the GOP is basically Dwight from 'The Office' so who knows."
As I recall, despite his eccentricities, Dwight Schrute was top salesman, a successful beet farm/bed and breakfast proprietor, and ultimately became branch manager in the end. So, I'll take that as a compliment. Alex's piss-poor attempt at humor, on the the other hand, could only make her one Office character:
Funnily enough, Alex didn't seem to be joking at all in her previous remarks.
During a live stream in April, Ocasio-Cortez mocked critics who blew off the claim as a joke, saying "We have 12 years left to cut emissions by at least 50%, if not more, and for everyone who wants to make a joke about that, you may laugh, but your grandkids will not."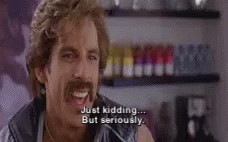 "So, climate change is this real existential threat, but I'm gonna purposely make outlandish claims with a straight face. For my own amusement. Joke's on you, guys." Only in Alex's pea brain would something like this ever make sense.
Let's get real here, Allegra Orajel-Carbonite is trying to make excuses for her previous dumbassery. In the process, she's only further proving herself to be Duncemeister Supreme. I guess her advisors have yet to mention it's her piehole getting her into trouble. They might wanna get on that.
While we're talking Cortez:
NOT SUBSCRIBED TO THE PODCAST? FIX THAT! IT'S COMPLETELY FREE ON BOTH ITUNES HERE AND SOUNDCLOUD HERE.