Each day we overwhelm your brains with the content you've come to love from the Louder with Crowder Dot Com website.
But Facebook is...you know, Facebook. Their algorithm hides our ranting and raving as best it can. The best way to stick it to Zuckerface?
Sign up for the LWC News Blast! Get your favorite right-wing commentary delivered directly to your inbox!
Anti-cop Democrat calls for tougher crime laws after being assaulted, doesn't appreciate irony
September 08, 2023
VOTE IN THE LWC 2024 GOP STRAW POLL! CLICK HERE!
Ever since Minnesota native George Floyd sacrificed his life for justice, Minneapolis has turned into a crime-ridden suckhole. As it turns out when you defund the police, crime runs wild like it's Hulkamania in the 80s. Who coulda thunk? Not Minnesota DFL Party official Shivanthi Sathanandan.
She was assaulted in front of her home and shared the incident on her Facebook page: "These men knew what they were doing. I have NO DOUBT they have done this before. Yet they are still on OUR STREETS. Killing mothers. Giving babies psychological trauma that a lifetime of therapy cannot ease. With no hesitation and no remorse."
Then her caps lock button got stuck: "HOLD THEM IN CUSTODY AND PROSECUTE THEM! REMEMBER ME when you are thinking about supporting letting juveniles and young people out of custody to roam our streets instead of HOLDING THEM ACCOUNTABLE FOR THEIR ACTIONS."
Sathanandan enjoys sharing things on Facebook. For example, here she is calling for the Minneapolis Police Department to be DISMANTLED. Not reformed. Not something done about qualified immunity. Dismantled.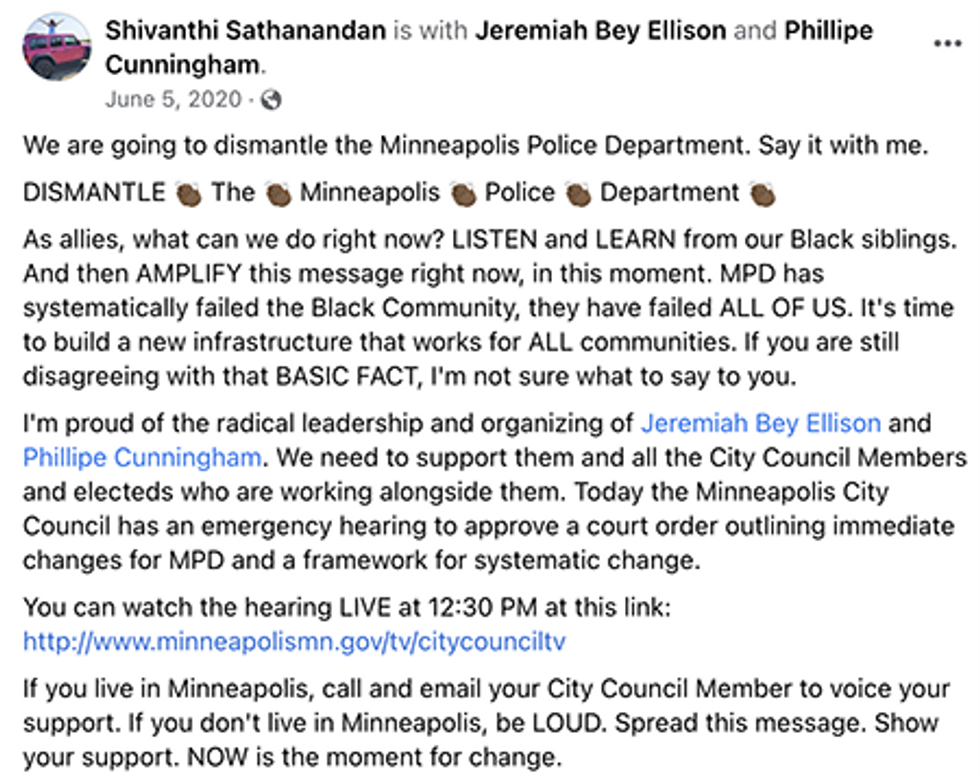 She was also fond of having police removed from schools and colleges, thus making both of those as unsafe as her driveway.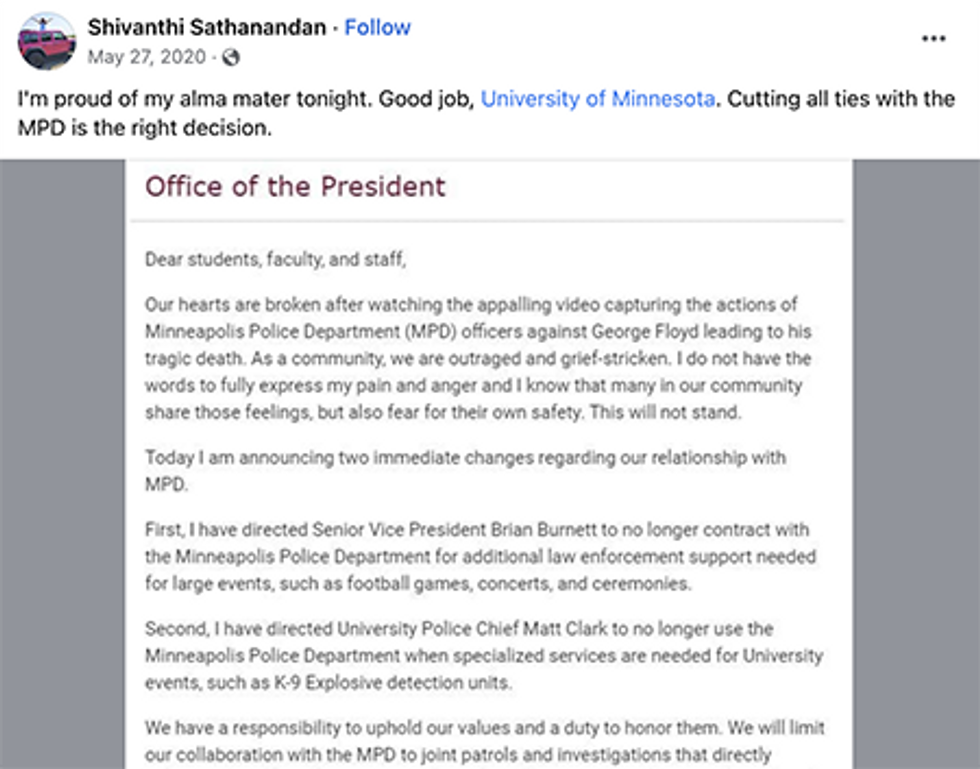 Now that she has become the victim of the consequences of her virtue signaling, something needs to be done right now! I'm curious. When she says we need "to get illegal guns off of our streets" and "catch these young people who are running wild creating chaos across our city," who does she expect to do it? Social workers? Illegal migrants seeking asylum?
You called for the entire police department to be DISMANTLED, babe. Leaving the streets getting so violent, your attorney general is pressing charges against SMALL BUSINESS for not doing enough to combat the crime being committed against them. Police retired in mass. It beats having to stand there and get cursed out by four-year-olds.
I don't feel bad for Shivanthi Sathanandan. I feel bad for the people who get assaulted in front of their children as a result of the policies that she supports.
><><><><><><
Brodigan is Grand Poobah of this here website and when he isn't writing words about things enjoys day drinking, pro-wrestling, and country music. You can find him on the Twitter too.
Facebook doesn't want you reading this post or any others lately. Their algorithm hides our stories and shenanigans as best it can. The best way to stick it to Zuckerface? Sign up for our DAILY EMAIL BLASTS! They can't stop us from delivering our content straight to your inbox. Yet.