Each day we overwhelm your brains with the content you've come to love from the Louder with Crowder Dot Com website.
But Facebook is...you know, Facebook. Their algorithm hides our ranting and raving as best it can. The best way to stick it to Zuckerface?
Sign up for the LWC News Blast! Get your favorite right-wing commentary delivered directly to your inbox!
Actor Vince Vaughn was Polite with Trump at Clemson-LSU Game, Now the Left Wants Him Destroyed
January 14, 2020
If you don't have your pearls tightly clutched, WTF are you doing with your life? Because what we have here is a Hollywood actor, Vince Vaughn, who was civil with chief Nazi, Donald Trump. If ever there was a need to go to defcon batshit, it is now. How will any of us ever watch any Vince Vaughn movie again after seeing this callous display of pure, unadulterated civility. My God I think I might need a safe space. I'm calling my mom, telling her to give me a padded room full of coloring books and Jello cups.
Trigger warning: video of a handshake at a college football game, Clemson vs. LSU.
Yes, that was it. That was the great offense. Vince Vaughn was polite to the President of the United States. Worse still, Vaughn shook the Trumper's hand not once but TWICE. Guys, it almost seemed like they were getting along. If you play the video back in slow motion, you might detect a hint of not just civility, but maybe evidence the two may like each other.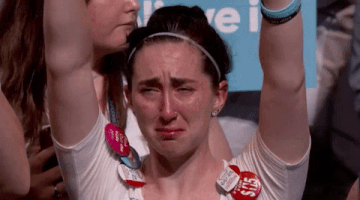 I literally cannot even right now. Just like these brave souls who also cannot even right now, in a very literal sense of literally.
Melanoma.
Side note: this is why we at LWC frown upon name-puns. Up to and including "Obummer" "Moochelle" and "Killary." It's not clever, it's cringe.
Doesn't Vince Vaughn know about all the terrible things Trump has done? Like... Like... well, just being MEAN and embarrassing the United States in places like... well, you know, ENGLAND?! Sure, sure, we broke up with those limeys a couple centuries ago, but we still need to look good for them. Right?
The hyperventilating comes entirely from the left on this one. Keep scrolling through the Twitter replies and you'll find righties were there for the LOLs. Like Rita coming in with one of my favorite GIFs.
Now sure, it's rumored Vince Vaughn isn't a leftist. But Ellen Degeneres is a leftist and she was polite and having a good time with George W. Bush, which caused similar fits of conniption from the side claiming sole custody of tolerance.
We hear all the time, usually from the left, how divided we are as a nation. But it's usually the same left which tries to cancel anyone who strays from the pre-approved dogma of how to treat those who are not left. That is, with utter contempt. So who is dividing us if not the side actively encouraging dividing us?
I'd like to think were I seated next to Obama and Michelle, I wouldn't act like a raging bitch. If we're at a game, or any kind of non-political event, why be political? A smile and a handshake isn't an endorsement, it's showing respect for the office. Even if I think an ingrown toenail would've run the country better than Obama, why be a miserable cow about it nearly four years after Obama has vacated the premises?
It's fine to disagree with someone politically. It's American, even. But when the left tries canceling someone just because they were kind, now I've got a problem.
NOT SUBSCRIBED TO THE PODCAST? FIX THAT! IT'S COMPLETELY FREE ON BOTH ITUNES HERE AND SOUNDCLOUD HERE.