Each day we overwhelm your brains with the content you've come to love from the Louder with Crowder Dot Com website.
But Facebook is...you know, Facebook. Their algorithm hides our ranting and raving as best it can. The best way to stick it to Zuckerface?
Sign up for the LWC News Blast! Get your favorite right-wing commentary delivered directly to your inbox!
Journalisming
WaPo's word choice to water down Hamas kidnapping Jews looks worse after what they did next
October 20, 2023
Before we get to the latest edition of The Washington Post: Derpocracy Derps in the Darkness, I'd like to draw your attention to two items. One is a new Gallup poll that shows distrust in the media at an all-time high. The other is this popular meme.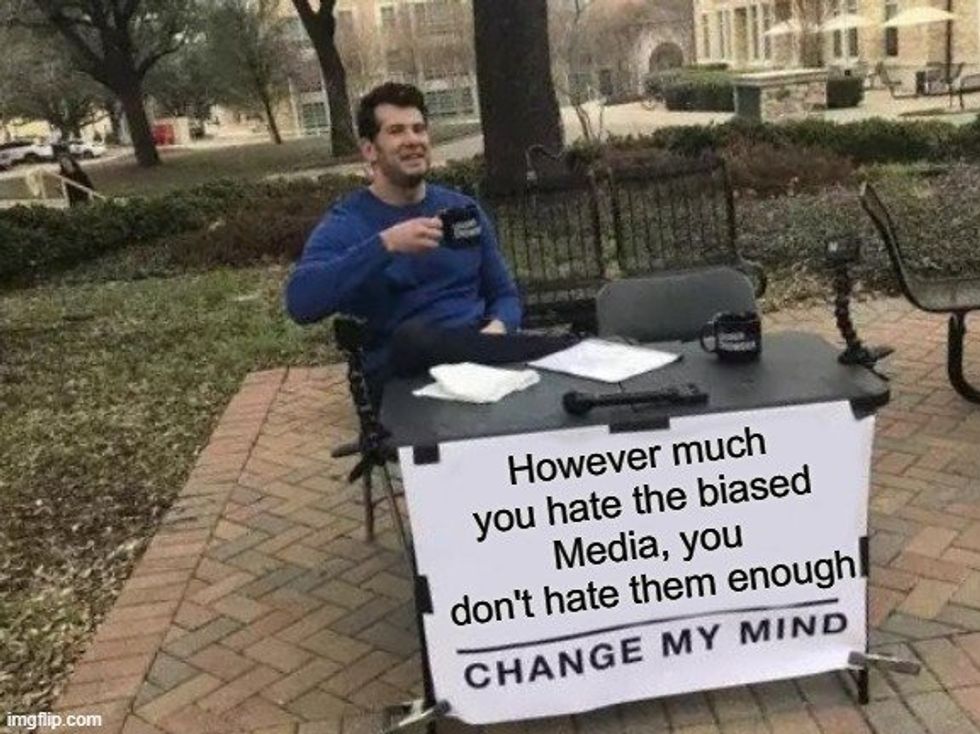 WaPo created content that claimed an Israeli woman's children were detained. Not KIDNAPPED, but detained. As if they were being questioned by the police.
Gunmen were rampaging through their tiny pastoral community, shooting entire families, some at point-blank range, as they clung to each other in beds and safe rooms.

Hadas's older daughter found an 18-second video circulating on social media. It showed Erez in a black T-shirt, being gripped by both arms and led into captivity. The militants referred to Erez and another group of children who do not appear in the shot as "child settlers."
WaPo, in the caption of her photo, described this woman's living hell as her children being "detained."

The media's spreading misinformation and taking sides had grown so bad, that even BRIAN F'N SELTER is calling them out on it. Paul Farhi, a content creator and journalismer for WaPo, wanted to know who "the media" is exactly that is doing such a garbage job. SPOILER: they sign his paycheck.
The stealth edit is exactly what they did. Now it reads that two of her children had been taken hostage. The accurate assessment. The one that makes Hamas look like the bad guys.
This is who the media is now. They're all the same people who were quick to report Israelis blew up a hospital because Hamas told them so. Even though it didn't happen. This is what you get when your industry is full of unhinged, radical progressive leftist twats who only get into journalisming as a tool to advance their political agenda.
In the case of The Washington Post, that means attempting to water down and article about children being kidnapped to make it sound less bad. Because they hate the people who were kidnapped and sympathize with the kidnappers.
As Redsteeze says, these aren't mistakes. They're editorial decisions.
><><><><><><
Brodigan is Grand Poobah of this here website and when he isn't writing words about things enjoys day drinking, pro-wrestling, and country music. You can find him on the Twitter too.
Facebook doesn't want you reading this post or any others lately. Their algorithm hides our stories and shenanigans as best it can. The best way to stick it to Zuckerface? Sign up for our DAILY EMAIL BLASTS! They can't stop us from delivering our content straight to your inbox. Yet.