Each day we overwhelm your brains with the content you've come to love from the Louder with Crowder Dot Com website.
But Facebook is...you know, Facebook. Their algorithm hides our ranting and raving as best it can. The best way to stick it to Zuckerface?
Sign up for the LWC News Blast! Get your favorite right-wing commentary delivered directly to your inbox!
Articles
Michael Avenatti Arrested, Charged with Extortion, Bank Fraud
March 25, 2019
Can we take a moment to consider how awesome Trump must be feeling today? Bear in mind I'm loathe to use the word "awesome" in the context of someone's Monday, but with the Mueller Report confirming no Russian collision, and now the Creepy Porn Lawyer Michael Avenatti arrested for extortion and bank fraud, you know Trump is basically dancing through the halls of the White House like some little girl who found out she's actually a Disney princess.
From the Associated Press:
LOS ANGELES (AP) — U.S. prosecutors have charged Trump critic and attorney Michael Avenatti with extortion and bank and wire fraud.

A spokesman for the U.S. attorney in Los Angeles said Avenatti was arrested Monday in New York.

In New York, he was accused of threatening to use his ability to get publicity to harm Nike. Prosecutors say he demanded that the apparel company give him $10 million.
For a little more glory:
Tmrw at 11 am ET, we will be holding a press conference to disclose a major high school/college basketball scandal… https://t.co/8lkXApGeCo

— Michael Avenatti (@Michael Avenatti) 1553530608.0
He tweeted this. Then he got arrested for this very thing he supposedly did to Nike. Where "thing" is extortion and fraud.
How great is today?
Here's what happened: Michael Avenatti threatened Nike, saying if Nike didn't pay up, Avenatti would go through with the press conference (tweet above in all its glory), which would result in a market hit to Nike.
Screen captures from the actual filed complaint (which you should read in full, it's magnificent):

That's the extortion part.
But wait, because it gets better. These calls were recorded: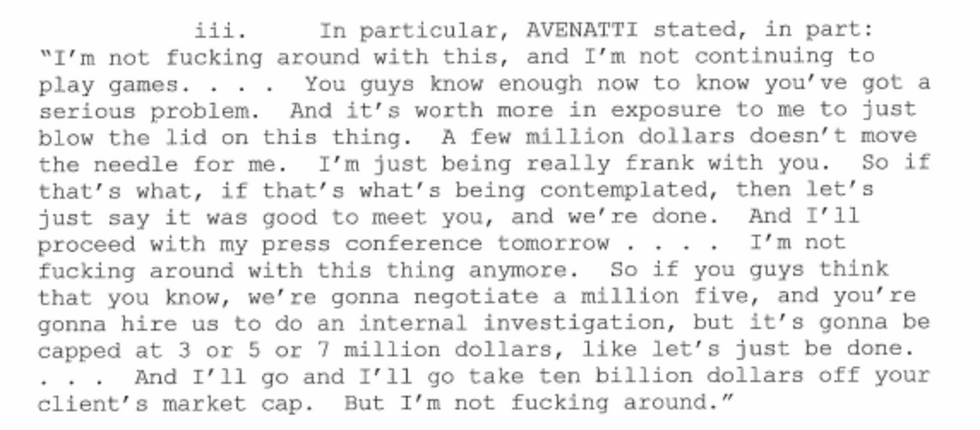 "I'm not fucking around" is lawyerly talk for "I'm super serious." But only if you lawyer while being a bald dickhead.
Last screenshot: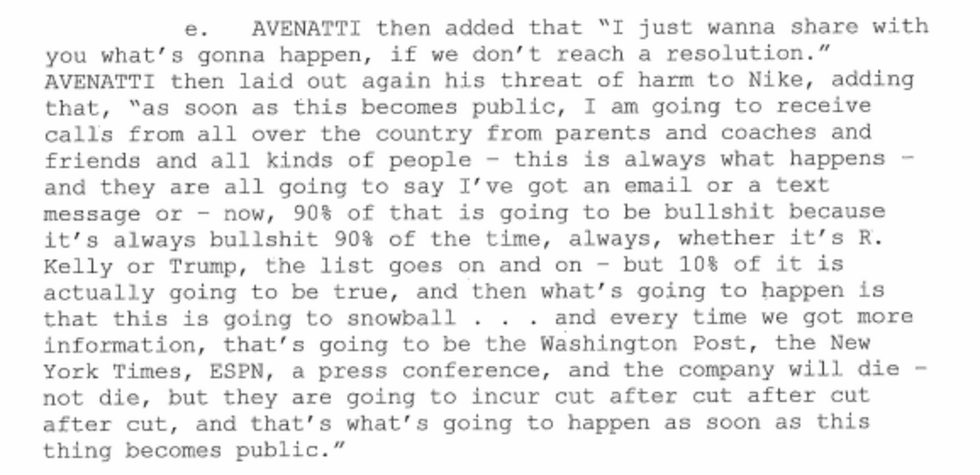 Ah, so he knows most of the crap calls are crap, but that doesn't matter. He knew media would run with his story, knew the news would snowball and negatively affect Nike. Chalk it up to experience.
But none of that need happen if Nike just paid the piper. Which, again, is extortion.
Sadly for Avenatti, creepy porn liar extortionist, he got caught. Unlike what he presented during the Kavanaugh hearings, the FBI has evidence of Avenatti being a creepy porn liar extortionist.
Meanwhile: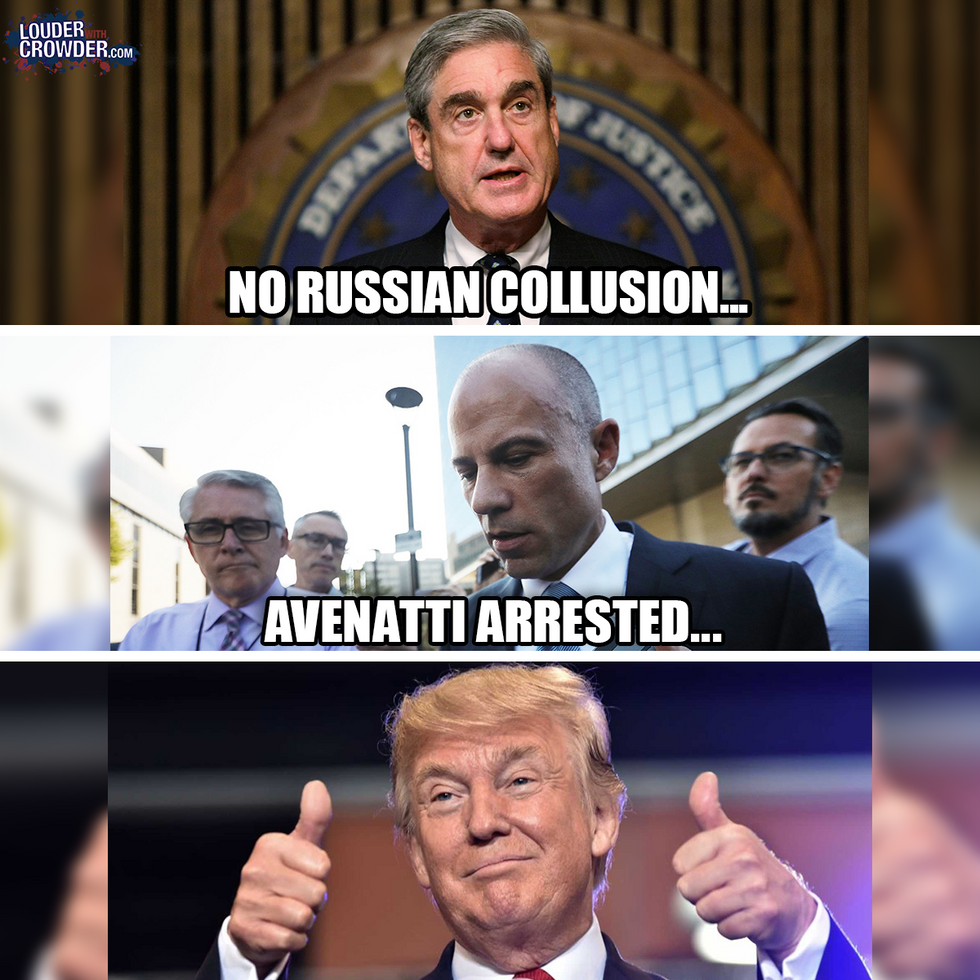 Oh to be in the White House today!
NOT SUBSCRIBED TO THE PODCAST? FIX THAT! IT'S COMPLETELY FREE ON BOTH ITUNES HERE AND SOUNDCLOUD HERE.