Each day we overwhelm your brains with the content you've come to love from the Louder with Crowder Dot Com website.
But Facebook is...you know, Facebook. Their algorithm hides our ranting and raving as best it can. The best way to stick it to Zuckerface?
Sign up for the LWC News Blast! Get your favorite right-wing commentary delivered directly to your inbox!
Watch: Dude makes custom seat so pet bull can ride shotgun, gets pulled over because cops won't recognize the awesomeness
August 31, 2023
VOTE IN THE LWC 2024 GOP STRAW POLL! CLICK HERE!
A Nebraska man was pulled over for cruising down the highway will a bull in his car. Apparently, while you can ride with your dog sticking his head out of the window, there are laws about bulls.
The Watusi bull, named Howdy Doody, was minding his own business and enjoying a morning drive with his human. Local Nebraska police had gotten a call that some dude was driving around with a cow in his car. So not only was Howdy Doody harassed for no other reason than trying to enjoy his best life, but he was racially profiled as well.
Police Captain Chad Reiman said of the unique call, "Officers thought that it was going to be a calf, something small or something that would actually fit inside the vehicle."
Instead...here's Howdy Doody in all his glory.
Police, after harassing Howdy Doody for DWB (Driving While Bull), let him and his human go with a written warning. But they were ordered to return home and leave the city.
The human, Lee Meyer, should be commended instead of arrested. He cut off half of the roof and removed the windows and windscreen of a former cop car. He believed Howdy Doody deserved all the rights as a labrador or snickerdoodle. Also, having horns on the trunk goes hard.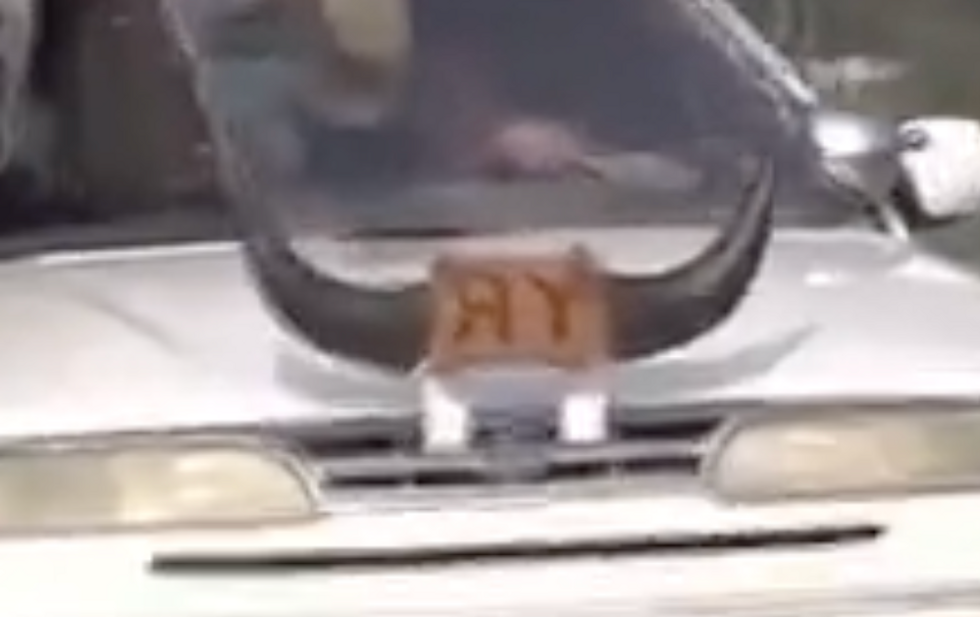 I'd like to know who the bitter Karen was that called the cops. No longer content with telling the manager when the barista only puts four pumps in her strawberry acai instead of five. Now she harasses true patriots (and Lee, the guy who was driving the car) for no other reason than they exist.
Howdy Doody, on behalf of America, I apologize. You shouldn't have to be treated like this.
><><><><><><
Brodigan is Grand Poobah of this here website and when he isn't writing words about things enjoys day drinking, pro-wrestling, and country music. You can find him on the Twitter too.
Facebook doesn't want you reading this post or any others lately. Their algorithm hides our stories and shenanigans as best it can. The best way to stick it to Zuckerface? Sign up for our DAILY EMAIL BLASTS! They can't stop us from delivering our content straight to your inbox. Yet.