Each day we overwhelm your brains with the content you've come to love from the Louder with Crowder Dot Com website.
But Facebook is...you know, Facebook. Their algorithm hides our ranting and raving as best it can. The best way to stick it to Zuckerface?
Sign up for the LWC News Blast! Get your favorite right-wing commentary delivered directly to your inbox!
Jamie Foxx breaks silence after a controversial health scare: "I didn't want you to see me like that"
July 22, 2023
Jamie Foxx had a health scare that left a lot of questions and caused controversy over what really happened to him. The actor/comedian broke his silence on Instagram to let fans know that he is fine, he is on the mend, and he is ready to get back to work.
Foxx didn't give specifics about what happened. Other than it was bad, and he's thankful to still be here.
"I went through something I never thought I would go through. I know a lot of people were waiting or wanting to hear updates but to be honest with you, I didn't want you to see me like that man," says Foxx. "I didn't want you to see me with tubes running out of me and trying to figure out if I was going to make it through."
Foxx wanted to keep things quiet, which was when fans' imaginations started to run wild. There were rumors he had an adverse effect to the SCHMOID shot, that his family was quick to shoot down. The comedian also demonstrated that, no, he wasn't paralyzed or blind either. Demonstrated, of course, in his Jamie Foxx way.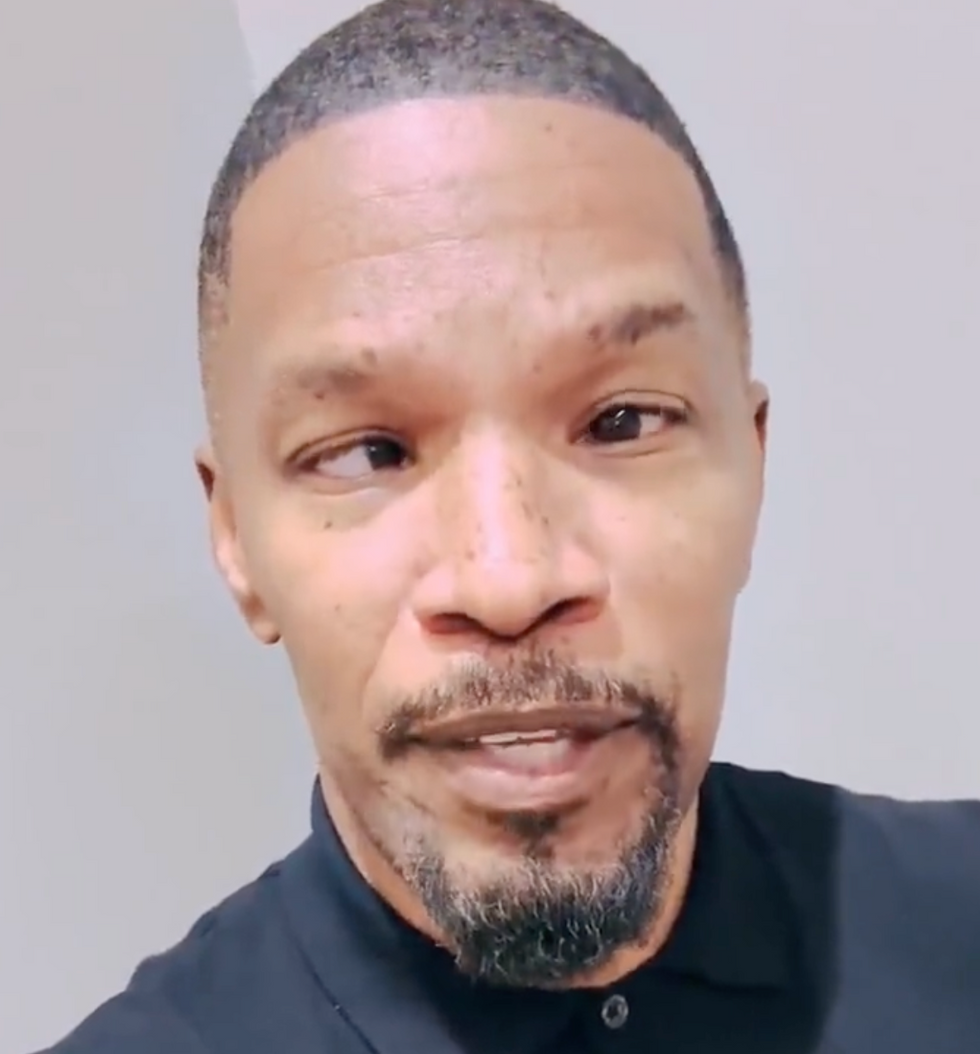 "I'm here on earth because of some great people. I'm here on Earth because of God, man. ... Thank u a billion to everybody… been a long road but all the prayers great people and God got me through."
Hopefully, now that he's back to work, one of his movies will be the long overdue release of "All-Star Weekend." It's been filmed and gets huge audience reactions. However, it is "anti-woke" and studios are reluctant to put it out like other comedy movies. Among other aspects of the movie (of two friends trying to make it to the NBA All-Star weekend), Robert Downey Jr. plays a Mexican. And you know how much random losers hate it when Downey plays something other than a white guy.
(Foxx plays a white, racist cop which I also think sounds hilarious)
The Downey -- I guess "controversy" -- is something Foxx brought up on a 2017 episode of Joe Rogan's podcast when the movie was still in development.
"I try to tell people, we never mean anything bad. We poke fun, but we don't mean anything bad. You can't kill us. I've gotta keep doing what I do. It's getting tougher."
It's great to see Foxx healthy, back to work, and most importantly... ALIVE!
><><><><><><
Brodigan is Grand Poobah of this here website and when he isn't writing words about things enjoys day drinking, pro-wrestling, and country music. You can find him on the Twitter too.
Facebook doesn't want you reading this post or any others lately. Their algorithm hides our stories and shenanigans as best it can. The best way to stick it to Zuckerface? Sign up for our DAILY EMAIL BLASTS! They can't stop us from delivering our content straight to your inbox. Yet.