Each day we overwhelm your brains with the content you've come to love from the Louder with Crowder Dot Com website.
But Facebook is...you know, Facebook. Their algorithm hides our ranting and raving as best it can. The best way to stick it to Zuckerface?
Sign up for the LWC News Blast! Get your favorite right-wing commentary delivered directly to your inbox!
BRAZIL: Female Off-Duty Officer Shoots Large Male Attacker
March 27, 2019
The reason feminists and even not-feminists roll their eyes or openly disapprove of men beating their chests over how big and strong they are, is because some men use how big and strong they are to take advantage of and attack women. Which is why many women, especially not-feminist women, want to carry guns. Below is a video from Sao Paulo, Brazil, where a female off-duty police officer shot and killed a man who attacked her.
Watch: Off Duty Policewoman Refuses To Be A Victim https://t.co/4zJ2rD7v1f

— PolishPatriot™️ (@PolishPatriot™️) 1553628057.0
From The Daily Mail:
The Military Police agent, whose name has not been released, was walking by herself Sunday shortly before midnight in Butanta, a district in the city of Sao Paulo, when she encountered a heavy-set suspect.

A surveillance camera captured the moment Francisco Gonsalves dos Santos Junior, 40, parked his car on the dimly-lit street and rushed out of his vehicle as the officer crosses the street.
That's when Lady Pistol, for lack of a better term, sent Francisco to the next realm.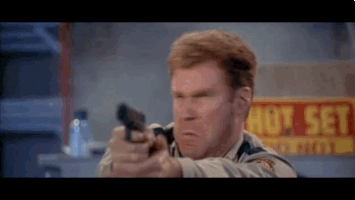 Police are investigating the incident as an attempted robbery. Attempted because the only thing robbed was this woman's good night sleep. She likely had to spend the rest of her evening answering questions about the incident where she gave Francisco's stomach its final meal. A small but potent lead sandwich. Did you want mayonnaise with that, sweetie?
Here's the part where we ask the hypothetical: what would've happened had Lady Pistol not had a weapon to draw? It's really not that much of a hypothetical. When large men attack unarmed women, bad things happen. Rape. Beating. Death. Which is why a gun, not a woman with a cute bandana flexing her bicep, is the real symbol of actual feminism. For more, read:
NOT SUBSCRIBED TO THE PODCAST? FIX THAT! IT'S COMPLETELY FREE ON BOTH ITUNES HERE AND SOUNDCLOUD HERE.