Each day we overwhelm your brains with the content you've come to love from the Louder with Crowder Dot Com website.
But Facebook is...you know, Facebook. Their algorithm hides our ranting and raving as best it can. The best way to stick it to Zuckerface?
Sign up for the LWC News Blast! Get your favorite right-wing commentary delivered directly to your inbox!
Articles
Medical School Yearbook Photos of Governor Ralph Northam Reveal KKK, Blackface
February 01, 2019
Well snap, this isn't great news for the pro-baby killer Governor in Virginia. According to Virginian-Pilot, there's a questionable page in Ralph Northam's medical school yearbook in which someone, either Northam or a friend, appear in blackface and as a KKK member. Not sure if Northam is in blackface or the KKK. Either way, based on the rules as established by the left: it's bad.
The photo, which The Virginian-Pilot obtained a copy of Friday from the Eastern Virginia Medical School library, comes from the 1984 yearbook, the year Northam graduated.
Here's the photo, from the Virginian-Pilot: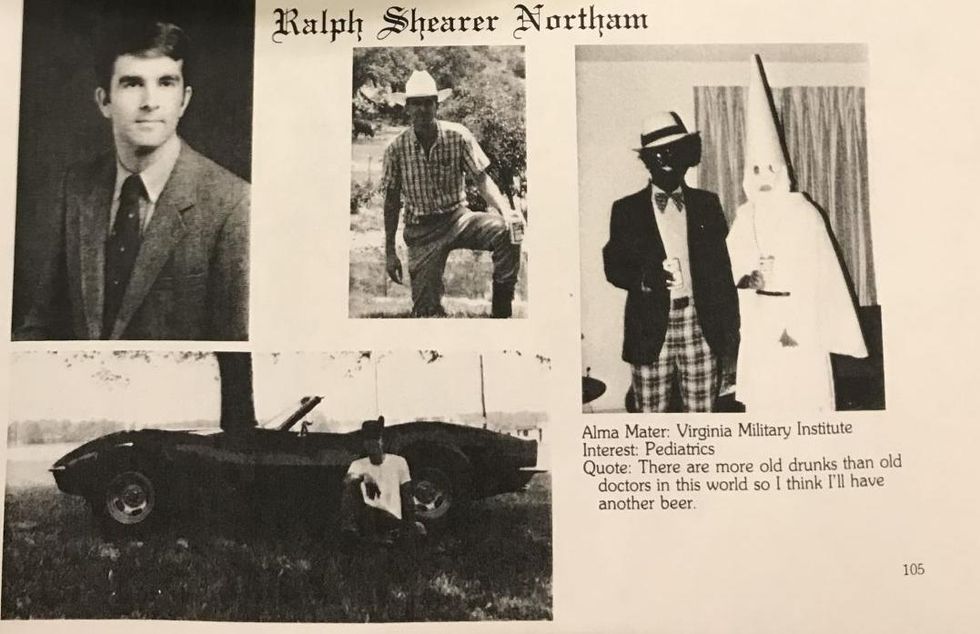 And yeah, that quote is about loving beer. Last I checked, someone in politics who loved beer was somehow a rapist. Remember that?
So, going by the rules, as established by the Democrats and liberal media, scouring through yearbooks is fair game. Going by the rules, as established by the Democrats and liberal media, "racist" costumes, Halloween or otherwise, are fair game. Regardless of the time period those costumes were worn.
So, going by the rules, as established by the Democrats and the liberal media, Ralph Northam should resign from all politics.
We didn't write these rules, I'll remind you. The Democrats did. Well now one of their own apparently has some compromising history.
Is there a chance this is a hoax? I guess a slight one. Is there a chance this will blow up in everyone's face? Eh, maybe. But according to the left, it's the seriousness of the charge that matters. And call me totally insane, but the pro-life base has been so fired up this week, I can totally see a pro-life person going to the library looking for information on Ralph Northam and finding it. Yeah?
NOT SUBSCRIBED TO THE PODCAST? FIX THAT! IT'S COMPLETELY FREE ON BOTH ITUNES HERE AND SOUNDCLOUD HERE.