Each day we overwhelm your brains with the content you've come to love from the Louder with Crowder Dot Com website.
But Facebook is...you know, Facebook. Their algorithm hides our ranting and raving as best it can. The best way to stick it to Zuckerface?
Sign up for the LWC News Blast! Get your favorite right-wing commentary delivered directly to your inbox!
Politics
Adam Schiff Mocked by Trump Campaign with 'Pencil Neck' T-Shirts
March 30, 2019
Adam Schiff is the foremost douchenugget pushing whacked-out conspiracies of Trump and the Russkies. Seeing as the Mueller report is turning out to be a bust, the weasel-like Schiffy-boy is now the butt of many a joke. Many of those zingers coming from Trumpy himself.
Well, the Donald is taking his trash-talking to a whole new level. His campaign just rolled out a new T-shirt design.
Get ready for this: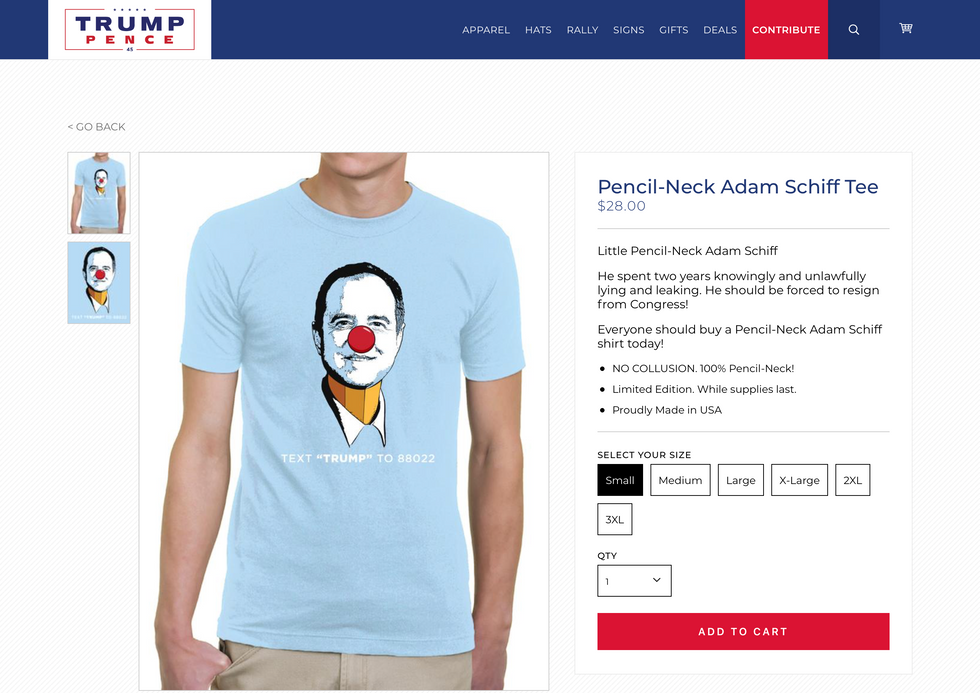 Little Pencil-Neck Adam Schiff

He spent two years knowingly and unlawfully lying and leaking. He should be forced to resign from Congress!

Everyone should buy a Pencil-Neck Adam Schiff shirt today!

NO COLLUSION. 100% Pencil-Neck!
Whoa...
Trump is the most savage of trolls, and I'm loving every second of it. Some of you might think this T-shirt is mean and going too far. Except a parody T-shirt isn't half as harsh as accusing someone of being a traitorous foreign agent.
Schiff is the same guy who's been dishonestly claiming the Donald secretly works for Mother Russia. The problem is nobody's found a bottle of Stoli in the drawer of the Resolute Desk. An Adidas tracksuit in Trump's closet. A picture of Trumpy slav-squatting with his comrades. This complete lack of evidence makes little Adam ripe for mockery.
The one thing I do know is this campaign is gonna be good times. The left has gone so left, the loopiness is off the charts. Nothing will beat seeing Trump give the same treatment to Spartacus, Fauxcahontas, Creepy Joe, and Beto O'Douche. All the while, the left's response will likely be "you're a fascist, racist, sexist, (insert bad thing) meanypants." They're really gonna have to step up their game.
While we're talking "fascist" Trump: