Each day we overwhelm your brains with the content you've come to love from the Louder with Crowder Dot Com website.
But Facebook is...you know, Facebook. Their algorithm hides our ranting and raving as best it can. The best way to stick it to Zuckerface?
Sign up for the LWC News Blast! Get your favorite right-wing commentary delivered directly to your inbox!
Watch: If You Wondered What Tom Hanks Freaking Out and Yelling 'F***' at Fans Looks Like, This Is It
June 16, 2022
Tom Hanks seems like such a cordial guy. He has questionable politics, but all celebrities do. He's the type of guy who would take a young rock and roll band under his wing, befriend a mermaid, and talk to strangers for hours before finding out his girlfriend has AIDS. It takes a lot to get Hanks to freak out and cuss like Lt. Dan. Of course, NYC city would do that.
Hanks and his wife Rita Wilson were leaving a restaurant when fans did one of two things you never do. One is getting too close to Tom's wife. The other is ask him about Joe vs. the Volcano. NYC fans broke rule number one, and Hanks had to handle his shit.
Tom Hanks rages, pushes and swears at fans after his wife Rita Wilson is nearly knocked overyoutu.be
Here's what happened. Hanks and Wilson had a nice dinner. They were headed back to the hotel to catch the end of AEW Dynamite. When fans were all like:
A few fans got too close and almost knocked Rita Wilson on her keister. That's when Hanks had to go into beast mode and be all like: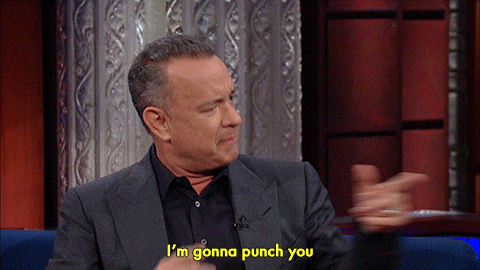 The fans were lucky Hanks didn't slap them around like Jimmy Dugan probably did the Rockford Peaches.
I'm having fun because it's Tom Hanks saying the f-word. But you can't blame the guy. It's his wife, and we've seen what happened with Dave Chappelle and Chris Rock when fans get too close. They entered Hanks' personal space. Be prepared for a world of hurt if security hadn't stepped in.
Cheers to you, Tom Hanks. Keep doing that thing you do.
><><><><><><
Brodigan is Grand Poobah of this here website and when he isn't writing words about things enjoys day drinking, pro-wrestling, and country music. You can find him on the Twitter too.
Facebook doesn't want you reading this post or any others lately. Their algorithm hides our stories and shenanigans as best it can. The best way to stick it to Zuckerface? Sign up for our DAILY EMAIL BLASTS! They can't stop us from delivering our content straight to your inbox. Yet.