America boasts some of the greatest freedoms in the word. But the law isn't a Sizzler salad bar. Citizens can't pick and choose which rules they want to follow. And officials can't just choose which laws to enforce. Yet here we are: Gov. Andrew Cuomo Pardons Criminal Illegals to 'Protect Their Families…'
Oleg Chernyavsky, legislative affairs director for the NYPD, announced just how much he sucks at his job during a city council meeting. Guess how he feels about picking and choosing laws.
New York City police ignored all 1,526 requests from federal Immigration and Customs Enforcement (ICE) to detain undocumented immigrants for up to 48 hours last year, a top NYPD official said Wednesday. Chernyavsky said the department responded to just two of ICE's 2016 requests because those immigrants had federal arrest warrants.

Chernyavsky said the police response to ICE requests "speaks volumes to our intent as a city. … It's important for victims of crimes, irrespective of their immigration status, to trust their police and to come forward and inform their police."
It's important for officials to cooperate with federal efforts f0r national security. You know, to prevent murderous immigrants from murdering up the place. Lo and behold, such is not the case:
ICE caught wind of the meeting while it was still in session, issuing this spanking:
ICE recently arrested 9 in New York who were illegally in the U.S. All were released from NYPD custody with active detainers in place, and had pending criminal charges. pic.twitter.com/Pu9VXw7ZO3

— ICE (@ICEgov) February 7, 2018
(cont) "As Acting ICE Director Thomas Homan has made clear, ICE will continue to dedicate more resources to conduct at-large arrests to ensure the safety of the law-abiding citizens of these communities. "

— ICE (@ICEgov) February 7, 2018
Indeed. Delicious, authentic burritos made by illegal hombres can never substitute for a human life. Though the equivalency is close.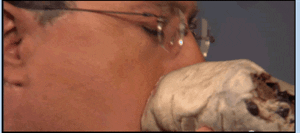 American lives matter. Safety matters. As leftist officials decide which duties they'll fulfill and which they won't, they're gambling with more chips than a family bag of Tostitos. Oleg wants to trade American lives and livelihoods for virtue points. Virtue points keep his ridiculous name, resembling a Disney snowman, on the ballot. Nay, only one department is good at frosty shenanigans, and that's ICE. At least they promise to continue their efforts at protecting American lives (see Acting ICE Director Spanks Progressives on DACA and Sanctuary Cities).
Leftist officials play on emotions to get votes. Behold as Crowder reveals all the holes in their sneaky smoke screen below:
NOT SUBSCRIBED TO THE PODCAST? FIX THAT! IT'S COMPLETELY FREE ON BOTH ITUNES HERE AND SOUNDCLOUD HERE.