Each day we overwhelm your brains with the content you've come to love from the Louder with Crowder Dot Com website.
But Facebook is...you know, Facebook. Their algorithm hides our ranting and raving as best it can. The best way to stick it to Zuckerface?
Sign up for the LWC News Blast! Get your favorite right-wing commentary delivered directly to your inbox!
SLOPE SLIPPED: Mother and Biological Son Are Lovers. Leftists Defend Them...
April 09, 2016
Here's not something you were expecting on a Saturday morning: a mother has sex engages in the bologna bop with her son, but it's okay, because they are totally in love. Apologies if you've just vomited somewhere everywhere. Really. But this goes to a larger point we've been making here since the beginning. We're talking here of a biological mom engaging in relations getting busy with her real son. This is not a Greek tragedy. This is happening in real life...
A British mother who has admitted having an incestuous relationship with her son was in hiding as police said she could face up to 15 years in prison .

Kim West told how she has been enjoying "incredible and mind-blowing" sex with Ben Ford ever since they met in 2014 after being reunited following 30 years apart.

The English-born mum became pregnant while studying in California and after giving birth to her son, now aged 19, gave him up for adoption.

Now after being reunited Ben, 32, has left his wife and moved in with his 52-year-old mum in Michigan where they hope to start a family and get married.
Um. Excuse me just a second...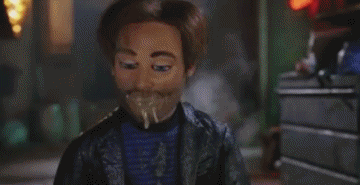 This is incest and something that we can all agree on is disgusting and wrong, right?
... Right?
Oh. Some of you are still going to jump aboard the good ol' "Moral Relativism" ship as you've done with Stephoknee the 53 year old who's now a six year old girl? Or Caitlyn Jenner, the super hot broad who still sports a schlong?
Of course not. Apparently this mother and son suffer from "genetic sexual attraction...."
Incest is one of the biggest taboos of all, so the internet has its pitchforks out. But Kim and Ben deserve help, not hate. They're caught up in something enormously powerful and problematic.

When Ben says 'it isn't incest', he means it. Kim gave Ben up for adoption when he was just a week old, and they met again when he was an adult.

The attraction between them isn't the love a mother feels for a child or that a child feels for a mother. It's something strange, and strong, and sad.
I can't even...
Okay, I'm going to try. But...oh crap. Wait. It's happening again.
The reality here is that this is no more far-fetched than polygamy, same-sex marriage or even letting men with penises use the women's restroom. The reason so many leftists feel compelled to defend it is because one can't defend one and condemn the other with a leg to stand on. Especially since incest has a longer and more widely accepted history than modern LGBTQAAIP rights (real acronym, not a joke). So they have to go full steam ahead.
I can agree this is strange and sad. But let's also talk about how these two know they're mother and son. They're still having the relations hiding the salami anyway. They want to get married. They want to procreate. They're doing so with full knowledge of their incest. Ben isn't even doing what literature suggests he do: stabbing out his own eyes. Which is remarkable because in only reading this story, I feel the remarkable urge to do just that.
Yet we have calls for sympathy. Leftists are asking that we "understand." These too star-crossed mother-and-son-lovers, what they need is our help. What I need is a bucket.
This story is exactly what's wrong with the abundance of "understanding" instead of pushback. They don't need understanding, they need to get away from each other. The help they need is psychiatric. They don't need rubbers. They need rubber rooms. Stat.
But, how can any of us say that we didn't see this coming?
NOT SUBSCRIBED TO THE PODCAST? FIX THAT! IT'S COMPLETELY FREE ON BOTH ITUNES HERE AND SOUNDCLOUD HERE.