Each day we overwhelm your brains with the content you've come to love from the Louder with Crowder Dot Com website.
But Facebook is...you know, Facebook. Their algorithm hides our ranting and raving as best it can. The best way to stick it to Zuckerface?
Sign up for the LWC News Blast! Get your favorite right-wing commentary delivered directly to your inbox!
Queen Michelle Obama Actually Lectured Men. For Being Too Entitled. Yes, Really...
November 02, 2017
Mrs. Obama has reappeared and she brought all her "interesting" fashion choices with her. Hope you like plaid. Don't worry, this time she's not subjecting us to her thinly veiled racism (see Pompous Michelle Obama Talks Diversity at NYC College. Comes Off Super Racist...). No, no. She's here to nag all you men out there for being too entitled. Enjoy:
.@MichelleObama: "Are we protecting our men too much, so that they feel a little entitled, a little self-righteous?" https://t.co/EyAaCJP5AW

— ABC News Politics (@ABC News Politics) 1509558690.0
Notice the part where she implies parents protect their boys too much? Just wanted to point that out. Michelle Obama thinks men grow up being over-sheltered -- the same men who she later chastises for being "too masculine." Because how dare men be strong.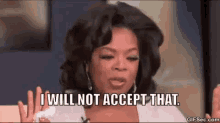 Let's pause for a second and imagine a man saying something like this about women. I can already hear the feminist shrieking.
But it gets worse. She also goes on to mock the ever-loving testosterone out of male friendship (or lack thereof). #Caring
.@MichelleObama tells men "y'all need to go talk to each other about your stuff. Because there's so much of it. It'… https://t.co/NrSDoanZL8

— ABC News Politics (@ABC News Politics) 1509561787.0
In short, Michelle Obama thinks men are a self-righteous mess. She gives no evidence as to why, she just thinks it. Which makes it so. Her solution to this "problem?" Just bitch it out like us girls do... or something.
In fact, it seems she implies men need to be more like women. Perhaps even more like her specifically. You know, because a woman stereotyping the entire male gender, presuming to know more about men than men do themselves, and demanding men follow her advice when she isn't a man and has raised zero men herself? That totes isn't self-righteous.
Take notes, boys.
NOT SUBSCRIBED TO THE PODCAST? FIX THAT! IT'S COMPLETELY FREE ON BOTH ITUNES HERE AND SOUNDCLOUD HERE.