Each day we overwhelm your brains with the content you've come to love from the Louder with Crowder Dot Com website.
But Facebook is...you know, Facebook. Their algorithm hides our ranting and raving as best it can. The best way to stick it to Zuckerface?
Sign up for the LWC News Blast! Get your favorite right-wing commentary delivered directly to your inbox!
Watch: Pop-punk icon freaks out on Ron DeSantis, tells fans if you vote for him "you're f*cking dead" to her
May 30, 2023
I'm a conservative punk rock fan. Assuming 99.86% of the bands I listen to vote for different people than me is my default position. It's not surprising that Paramore leader Hayley Williams doesn't like Ron DeSantis. I was more surprised the band was touring, let alone still together. But it appears Williams thinks DeSantis is in the business of misery. Let's take it from the top.
The band was playing a festival in New Jersey where the singer let her fans know if they vote for Ron DeSantis, they are, quote, "f*cking dead" to her. Not just dead, but f*cking dead. Her dissent was captured by a fan who I'm guessing will be making her account private as this video continues to blow up.
Williams was apparently in her feelings when she saw someone on the internet say the artist is "too afraid to speak about politics on tour." This is her claiming "Nuh-uh."
As I said, I assume the artists I listen to vote for different people. It only becomes an issue if a) they are douchebags about it, and/or b) they sound like they hate half the country that disagrees with them. My eyes are rolling too hard to render a verdict here.
Here's what I'm going to go out on a limb and say is Hayley Williams speaking out about politics. She thinks Ron DeSantis passed a law that makes it illegal to say the word "gay" in Florida. And that when elected president, he will ban America from saying the word "gay."
She'll also claim that Ron DeSantis is banning books. Because a law that states glorified pornography is not suitable for school children is considered "banning" to some people. Even though kids' parents can still purchase those books for their children if they feel exposing them to pornography is an important part of their development.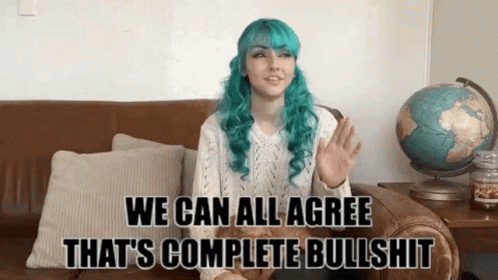 Williams may even be upset that, due to DeSantis passing laws to protect children, they are no longer welcome at a Furry convention. One can only guess at this point.
I'll have to go the rest of my life knowing that life no longer exists to Williams. That's ok. I'll be the bigger person and still acknowledge the banger after banger the band put out from 2005 to 2013.
Also, it's not about being too afraid to discuss politics on stage. But when fans are paying hundreds of dollars thanks to Ticketmaster premium seating, fans would prefer hearing the hits instead. Time spent ranting about Ron DeSantis could be better spent playing a deep cut like "Franklin."
><><><><><><
Brodigan is Grand Poobah of this here website and when he isn't writing words about things enjoys day drinking, pro-wrestling, and country music. You can find him on the Twitter too.
Facebook doesn't want you reading this post or any others lately. Their algorithm hides our stories and shenanigans as best it can. The best way to stick it to Zuckerface? Sign up for our DAILY EMAIL BLASTS! They can't stop us from delivering our content straight to your inbox. Yet.