Each day we overwhelm your brains with the content you've come to love from the Louder with Crowder Dot Com website.
But Facebook is...you know, Facebook. Their algorithm hides our ranting and raving as best it can. The best way to stick it to Zuckerface?
Sign up for the LWC News Blast! Get your favorite right-wing commentary delivered directly to your inbox!
Donald Trump's Top 5 Twitter Moments (and Burns) of 2019
December 23, 2019
Yes, we've officially hit the "top number listicle" era of 2019. Who am I to buck tradition when news just stops and people recycle the same hit pieces from last week, pretending it's all new news? Not me. Besides, as a person solidly in her mid-thirties, I'm all about sentimentality and looking back. What better way for Louder with Crowder to kick off the 2019 listicle season than by starting with Trump's top Twitter moments of 2019? This one, as we say, is a lay-up. Let's get this party started.
FIVE - Donald Trump burns Jim Acosta with Acosta Twitter meme
Not sure who started the "dear diary" meme for Jim Acosta, whether it was @comfortablysmug or @neontaster, or some other Twitter genius. But whoever started it, Donald Trump used it to burn Jim Acosta all the way back in January of this year.
Trump followed up this burn with more burns. Check out Donald Trump Trolls Jim Acosta, AGAIN, Right to Acosta's Stupid Face. Since I have you, keep skipping down this memory lane with WATCH: Donald Trump is Ready to Treat Jim Acosta Like a Kindergartner.
FOUR - The Best Doggo Award Meme Goes To...
If I were a betting woman, I'd say Trump isn't much of an animal person. Just based on how he uses "like a dog" as an insult to describe terrible people who die. Like the terrorist that Conan the Belgian Malinois super dog helped send to the netherworld. Regardless of his feelings about canines, Trump is smart enough to know the American people love themselves the doggos. In celebration of Conan helping to take down an Islamic baddie, Trump tweeted a meme made by the Cancer Merchants at Tumblers R' Us.
Yes, the fake news media fact-checked this one too. Trump Tweeted a Picture of a Dog, and the Fake News is Investigating.
THREE - They're not after ME, they're after YOU!
Trump celebrated Merry Impeachmas with a meme which hit it out of Candlestick park. The impeaching of Trump had little to do with Trump himself (ask a leftist what crimes Trump committed and watch how they can't answer), and everything about not trusting you, the people, to make the right choice in 2020.
TWO - WELCOME BACK JOE!
It's a bird, it's a plane, it's Creepy Joe coming in for a sniff. It's your fault for using vanilla shampoo, Biden just couldn't help himself. Donald Trump celebrated Joe Biden entering the 2020 presidential race with this glorious meme which almost made the number one spot.
By the way, media fact-checked this tweet. I Eric Swalwell you not. Check out NY Magazine Tells the World that Donald Trump Joe Biden Tweet was "Doctored."
ONE - LOOK AT THIS PHOTOGRAPH!
Every time I do it makes me laugh, at how the media over-reacted, to Trump stamping his name on Biden's white ass.
Screen capture from The Cut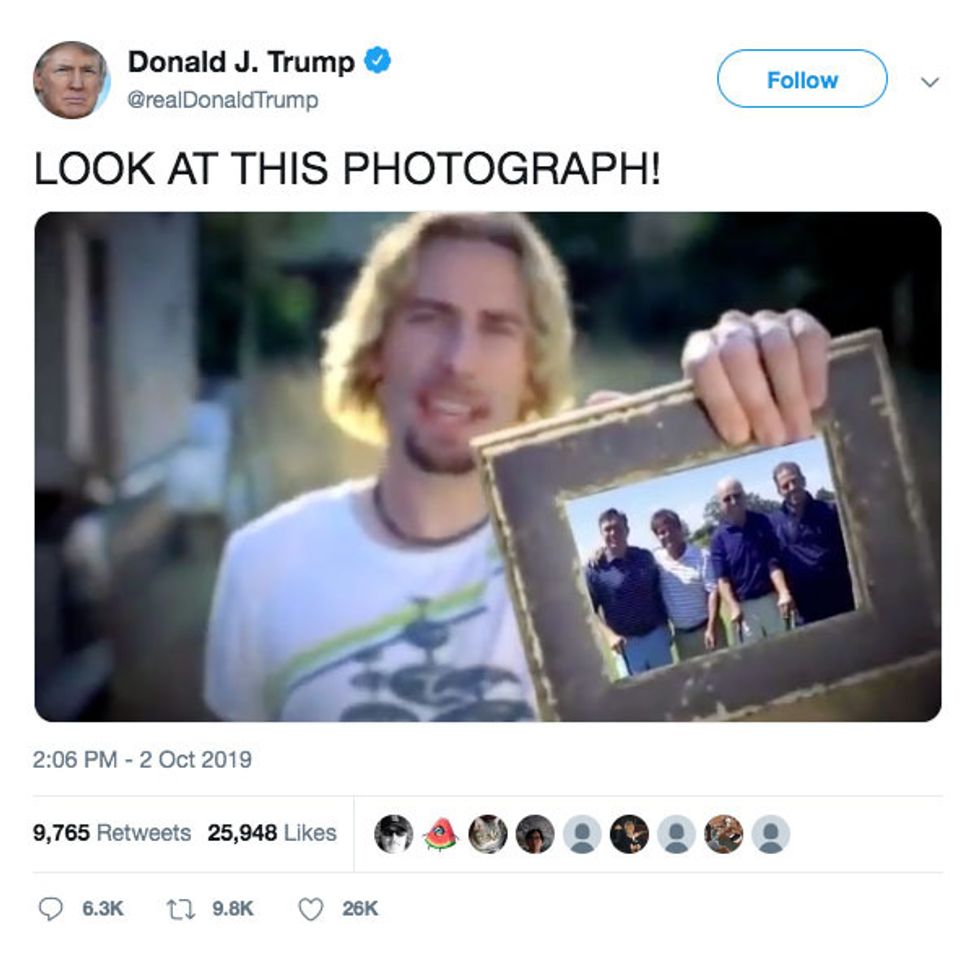 This spawned one of my favorite Steven Crowder jokes. Yes, that's my voice laughing in the background and I apologize zero. Time-stamped below for your viewing convenience.
Did I miss any? What were your favorite Trump moments of 2019?
Need a quick laugh? Check out and subscribe to our new YouTube channel CROWDER BITS for Louder with Crowder skits, opens, and parody videos!