Each day we overwhelm your brains with the content you've come to love from the Louder with Crowder Dot Com website.
But Facebook is...you know, Facebook. Their algorithm hides our ranting and raving as best it can. The best way to stick it to Zuckerface?
Sign up for the LWC News Blast! Get your favorite right-wing commentary delivered directly to your inbox!
Politics
Biden Campaign Claims Creepy Photos with Women are Forgeries
April 02, 2019
Let's face it, Crazy Joe Biden is taking a shot at the big time. There's just one little problem for Joey. His history of copping unwanted feels. There's many a meme of Biden's tomfoolery with the ladyfolk, but Joe's campaign is claiming all the creepy images of non-consensual touchiness are fakes.
Yes, really:
Joe Biden's spokesman said Monday that the numerous photos that show his boss appearing to invade women's personal space, many of which were cited in a recent exposé to demonstrate a pattern of inappropriate behavior, have either been forged, deceptively edited, or otherwise taken out of context.

"These smears and forgeries have existed in the dark recesses of the Internet for a while. And to this day, right wing trolls and others continue to exploit them for their own gain," said Bill Russo, a spokesman for Biden, who is currently considering entering the crowded 2020 Democratic presidential race.
Look, there's video upon video of Joseph getting his grope on with the frauleins. We even did a compilation of Creepy Joe's "greatest hits." If the Biden campaign thinks they're fooling anyone with these claims of conspiracy, they're sadly mistaken.
If you're wanting to accept the Biden campaign's claims, you have to believe the GOP has, for the past decade, been disseminating fake videos of fictional Biden malarkey. Sniffing on lasses' manes. Rubbing their shoulders. Whispering seductively in their earholes. Just a Barry White song short of a full-on lovemaking session. All Photoshop wizardry.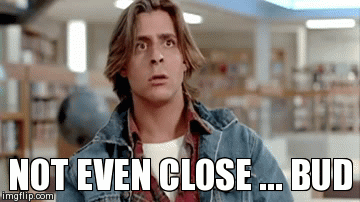 If Joe expects to make it through the primaries, he's gonna have to face his handsy past. Nothing short of admitting his creeptastic history and vowing keep his paws to himself will spare Biden of our mockery. Though, even if Joe were to do those things, we'll probably keep right on with the kneeslappers. This is just too darn chuckleworthy to stop. Sorry, not sorry.